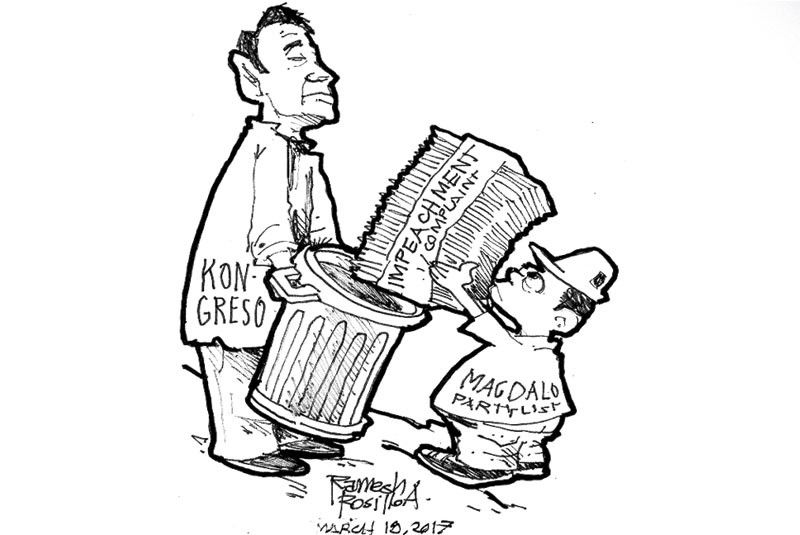 EDITORYAL - Di molahotay ang impeachment
Usa ka impeachment complaint batok ni Pres. Rodrigo Duterte ang giduso ni Magdalo Partylist Rep. Gary Alejano. Wa pa gani kini maabti og usa ka semana siguro na ang resulta ani nga mabasura lang kini.
Ang Magdalo nipasangil kang Duterte nga nakahimo og culpable violation of the Constitution, engaging in bribery, betrayal of public trust, graft and corruption, ug uban pang high crimes.
Sumala pa sa ubang tigpaniid sayo pa kaayo aron kasohan ang presidente og susama niini. May kamatuoran kini tungod kay hangtud karon naglibog pa gyud ang katawhan kay adunay mga giganahan na sa estilo ni Duterte apan nagpabilin gihapon kadtong mga di ganahan sa mga pamaagi sa presidente.
Apan ang iyang mga supporters dali kaayong nakasaway kang Alejo. Diha sa social media pa lang pwerteng nakabugal-bugal ang mga netizens kaniya.
Si House Speaker Pantaleon Alvarez kinsa supporter ni Duterte dali usab kaayong nakatumbok kang Bise Presidente Leni Robredo nga nagpaluyo niini, tungod ba kaha kay siya maoy giisip karong imahen sa Liberal Party nga kinadak-ang oposisyon?
Wa ni mahadlok si Duterte tungod sa kataas pa gihapon sa iyang approval rating sa publiko bisan pa niining brutal nga kampanya kontra ilegal nga drugas nga daghang nangamatay.
Lisod usab kini makapasar sa House of Representatives tungod sa 'super majority' nga gilangkoban sa mga kongresista nga kaalyado sa presidente. Kining botasyon baya padaghanay og boto. Sa unang paghisgot pa lang siguro, maglisod na kini pag-abante kay bisan gamay nga sayop sa porma kon gitawag og "sufficient in form" mabasura na dayon kini.
Duna pay laing debatihonon sama sa pag-uyon sa tanang mga magbabalaod sa "articles of impeachment" o mga patakaran nga tamdan kun aduna gyuy mahitabong impeachment hearing.
Apan sa pagdagan pa lang niini, sigurado nang maapektahan dayon ang katawhan ug ang ekonomiya sa nasud.
Anhing bahina gyud moaslom ang pagtagad sa mga tawo sa mga politikanhong kalihokan.