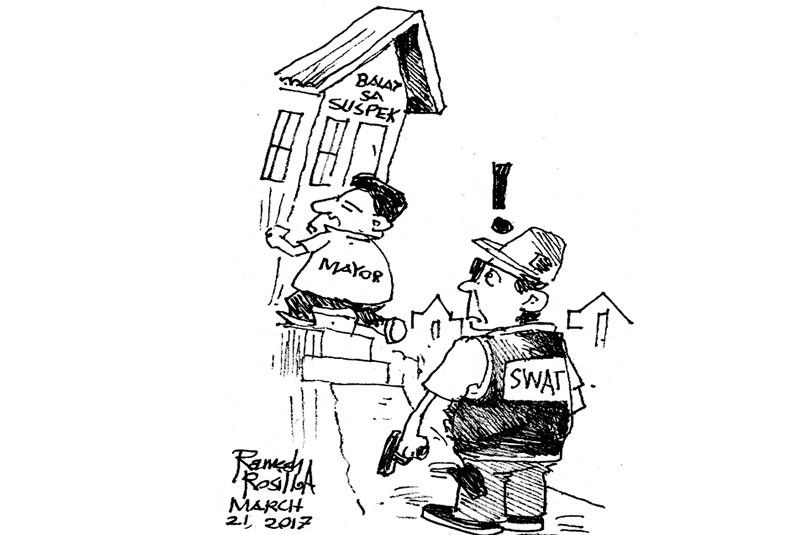 EDITORYAL - Gidayeg si Osmeña
Daghan ang midayeg ni Cebu City Mayor Tomas Osmeña tungod sa gipakita niyang kaisog dihang nangunay gyud siya pag-adto sa mga balay nga gituohang gitagoan ni David Lim Jr. nga giingong maoy nipusil sa usa ka nurse tungod sa bangi nila kalabot sa trapiko.
Samtang ang mga sakop sa Special Weapons and Tactics (SWAT) nga miuban kaniya pag-adto sa gipuy-an sa mga Lim, nagsul-ob gyud og mga bullet proof vest, apan ang mayor nagsul-ob lang og ordinaryo nga T-Shirt ug wala mahadlok nga kun mahitabo nga mosukol ang ilang gipangita, mahimo siya nga mapatay.
Gipaaplayan unta ni Osmeña og warrant of arrest ang suspetsado nga si Lim, apan gibalibaran ang mayor sa huwes tungod kay wala pay kaso nga napasaka batok sa maong tawo nga giingong maoy mipusil sa nurse nga si Ephraif Nuñal.
Tungod sa video footage nga nakuha sa usa ka dashboard camera sa sakyanan, nakita sa mayor ang dili tukma nga gihimo ni Lim nga migamit sa iyang armas pagpusil sa iyang gikaaway bisan og wala mag-atubang og kakuyaw ang iyang kinabuhi.
Husto ang mayor kay bisan og ang usa ka tawo gihatagan og prebilihiyo nga makahupot og armas, apan adunay estrikto nga mga lagda nga gamiton lang kini aron pagpanalipod sa kaugalingon kun mag-atubang na og kakuyaw ang kinabuhi.
Kini maoy rason nga giestrikto ang pagpakuha og neuro-psychiatric test niadtong mga tawo nga gustong mohupot og armas aron sa pagsukod kun angay ba kini nga tugotan sa iyang tinguha kay basin og iya ra nga abusohan ang prebilihiyo nga ihatag kaniya.
Ang gipakitang lihok ni Osmeña usa ka maayong ehemplo sa mga opisyal sa kagamhanan nga mosiguro gyud nga kaprotehean ang katungod sa usa ka tawo nga giabusohan, ilabi na kun ang nangabuso sakop sa inpluwensiyadong pamilya.