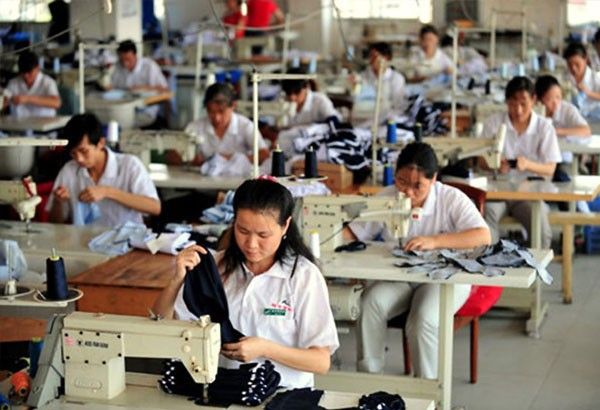 Around 4.66 million taxpayers will be exempted from paying personal income tax under the first package of tax reforms the government is proposing.
File Photo
Reform bill to exempt 4.66 million from paying income taxes
MANILA, Philippines — Around 4.66 million employees will no longer pay personal income tax under a proposed tax reform package that shifts the tax burden to rich taxpayers, according to the Department of Finance.

Finance Undersecretary Karl Kendrick Chua said that the Comprehensive Tax Reform Package (CTRP) now pending in Congress will exempt 4.66 million taxpayers or 83 percent of individual taxpayers from paying PIT.

Chua, citing data from the Bureau of Internal Revenue, said this figure is comprised of 1.8 million minimum wage earners who have previously exempted from paying income taxes and around three million individual earners with a net income of P250,000 or below.

The first package of tax reforms of the government contained in House Bill 4774 also has revenue-generating measures to offset losses in revenue arising from income tax exemptions.

Chua said that the revenue-generating measures target the rich. He said these are needed to finance the mass public investment program the Duterte administration is planning.

At the hearing of the House Ways and Means Committee, Chua explained that those earning between the above-minimum wage range and P22,000 a month would pay zero income tax under the proposed law. In addition, the first P82,000 in the 13th month pay and other bonuses would also be exempted from taxation.

Chua gave the example of a call center employee earning P22,000 month, or P273,000 annually inclusive of 13th month and other benefits. He said that under the plan, this agent would pay zero personal income tax.

This exemption will translate to almost P22,000 in forgone tax payments. Under the current system, the call center agent, even with two dependents, would pay P21,867 in PIT because his net taxable income of P136,834 would still be taxed P8,500 plus 20 percent in excess of P70,000.

Chua said their plan would correct this form of "income creeping" through a simplified system in which the call center's declared deductions and exemptions of P36,166- inclusive of 13th month pay and mandatory contributions- would be deducted from his gross income of P273,000.

This will result in a net taxable income of P236,834, which is still within the zero-tax rate, Chua said.

"Thus, under the tax reform bill, the call center agent's take home pay will effectively increase by P21,867 annually because he would no longer have to pay this amount of income tax under the current system," Chua said.

An above-minimum wage earner with a monthly income of P15,000 will have additional annual take home of P7,200 because of the proposed tax program, Chua said.

Chua said that HB 4774 would shift the tax burden to rich taxpayers. For example, an individual who ears P877,500 a month will pay P4,200,186 in PIT under the current system. This is from the current amount of P4,048,456.

To fund the government's spending plan on infrastructure, education, health and social protection, the first package also contains revenue-enhancing measures such as expanded value-added tax (VAT) base with exemptions for seniors and persons with disabilities and adjustment in excise taxes on automobiles and fuel which will hit richer consumers more.

Chua explained that these revenue measures were needed because the government projected revenue losses of around P63 billion in the second quarter of 2017, P138 billion in 2018 and P152 billion in 2019.

He said that taxing the ultra rich and the rich will not be enough as they comprise only a small segment of individual taxpayers in the country based on data from BIR.

According to Finance Secretary Carlos Dominguez III, the government intends to jack up yearly spending on infrastructure to P1.07 trillion, education to P718 billion, health to P139 billion and social protection to P267 billion over the next six years.