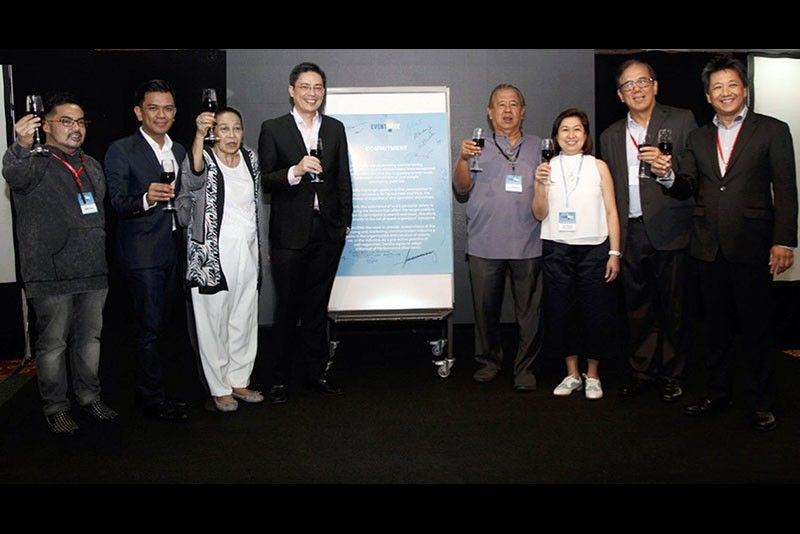 In photo are (from Left): EventWise Program director Alvin Trono, Unilever Marketing director Neil Trinidad, Advertising Foundation of the Philippines executive director Linda Gamboa, Unilever vice president and Ad Foundation board member Ed Sunico, Ad Foundation founding chairman Louie Morales, Ad Foundation board member and Pioneer Insurance Marketing vice president Len Pozon, Ad Foundation and KBP chairman Jun Nicdao and EventWise co-chairman and Primax president Lito Yabut toasting the participants on the successful launch and culmination of the first EventWise Risk Reduction Workshop that aims to promote stronger safety standards in the Events and Marketing Communications Industry. EventWise was a joint effort of the Ad Foundation, Unilever Philippines Inc. and the Kapisanan ng mga Brodkaster ng Pilipinas.
Executives learn risk reduction, crisis management
MANILA, Philippines - There is no lack of movies that show how things can change in an instant when disasters strike – earthquakes, sudden weather disturbances, typhoons and even terror attacks.
And then there are also man-made hazards such as event cancellations and no-shows.
When these things happen in real life, the result can be catastrophic specially when lives and properties are lost.
In a recent two-day forum on Risk Reduction and Crisis Management for Events, experts gave several tips on how companies and executives can better prepare for unforeseen events.
The forum was organized by the Advertising Foundation of the Philippines, together with Unilever Philippines Inc. and the Kapisanan ng mga Brodkaster ng Pilipinas to help raise awareness on the need to prepare for disasters and other natural hazards.
During the two day forum, experts said natural and man-made disasters have resulted in deaths and losses for businesses globally.
Every year, it is estimated that 28 million have lost their homes because of disasters, they said.
There are two types of interventions to prevent disasters. These include constructing resilient buildings and structures and educating communities on disaster response.
During the forum, for instance, Metropolitan Manila Development Authority chairman Thomas Orbos said everyone including companies and government agencies should be aware of the threat of both natural and man-made hazards.
He said that understanding disasters should be everyone's business.
Orbos said there are three major considerations for anyone organizing events whether these are companies or government agencies.
Specifically, proponents must prepare for the pre-event, main event and post-event stages.
"Any event can be a potential hazard risk. You need to understand fully your event," Orbos said.
This means that companies when doing an event, be it a big or simple event, should be aware of the risks in case something happens during the day of their activities.
He said it is important to know the place, the geographical landscape, the nearest hospitals, fire stations as well as a major traffic plan.
"You also need to have a crisis manager. He should be part of overall preparations for the event from the very beginning," Orbos said.
More importantly, companies holding events should also form a crisis management team, which would include security, medical experts and a spokesperson who can talk to the media if a disaster strikes.
Orbos also said that companies should prepare way ahead of time and not just when the event is near.
On terrorism, the Federal Bureau of Investigation (FBI) also shared insights during the forum.
FBI- legal attache of the US Embassy Lamont Siller discussed the FBI's efforts against terrorism.
He said that the FBI works closely with local authorities including the Anti-Money Laundering Council (AMLC) for knowledge sharing, data analysis and sharing of information to better combat terrorism.
The FBI meets with these authorities on a regular basis. One assistance the FBI provides, he said, is in enhancing data captured by CCTV to help local authorities get a clearer picture of the scene.
In talking about terrorists in general, however, Siller warned companies that there's really no specific profile or "look" of terrorists, which means that some stereotypes are wrong.
Another expert, meanwhile, said that expert could better prepare for unexpected events such as disasters and other hazards by securing insurance coverage.
Circles Group Asia Pacific Group Regional director and Circles Asia head Tommy Elliot said there are various packages that companies can tap to help equip companies in case of unforeseen events.
Elliot said there are standard packages to cover unforeseen events such as cancellation, inclement weather, earthquake and other liabilities.
"There are things beyond your control," Elliot said.
He said that based on the experience of Circles over the past 17 years globally, the company has been able to provide insurance coverage to various unforeseen events such as natural and man-made hazards.
These include cancellations and no-show of performers such as in concerts.
Because of these unforeseen events, Elliot said it is good to have the proper insurance coverage.
Insurance coverage was among the topics discussed during the two-day workshop.
The two-day event dubbed EventWise is a project in the advertising and market communications industry that addresses issues and concerns on natural hazards and disasters that might affect events management organizing.
The event tackled tools and opportunities for uplifting the profession and business of events management organizing and its affiliate service providers as well to include possible solutions nor prions in the eventualities of some crisis situations and provide safer and more secured target driven events.
Furthermore, EventWise serves as a vehicle to foster closer coordination, linkages, networking and interaction of media, agencies, clients, service providers and other Events Management stakeholders toward the development of a Performance Standards Manual on Events Management Organizing in the spirit of Industry Development and Self-Regulation.
EventWise harnesses together the experts on risk reduction and crisis management, renowned communicators, publicists, events management organisers and service providers from the multi-sector industry and private organizations as well as partners from select government agencies and other professions as speakers and presenters for a dynamic interaction through knowledge and experiential sharing for an enriched local, national and global perspective.
The event brought together various foundation and industry members and marked the 26th founding anniversary of the Advertising Foundation of the Philippines.