Willie living life to the hilt
MANILA, Philippines - Rumors are rife that Willie Revillame who has been absent from showbiz spotlight is in dire straits and has been selling off all his properties to pay for his gambling debts. One rumor even says that he lost over P300M in just one session in one of the casino resorts. Whether or not Willie really parlayed such amount is none of my business and he is entitled to do whatever he wants with his money.
I met Willie during his struggling years when he was a drummer, doubling as a member of the cordon sanitaire of Randy Santiago, who in those days was a popular TV host. His climb to the top was long and hard but when he hit it big, it was phenomenal. He made history as Philippine television's only host to ever earn billions in the trade despite problems and controversies encountered.
At a recent dinner with friends that included Willie, I overheard a sports enthusiast from an adjacent table complaining loudly that Willie beat him to the one-of-a-kind sports car worth P28M by paying cash on the spot. Willie arrived fashionably late in a spanking two-door Rolls Royce coupe called Wraith which I've only read about in Robb Report (a US magazine for the rich and famous). After welcoming him to our table, we asked him why he didn't have a date as all of us came with our wives and he just smiled and said, "I still haven't found one." Towards the end of our dinner I asked him if the rumors that the billions he earned through the years are gone. He suddenly turned serious and said, "Yes I have been spending lots lately because this is the only time I have the chance to enjoy the fruits of my labor." To that, he added that we should not worry because he still has enough to last a lifetime.
Some people may be turned off by Willie's cavalier spending on cars and toys for big boys, but if I had Willie's money, I would have done the same. As the saying goes: "When you got it, flaunt it."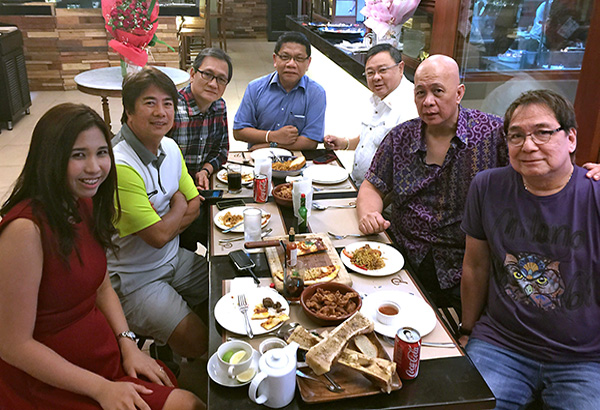 From left: Mady, Willie, Serafin Pua, Mike Enriquez, Boy, this writer and Joey
Being out of the limelight has given Willie a lot of time to reflect and change his perspective. He is quietly building a world-class boutique hotel in Tagaytay, which should be finished early this year. I asked him when he will return to TV and he responded, "Hopefully soon if plans go well."
Unbeknownst to a lot of people, Willie has been seeking advice from good friends like Mike Enriquez and Joey de Leon on his TV career moves. Willie and Joey are now good friends and just laugh away their noontime feud from years back. On the question of settling down again, Willie said he wants to stay single for the meantime and concentrate on his projects.
On politics, although a lot of people have approached him to run for public office, he has politely declined the offers and prefers to just help in private. Willie has a big heart and has helped so many people in showbiz — from big stars to bit players — but refuses to identify them. He feels there is no necessity to flaunt names of people who benefited from his help as it defeats the sincerity of the purpose.
Willie is celebrating his 54th birthday today. Happy birthday Willie from all of us. Wishing you good health and luck in the Year of the Sheep.