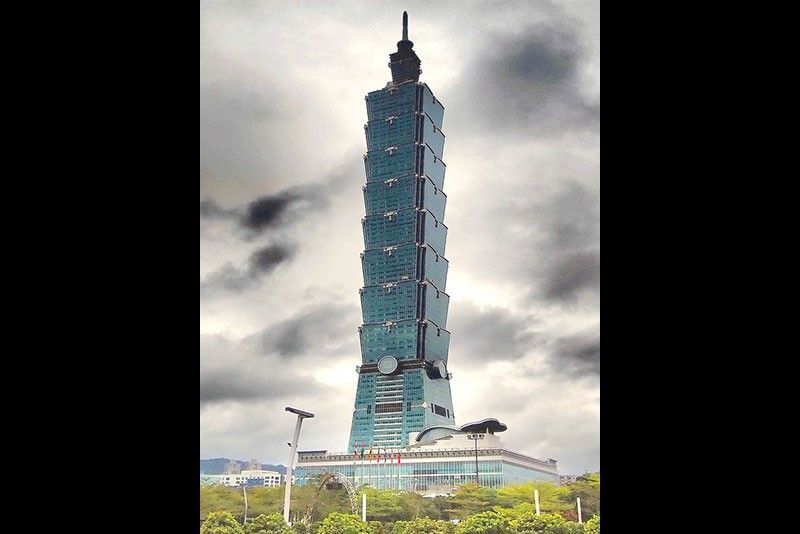 101 Taipei never fails to amaze and give you an unforgettable high, literally, even if you have been there, transported by an elevator in 37 seconds from the 5th floor to the 89th floor where, on a clear day, you can see forever.
Photos by KIMBERLY LEE and RAINIER LO
Excuse me while I have lunch at Modern Toilet
TAIPEI — After spending the whole morning of Black Saturday going around the sprawling National Chiang Kai-shek Memorial Park that, my research confirms what we saw, "covers 25 hectares…surrounded by white walls, blue tiled-roofed corridors and pavilions, decorated with Chinese-style latticed windows featuring 26 different motifs (that create a sense of space and add to the feeling of rich cultural charm)," my niece Christine Espina and her husband Angelo (the family is based in this city where the engineer patriarch works, with their two daughters Christelle and Caitlin) casually announced that we were going to have lunch at the Modern Toilet.
A what!?! Exclaimed the other members of the touring group (Christine's brother Rainier, Susan and daughter Kimberly, Jia and brother Kirk). Is it the place where we look for, you know, "comfort," and to answer the call of nature? We were hungry and what we needed was food, glorious food, and not (yet) that room.
A confession: I have been to this city five times, the first was more than 30 years ago when Taipei wasn't yet the city that it is now, modern in every nook and cranny and everywhere you go, and other times for Hollywood junkets for Will Smith and son Jaden (After Earth); director Ang Lee and actor Suraj Sharma (Life of Pi), including a quick visit to Kaohsiung which is dear to Lee's heart and where the sea scenes were shot at a gigantic pool constructed purposely for the movie; and) some scenes were shot; and in January last year for Ryan Reynolds (Deadpool).
And, honestly, I haven't heard of Modern Toilet until, well, last Saturday.
"It's a restaurant," Christine clarified, "very popular not only among the natives but also, especially, tourists. You have to make a reservation early, otherwise you may have to wait in line. And we did just that the other day pa."
The restaurant has three branches and we went to the one in Ximen (2F, No. 7, Ln 50, Xining S. Rd.); the other two are in the Shilin and Yizhong. (Interested? If you happen to be in Taipei, call numbers 02-23118822/02-88614384/04-22232870.)
Initially, we did feel a bit "shocked" and squeamish as soon as we reached the place, welcomed at the ground-floor entrance as we were by two toilet bowls that served as seats (such a nice feeling after a while) while we waited for our turn to go up to the dining rooms on the second and third floors, and then learning that our orders would be served in plates and bowls and other utensils shaped like, yes, toilet items; and that we were to gobble up the food while seated on a row of toilet bowls in what turned out to be a cozy place where the walls were livened up by "toilet" drawings, pump-shaped lamps hanging from the ceilings and piped-in disco-like music to make the experience memorable. Burping after filling ourselves up with pasta, Chinese-style friend chicken and chocolate ice cream shaped like ehem, we proceeded to a small side room with a toilet bowl (as in!!!). Not what we thought. It was a wash basin.
Then Angelo drove us to Ximending for a stroll and, of all places and of all people, guess who would we bump in to — our good friend Peachy Guioguio and her daughter Kara who were still somewhat reeling from watching the concert of Coldplay from their VIP seats the night before, which was part of the package tour worth for a bargain P30,000 per.
"Tickets in Taipei were much cheaper than those in Manila (P22,500 with the most expensive)," Peachy happily told us. "Add P7,500 and you get to visit Taipei and at the same time enjoy Coldplay 'live'." (Whoever Peachy's travel agent was beat the others to that "bargain" idea. Others in Peachy's group billeted at the Amba Hotel, right on Ximending, were Paolo Valenciano and his wife Sam Godinez, and Geoff Eigenmann whose companion Peachy didn't identify.)
Ximending features curio shops, restaurants, and souvenir stores selling all kinds of goods (name it, they have it!); and turns into Taipei's night market as dusk falls. Tourists like us didn't shop but simply took a leisurely walk into and out of small streets until Peachy and Kara treated us to coffee and snacks at the Amba café before they rushed to the airport for the flight home.
We capped the day (rather, the night) by going up the famous 101 Taipei, so named because it has 101 storeys from the 89th floor of which you could see Taipei and neighboring places (was it Mainland China yonder?) from all sides. Formerly known as Taipei World Financial Center, Taipei 101 (a mesmerizing sight when fireworks are lit up on New Year's Eve) was considered the tallest in the world from 2004 to 2009 when it was surpassed by Burj Khalifa in Dubai. Construction started in 1999 and finished in 2004 at a cost of NT$58 billion (US$934 billion), "created as a symbol of the evolution of technology and Asian tradition."
More trivia: 101 Taipei used to have the fastest elevator in the world that travels at 60.6 kilometers per hour, transporting passengers from the 5th floor to the 89th floor in 37 seconds. As we marveled at the dancing lights inside the elevator, we did time the travel and we thought it took less than 37 seconds. (Trivia: in 2016, the title for the fastest elevator was given to the one in Shanghai Tower.)
Another confession: My friend Raoul Tidalgo and I have visited 101 Taipei twice during two separated trips. Still and all, 101 Taipei never fails to amaze and to give us an unforgettable high…literally!
Next time I find myself in Taipei, I promise to get even "higher" with a new dose of thrill at 101 Taipei.
(Incidentally, our Taipei trip was arranged by Travel Specialist which proves true to its name — a real "specialist" in destinations far and wide. Call Luchie Sta. Ana at 0917-8361820 or at landline 928-7487.)