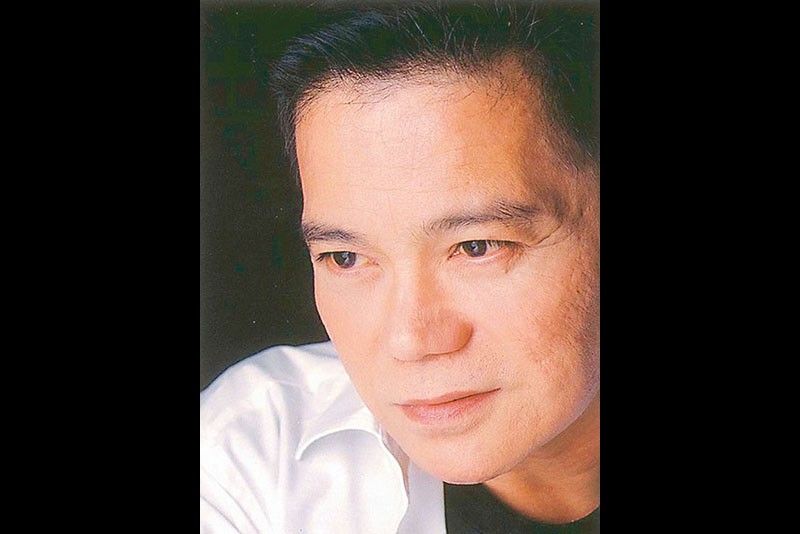 We will still be listening to Willy's songs for ages to come
No goodbye for Willy Cruz
True to the promise he made in his famous song Never Ever Say Goodbye, Willy Cruz never said goodbye. The famous composer was found unconscious in his bed last Monday morning, April 10. And that was it. Willy was gone. An aneurysm deep in his brain rendered him silent throughout the next days, until he breathed his last at 1:30 in the morning of the next Monday, April 17. He was 70 years old.
Come to think of it though, Willy would not have wanted it otherwise. I saw him as a shy, sensitive soul, who preferred to let his music do the talking. He was moody but very sweet. Of course, being also the erudite man that he was, Willy was not above a stinging remark or a ribald joke when the occasion called for it. He also enjoyed having fun with friends. But most of the time, he was quiet, picking out notes on the piano or as he was wont to do these past years, experimenting with the sounds or whatever else he could make his precious computer do. I don't think he ever trumpeted his discoveries, but those were what he would get most excited about.
Willy was born to the music, descended from the Buencamino clan. His great grandfather wrote music for zarzuelas and his great grand uncle was the renowned composer and teacher Francisco Buencamino. Like his cousin internationally famous pianist Cecile Licad, he was trained in piano and classical music from an early age. But there was a time when he ventured forth into something else, like studying at the Asian Institute of Management and considering a life in the corporate world. This was what he did at Vicor Music Corp. Head honcho Vic del Rosario Jr., appointed him vice president for Artist and Repertoire of the domestic labels division in 1974.
Del Rosario though admitted that he really hired Willy for the music. Just as he tapped George Canseco for songwriting success a few years before, he saw in Willy a future as a composer on the strength of arrangements the young musician had done for the Ambivalent Crowd. Willy soon found himself more involved with studio work than running the office, arranging and producing hits for Vicor artists like Nora Aunor, Celeste Legaspi, Didith Reyes and others. Two years later, he was running his own recording company Jem Records.
Just like with what happened at Vicor, Willy did not stay long as president of Jem. He was not created to be a business executive even if the business was music. But it was at that time that his extraordinary gifts as a songwriter were first recognized. From writing lyrics to foreign melodies for Jem artist Hajji Alejandro like Charade by the Bee Gees which became Tag-araw or The Worst That Could Happen by The Fifth Dimension that he retooled as Panakip-butas, Willy went into a composing binge that resulted in some of the most beautiful and most enduring Filipino songs of all time.
Sana'y Wala Nang Wakas, Bituing Walang Ningning, Pangarap Na Bituin, Sana'y Maghintay Ang Walang Hanggan, Himala Ng Pag-ibig, all popularized in the classic films that starred Sharon Cuneta for Del Rosario's Viva Films. Doon Lang, Kumusta Ka, Love Without Time, Magandang Gabi, Fragments of Forever, Never Ever Say Goodbye by Nonoy Zuñiga; May Minamahal by Hajji; Sa Duyan Ng Pag-ibig by Appasionatta; Kahit Na by Zsa Zsa Padilla; Let The Pain Remain by Basil Valdez; Init Sa Magdamag by Sharon and Nonoy; Mahawi Man Ang Ulap by Sharon and Dulce; Araw-Araw Gabi-Gabi by Didith Reyes; Kapag Puso'y Sinugatan by Raymond Lauchengco and others.
This list contains only his original songs. Willy was also a talented arranger with a flair for chart appealing results. I treasure many of those works like what he did for Sharon Sings Valera and Si Sharon at Si Canseco. He was also a gifted pianist, very easy and natural on the keys but full of emotion. He could have been like Cecile given the fact that they had the same training as kids, but Willy himself admitted that he lacked the discipline. He moved to his own drummer.
This sometimes made things difficult for him but I am sure it was as he wanted things to be. Like going just like that. No goodbyes. In a way though that is how it is. We will still be listening to his songs for ages to come anyway.