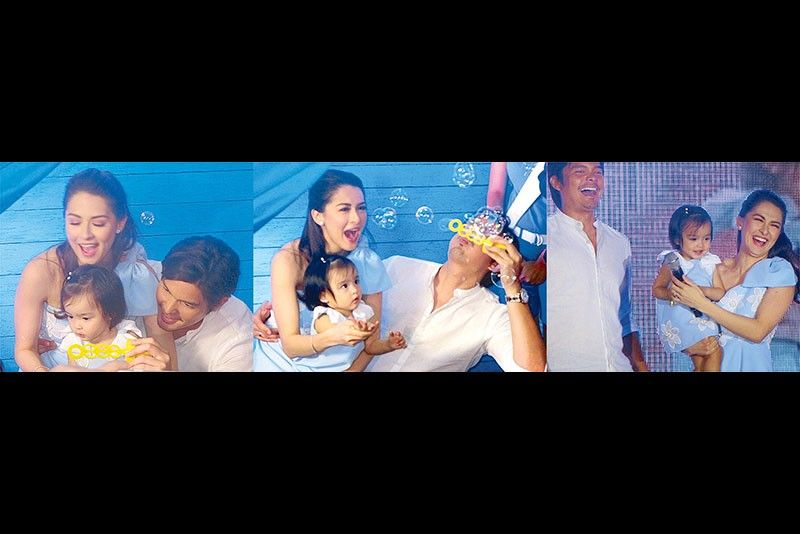 The Dantes family — Dingdong, Marian and Zia — at Johnson's #Dadventures Camp launch at Dusit Thani Manila
Zia upstages Dad Dong & Mom Yan
MANILA, Philippines - She's only one-year-old, but Maria Letizia "Zia" Dantes is already upstaging her showbiz royalty parents, Dingdong Dantes and Marian Rivera, with the packed crowd all eyes and ears as Zia joined mom and dad launch Johnson's #Dadventures Camp at Dusit Thani Manila.
Johnson's Baby Products is the trio's first product endorsement as a family.
Following her mom's cues, the adorable toddler repeatedly waved and blew kisses, and charmed the audience with "hi" and "thank you" during the event that seeks to empower mothers to give go-signal and say "pwede" to rough and tumble play between dads and little ones, with most authorities agree that it's "normal, healthy and generally conducive to more competent kids."
According to the DongYan couple, Zia is a happy, healthy and active kid who's into rough playing, especially with her superstar daddy. The Kapuso stars are, in fact, endorsing rough play because of its long-lasting, positive effects on child's health and brain development.
"I admit I'm overprotective to Zia because, as you know, mommies tend to be OA (overacting) when it comes to their baby's health and safety," shared Marian. "But Zia loves to be active and Dong is the one who balances everything."
As if Zia wanted to prove she's into rough play, she threw the microphone twice that left the crowd gasping and her parents embarrassed.
"It's really very challenging to raise a kid," said Dingdong. "It's really an ongoing process of learning and it's really important for us to be hands-on parents."
The Dantes couple's stand on rough play such as crawling, wrestling and home chasing, among other things, is supported by Prof. Perlita de Leon, a developmental psychology expert from UP Diliman.
De Leon said rough and tumble plays establish positive bonds between parents and young children that lead to "empathy, friendship and cooperation."
"Kids learn to strategize during rough play," De Leon pointed out. "They grow smarter and more intelligent. It helps improve their decision-making and critical thinking, as well as their communication skills. The benefits are beyond physical."
For her part, Dr. Loverna Arcillas Suratos, a well-known dermatologist from Asian Hospital and Medical Center, said it is important for kids to have strong and healthy skin to protect them from scratches, scrapes and irritations from horseplay.
She recommended the continuous use of mild liquid washes and lotions that contain powerful nourishing ingredients like oats that contain avenamethrides, a naturally-occurring compound that has properties that protect against skin irritation. Products that contain rice and milk, Suratos noted, are often fortified with vitamins that help skin not just soft and smooth, but, more importantly, strong, healthy and ready for #Dadventures.
Ria Gatmaitan, senior brand manager of Johnson's, revealed that the Johnson's Milk range contains precisely those ingredients, citing milk proteins sources from European cows, colloidal oats and rice extracts found in each formula.
Kapuso star and Zia's godmother Bettina Carlos hosted the event along with her brother Clinton.