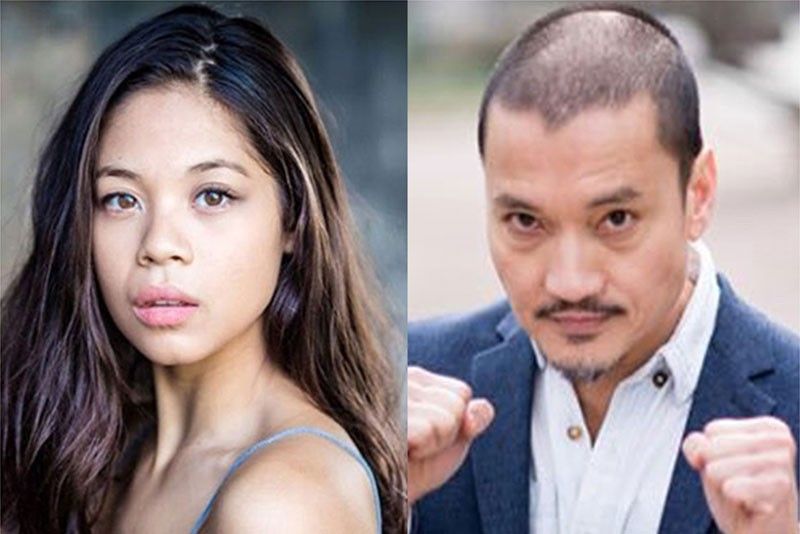 Eva Noblezada and Jon Jon Briones
Broadway and West End Pinoy update
Finding out that Eva Noblezada had been nominated for Best Actress in a Musical at the Tony Awards was the icing on the cake. It felt like a delicious capper on a series of tasty, delicious news about Filipino actors in productions abroad and how well they are doing. On days when you are feeling bored about the stagnant state of local show business, give yourself a feel-good kick by checking out Pinoys in Broadway and the West End.
Eva who comes from North Carolina in the U.S. of A., but is of Filipino descent, was a 17-year-old high school student when she was cast in the role of Kim in the London revival of Miss Saigon three years ago. That brings to mind how our then 17-year-old Lea Salonga also won the role over 25 years ago and opened the doors of global theater to Filipinos. Eva is now doing Kim at the Broadway Theater on Broadway and with this nomination is on the same footing as other Tony nominees like Bette Midler and Patti Lupone.
Not to forget, the Miss Saigon revival in London also starred Pinoys Jon Jon Briones as the Engineer, Rachelle Ann Go as Gigi and Devin Ilaw as Thuy. All of them are now performing on Broadway. Technically, Briones and Ilaw like Noblezada are Americans but that does not change the fact that it is Filipino blood inside their veins.
Still on Miss Saigon. The revival production is going on tour this year and what do you know, Pinoys are also in the cast. The tour which begins in Leicester, England on July 3 will have local theater stalwart Red Concepcion as The Engineer and Pinoy Pop Superstar winner of some years back Gerald Santos as Thuy. And I am sure there will be more Filipinos who will be joining the cast of other Miss Saigon productions in the future.
There is more. Joanna Ampil sings a show-stopping Memory as Grizabella around Europe in the touring company of Cats. Jose Llana is a sexy, commanding monarch in The King and I now on tour in the US. And out there in the Pacific Northwest, Pinoy actors lead the cast of the innovative musical Here Lies Love by David Byrne and Fatboy Slim.
Touted about as the most expensive production ever to grace the stage of the Seattle Repertory Theater, Here Lies Love is a look at the partnership of Ferdinand and Imelda Marcos in a disco setting. It stars Pinoy Mark Bautista as President Marcos and Fil-Ams Jaygee Macapugay as Imelda, Conrad Ricamora as Benigno Aquino and Melody Butiu as Imelda's nanny Estrella. The reviews are excellent and the limited run has been extended up to June, after which it might move to Broadway. With more Pinoys, of course.
Now back to the Tony Awards and this year's nominees. I know these actors and creative people all have an equal chance of bagging a trophy. But I have a soft spot for Josh Groban who from teen-aged "popera" star has now matured into a Tony-nominated actor. Besides, he plays Pierre in Natasha, Pierre and the Great Comet of 1812, a new take on one of the most loved novels of all time, Leo Tolstoy's War and Peace. The show copped 12 nods, the most number of nominations this year. Runner-up is the Bette Midler starrer, Hello Dolly with 10.
And here they are, the nominees in the musical category at the 2017 Tony Awards, which will be held at the Radio City Music Hall on June 11.
Best Musical: Come From Away; Dear Evan Hansen; Groundhog Day; Natasha, Pierre and the Great Comet of 1812.
Best Revival of a Musical: Falsettos; Hello Dolly; Miss Saigon
Best Book of a Musical: Come From Away; Dear Evan Hansen; Groundhog Day; Natasha, Pierre and the Great Comet of 1812.
Best Original Score: Come From Away, Dear Evan Hansen; Groundhog Day; Natasha, Pierre and the Great Comet of 1812.
Lead Actor: Christian Borle, Falsettos; Josh Groban, Natasha; Andy Karl, Groundhog Day; David Hyde Pierce, Hello Dolly; Ben Platt, Evan Hansen.
Lead Actress: Denee Benton, Natasha; Christine Ebersole, War Paint; Patti Lupone, War Paint; Bette Midler, Hello Dolly; Eva Noblezada, Miss Saigon.
Featured Actor: Gavin Creel, Hello Dolly; Mike Faist, Evan Hansen; Andrew Raunells, Falsettos; Lucas Steele, Natasha; Brandon Uranowitz, Falsettos.
Featured Actress: Kate Balwin, Hello Dolly; Stephanie J. Block, Falsettos; Jenn Calella, Come From Away; Rachel Bay Jones, Evan Hansen; Mary Beth Peil, Anastasia.
Best Scenic Design: Groundhog Day; War Paint; Natasha; Hello Dolly.
Best Costune Design: Anastasia; Hello Dolly; Natasha; War Paint.
Best Lighting Design: Come From Away; Hello Dolly; Natasha; Evan Hansen.
Best Direction: Christopher Ashley, Come From Away; Rachel Chavkin, Natasha; Michael Greif, Evan Hansen; Matthew Warchus, Groundhog Day; Jerry Zaks, Hello Dolly.
Best Choreography: Andy Blankenbuehler, Bandstand; Peter Darling and Ellen Kane, Groundhog Day; Kelly Devine, Come From Away; Denis Jones, Holiday Inn; Sam Pinkleton, Natasha.