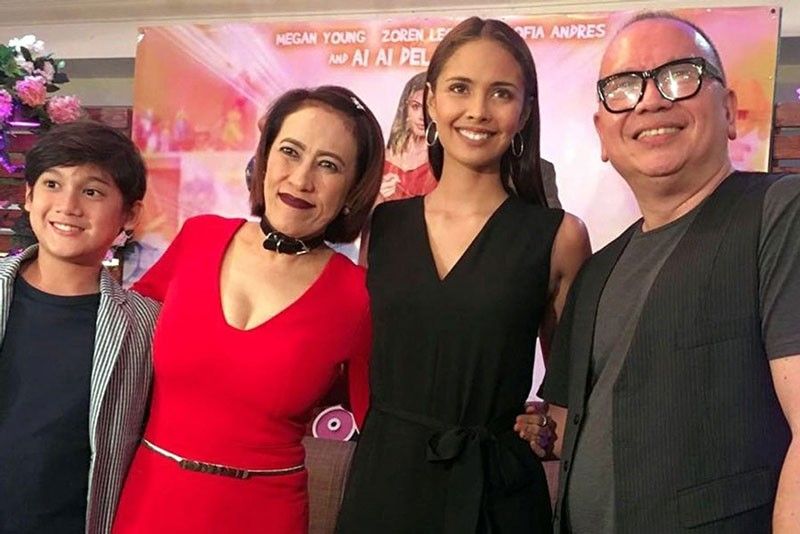 Direk Joey Javier Reyes with Our Mighty Yaya stars (from left) Lucas Magallano, Ai-Ai de las Alas and Megan Young: Touched by the ironic sadness in the life of Filipino yayas.
The mighty yayas in direk Joey's life
MANILA, Philippines - Direk Joey Reyes says he has long been in showbiz for as long as he can remember.
He wrote his very first screenplay in the late 1978 (Problem Child directed by Elwood Perez for Regal) and he has written over 200 screenplays both produced and unproduced, all book-bound and open for viewing at the De la Salle University library.
He has done over 50 films and that fact alone really scares him.
The highlights?
"Oh, a lot ranging from working with the grand masters — Brocka, Bernal, Gallaga as a screenwriter and creating works like May Minamahal, Live Show, Kasal, Kasali, Kasalo, among others. And now I am going back to teaching filmmaking. I believe, the grand highlights are yet to come."
From his experience, it only takes a few basic things to become an effective director. "One is knowing your audience. I have this strong belief that every film is an act of sharing and not merely storytelling for the sake of hard-selling a narrative. On the other hand, a bestselling movie is now dependent on the machinery and strategy of studios in creating products addressing specific needs and demands. But a good film is one which is not merely riding the crest of a trend but captures truth that even in ten to twenty to fifty years can still relate to an ever-evolving audience.
"Which also leads me to insist that a good filmmaker should never lie complacent in his or her comfort zone. The effective filmmaker evolves with the times. The moment people can predict you, categorize you and pigeonhole you, then you have reached your peak. You are now ready for atrophy. A good filmmaker does not merely comply — he surprises and even disturbs."
One moment of truth he cannot wrest away from his life is that once upon a time in his early youth, he has deep connections with mighty yayas (nanny) now the title of his latest film, Regal Films' Our Mighty Yaya.
He is clear about this as he visualizes the Filipino yaya in the character played by Ai Ai de las Alas with whom he discussed the character thoroughly. "Virgie Redoble is a woman who had to leave her family in Iloilo in order to work as a yaya so that she may have enough money to pay for the college education of her only child. We were very, very aware that this is another mother role and we did not want this to be a mere repetition of the iconic performances she has done in a very successful franchise that also involves a mother but of so many children.
"Instead we drew from our own experiences — she as a mother to her grown-up kids — and I from the kasambahays that I will forever remember in my life not only because they took care of me when I was a toddler but as a way of looking back at all these women we let into our homes who have their own separate lives, particular stories which we never really get to learn nor give enough concern.
"How difficult it must be for them to give up their own private lives to serve the needs of others in the same vein as all the OFWS who sacrifice their families for the good of their children, hoping that they will have better options. Ai Ai and I focused on this detail because we don't want a caricature of a maid or a nanny but, as much as possible. She should be somebody we all know sometime or the other in our lives."
As far as he is concerned, he has known Ai Ai for quite some time before she became the popular actress she is now. "She was a character straight from my weekends in Malate, those years when clubbing was a definition of human survival. That is why it is not work with Ai-Ai on the set. We know each other far too well to pinpoint what to tap when we want to get specific results in the scenes we are photographing. We are friends and that matters a lot."
Direk Joey did not have the uniformed yayas as everyone knows them now.
"I come from a middle-middle class family in Pasay City with kasambahays who took care of me on the side. I was a brat as a kid so much so that I dread remembering my somewhat unruly behavior when I was in that puppy stage. But I do remember one specific housekeeper — our labandera named Teresa who was with us for the longest time.
"I do not remember exactly when she ceased from being with us but she was the kasambahay who really mattered a lot because she was practically family. She was a single mother who worked so hard for her only son which was how I designed the Virgie character in Ai-Ai."
About two years ago, somebody sent him a PM in Facebook. She introduced herself as Teresa's granddaughter. She said that Teresa wanted to see him because she always caught him on TV while he was doing his stint as a judge for a reality talent show.
"Teresa wanted to see me one last time because she was already very old and ill. That really hit me. That really, really hit me. I never gave it much thought but the people we let into our lives are there for far greater reasons than the money they send home to their families. There is genuine love and there is real affection, caring.
"Yet we always tend to take these people for granted or see them as second class citizens who are there but not really a part of the landscape. That is why I love telling stories about the 'yayas,' the 'kasambahays' because there is such an ironic sadness about them."
Direk Joey sums up his life in showbiz thus: "It is a roller coaster ride. I am 62 and I am still writing and directing films. And I only have one request from God: I promise to be good until my last day on earth, I remain useful either on the set or in front of my keyboard writing. My career has spanned four decades and I still have so many stories that I MUST tell."
("Our Mighty Yaya" opens in cinemas nationwide on Wednesday, May 10.)