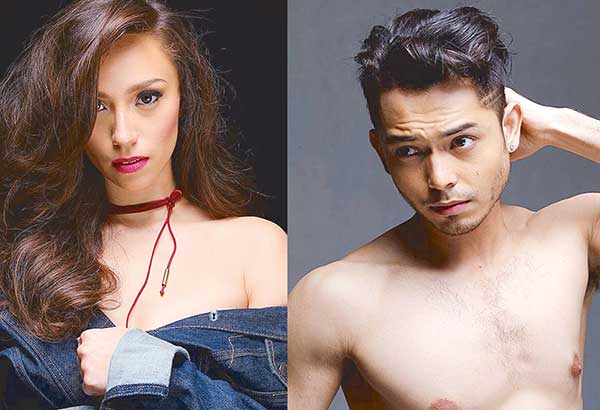 AJ Muhlach and Phoebe Walker star in Double Barrel
AJ & Phoebe, from pop groups to action flicks
The great Fernando Poe Jr. could sing and his singing scenes always went big with moviegoers. Cesar Montano performs like and has done some recordings. Robin Padilla, if prodded enough, can render a song. I never heard of occasions during which Rudy Fernandez or Phillip Salvador sang. So, it is a fact that given their hard-hitting image, music is seldom associated with action stars. So this puts AJ Muhlach on his own different level.
Born Adrian Justine Muhlach, AJ is a member of the most famous families in local show business. This is because he is brother to Aga, nephew to the legendary Amalia Fuentes and cousin to Niño. Now ready to be another successful part of the Muhlach clan, he is being launched to stardom in the movie Double Barrel, where he plays a drug pusher-turned-police informant and EJK killer. It is a hard action role, a total departure from AJ's past as one of the members of the XLR8.
About seven years ago, AJ was singing and dancing on television and in mall shows to the delight of the screaming fans of XLR8. Made up of Caleb Santos, Kiko Ramos, Hiyoshi Toro, Carlo Laserna and AJ, it was the most successful song and dance boy group ever put together in the country. The boys had hit songs like You're So Hot, I Love You Girl, Dance With Me and Ms. Beautiful.
XLR8 though, only lasted for two years. After that AJ floundered with an assortment of roles as in P.S. I Love You on TV and Para Sa Hopeless Romantic in films. It was a five-year wait from XLR8 but the big one is finally happening to AJ with Double Barrel. But what is a singer and dancer doing with a killer role in an action drama? I say, why not? It has been so long since we have had a young action star. Who knows, AJ might just fill that lack.
AJ is in very good hands. His director is Toto Natividad, who is known in local movie circles as the last great action director. He continues to work his magic in the high-rating Panday series on television but before that, in the not-so-distant past when action was a big deal at the box-office, Toto, who is also a writer and editor, directed the best. Rudy in The Ping Lacson Story, Phillip in Hangga't May Hininga, Cesar in Alyas Waway and Joko Diaz in The Grepor Butch Belgica Story.
Co-starring with AJ is Jeric Raval who not so long ago was a young action star himself. And coincidentally, his leading lady is Phoebe Walker who back when AJ was an XLR8, was a member of the all-female song and dance group Eurasia. Phoebe has since then proven herself one of the country's most talented young actresses with a Best Supporting Actress Award from the Metro Manila Film Festival for her performance as the ghostly nun in Seklusyon.
Double Barrel opens in cinemas nationwide starting Aug. 2. And no, AJ and Phoebe will not be promoting their picture by singing and dancing like they once did. They have now embarked on a new journey. Let us wish them well.
And now for a look at the latest Spotify Philippines Chart. Justin Bieber remains the big man in the hit list with three collaborative songs in the Top 10 and two of them at the top. And it is nice to see a recording by a Filipino artist enter the Top 10 with Dahil Sa Iyo by Iñigo Pascual.
The Top 20 songs in Spotify's Philippines Top 50 list are: Despacito by Luis Fonsi, Daddy Yankee and Justin Bieber; I'm The One by DJ Khaled feat. Justin Bieber; Strip That Down by Liam Payne and Quavo; Mama by Jonas Blue and William S; Attention by Charlie Puth; 2U by David Guetta and Justin Bieber; There For You by Martin Garrix and Troye Sivan; Something Just Like This by The Chainsmokers and Coldplay; Dahil Sa Iyo by Iñigo Pascual.
Symphony by Clean Bandit and Zara Larsson; Pretty Girl by Maggie Lindemann; Feels by Calvin Harris and Pharrell Williams; Thunder by Imagine Dragons; That's What I Want by Bruno Mars; Swalla by Jason Derulo and Nicki Minaj feat. Ty Dolla; Say You Won't Let Go by James Arthur; There's Nothing Holding Me Back by Shawn Mendes; and Stay by Zedd and Alessia Cara.