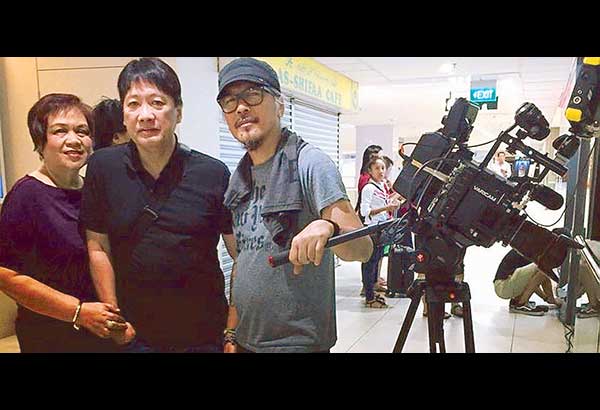 The fresh look of Lav Diaz (right) during the shoot of Henrico's Farm at Singapore's Lucky Plaza with frequent Lion City visitors Simon Santos and wife Glo dropping in. — Photos courtesy of Simon Santos of Video 48
Lav shoots a 'short' film in Singapore
Edgar O. Cruz
(The Philippine Star) - September 19, 2017 - 4:00pm
MANILA, Philippines — "Sana ang new film namin ni Lav (Diaz) hindi masyadong mahaba," ABS-CBN chief content officer Charo Santos Concio expresses during the pre-production of their new full-length drama, Ang Saka ni Henrico (Henrico's Farm), with two-week principal photography in Singapore.
Ang Babaeng Humayo (2016), the first Lav and Charo collaboration, at three hours and 46 minutes, is a short feature by Lav's standard. By definition, a short film is 15 minutes long but Lav is not uncompromising about the length of his long narratives. Is he finally reverting to regular-sized films?
Tabbed for his lead of the slow cinema movement, the multi-awarded director started his directorial career with two-hour screeners Serafin Geronimo: Ang Kriminal sa Barrio Concepcion (1990), Burger Boys (1990), Hubad sa Ilalim ng Buwan (1999) and Hesus, Rebolusyonaryo (2001). But shifted to incredibly long narrative documentary-fiction with Batang West Side (2002) at five hours and 15 minutes.
Obsessed with originality, Lav progressively decreased the length of his beyond-the-box features. Compared to Ebolusyon ng Isang Pamilyang Pilipino (2004) which equals Death in the Land of the Encantos (2007) in length at nine hours, Melancholia (2008) is at seven hours and 36 minutes, Siglo ng Pagluluwal (2011) equals Florentina Hubaldo CTE (2012) at six hours, Norte, Hangganan ng Kasaysayan (2013) is four hours and 10 minutes, Hele sa Hiwagang Hapis (2016) which is eight hrs and 11 minutes.
It is understandable why Charo prefers regular-sized films coming from ABS-CBN that produced the country's highest-grossing mainstream films. It does not require special screening schedules and more manageable to viewers' own schedules.
A found story that Lav encountered in Frankfurt, Germany in 2004, Henrico's Farm tells about a migrant Filipina domestic worker (Charo) flying home for the first time in three decades to confront a family tragedy, the death of grown-up son Henrico who bought a farm using the money she had been sending home.
The nanny-on-vacation decides to spend wait time at Singapore's Lucky Plaza when her connecting flight to the Philippines got delayed. She meets young OFWs (Angeli Bayani and Shaina Magdayao) and learned their way of thinking and how they have transitioned into hard workers for their family, but with the major change, now they are thinking of themselves.
Lav's new film, a tribute to women, answers the purpose female OFWs for repatriation when the family they have been laboring for is already their own. Is Lav going accessible?