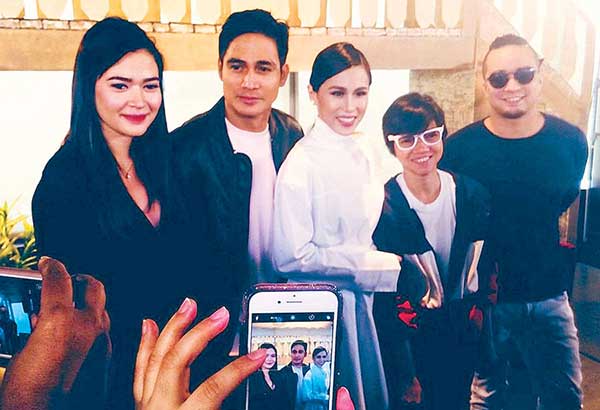 Last Night director Joyce Bernal (second from right) with (from left) writer Bela Padilla, actors Piolo Pascual, Toni Gonzaga and producer Neil Arce during the presscon. Bernal is a firm believer in the power of collaboration.
The creative process according to direk Joyce Bernal
MANILA, Philippines — In any gathering, you can mistake her for one of those millennials sharing private jokes that only those in the circle can comprehend.
"I am basically a happy person," says direk Joyce Bernal when asked if indeed she has the same outlook at home and on the set.
She elaborates: "I take advantage of this happy moment on the set to create something. Because it is not all the time that I have an idea how to approach a new project. Sometimes, after fine-tuning the script and finalizing the cast, you still feel you are in the dark. That's when you turn to the power of collaboration to start the ball rolling.
"Yes, I sometimes report on the set without an idea on how the whole thing will turn out. The creative process is like that for me. I don't want everything laid out when the camera rolls. I need to rely on my instinct on how to make storytelling very spontaneous without the help of storyboards."
Direk Joyce's writer is actress Bela Padilla (100 Tula Para Kay Stella) who delivered her first screenplay for Star Cinema.
"It was smooth sailing as far as working with direk Joyce," confides Bela. "I didn't really expect something big will come out from writing that script. Apart from changing the title (original title was Last Chance), the revisions were minimal. Writing came naturally for me. In my younger years, I loved reading books and that's where my writer's imagination expanded. Writing has more challenges than acting. In the latter, you only think of your character but in writing, the fate of all the characters are in your hands."
Toni Gonzaga who plays Carmina found the script to her liking after initial reading. "It was so good I meant to boycott the film if I was not chosen to play the part."
The director — who is a happy single mother — adds she expects just the basic things from her actors. "I just want them to report on the set with an open heart and to be flexible enough for the sake of good storytelling. Anything can change on the set. What you have earlier figured out can look contrived when you execute it. So, you try another approach, you suggest something new to the actors. Perhaps, another way would make it more real and natural. This is where film collaboration works. I don't want to report on the set with a foolproof formula of what the audience should expect. In my work, I prefer to share an experience and not just impart lessons for my audiences. I believe you can do this by not being a straightjacket on the set."
This sits well with the lead actors who are familiar with the director's creative process.
Says Piolo: "My role as Mark is far from the usual characters I have portrayed in the movies. The character has a dark side and I have to get into that personal realm by entering his psyche. My fear was that after getting into the part, I may not be able to get back to my normal life. But I perfectly understood the character's humanity. To be able to succeed in exploring the dark side of the character is one of the rewards of being an actor. And direk Joyce has a big part in the transformation of the character. For one, she is very collaborative. She listens to everyone on the set including utility. But she knows what she wants. She is very visionary in that sense. She wants the outcome to be very organic and in that regard, she brings out the best in everyone. She tries very hard to make every story transition very real."
Direk Joyce is Toni's first director for Star Cinema and she knows the director inside and out. "It is pure joy working with her. There is no pressure coming from her, there is no set standard on which we should measure ourselves and no high expectations. We are just expected to do our best and that's it. She wants everyone to have an open heart on which to make the character grow. Her brand of collaboration extends to everyone and indeed she is one with us."
Last Night is now showing in cinemas.