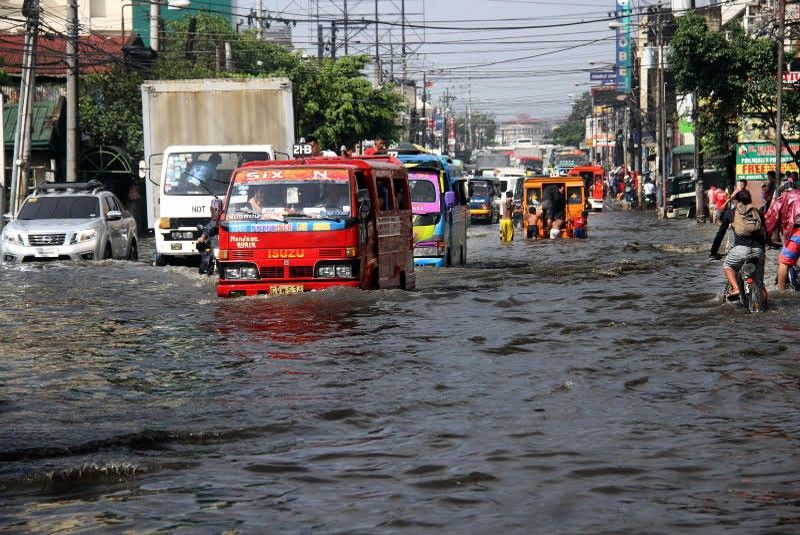 Vehicles navigate through floodwaters in Barangay Tipolo, Mandaue City following a downpour yesterday morning. Flooding is a perennial problem in the city.
Joy Torrejos
Flood, gridlock after 4-hour rain
(The Freeman) - April 4, 2017 - 12:00am
CEBU, Philippines - After four hours of rain, several areas in Cebu province were flooded and traffic congestion worsened in major thoroughfares in the cities of Mandaue, Lapu-Lapu and Cebu.
Knee-deep flood slowed down traffic, particularly at the foot of the Mandaue-Mactan Bridge in Barangay Looc, as well as in Barangay Tipolo and on A. C. Cortes Street in Mandaue City.
The ongoing drainage works along A.C. Cortes have also contributed to the flooding and traffic congestion, according to Mandaue Vice Mayor Carlo Pontico Fortuna.
"Grabe gyud ang baha diha sa may UCLM (University of Cebu Lapu-Lapu Mandaue) kay misulod na gyud ang tubig sa balay," Fortuna said.
The rain began at 4 a.m. and netizens began reporting flooded areas an hour after.
"Atimana intawon nang baha sa hi-way Tipolo paingon Subangdaku. Damay tanan nangatanggong hantod Consolacion ang trapik tungod ana. Pila na kana kadekada problemaha wala gihapon nasulbad," one netizen posted on Facebook.
The floods also triggered vehicular gridlock in Cebu City.
Commuters were forced to wade in knee-deep floodwaters along M.J. Cuenco Avenue, Sanciangko Street, Sabellano Street and Taguno area, according to Councilor David Tumulak.
Tumulak, chairman on City Council committee on public order and safety, said clogged drainage due to improper disposal of garbage magnified the flooding.
"So na-experience nato ang grabeng baha, grabeng basura, nakita nato nga ang basura maoy cause gyud sa pagbaha kay di man kaayo to tantong kusog...," he told reporters yesterday.
No casualties or landslide were reported due to heavy rains, but Tumulak said they would continue to monitor areas that are prone to flood and landslide.
"Atoang gi-empower ever since ang barangay officials sa pag-implement sa ilahang Barangay Disaster Council. Automatically ang ilahang barangay disaster moadto sa landslide prone areas mopahinumdum sa mga katawhan sa paglikay sa disgrasya," Tumulak said.
The state weather bureau said the heavy downpour lasted for about four hours, inundating some low-lying localities in Metro Cebu.
Engineer Alfredo Quiblat, Jr., head of Philippine Atmospheric Geophysical and Astronomical Services Administration-Cebu, told The FREEMAN that the rainfall started at around 4 a.m. and ended at around 8 a.m., accumulating at least 99 millimeters of rain.
He said the intermittent rainfall experienced over Metro Cebu yesterday morning was due to the convergence of the northeasterly and the easterly winds.
These wind systems brought cloudiness and rains over the eastern sections of the country.
The shift of wind direction from northeast to the east signals the start of the hot dry season.
Quiblat said yesterday afternoon they observed another weather system affecting the atmospheric conditions over Metro Cebu – the tail-end of a cold front, which is defined as the "extended zone of converging winds from east to northeast."
This may also bring thunderstorms or rain showers to the affected areas, he said.
Quiblat said that these are the major weather systems that they have monitored so far, discounting any development of a weather disturbance such as a Low Pressure Area or tropical cyclone.
He said this cloudy or rainy weather is seen to persist until Wednesday due to these weather systems, bringing light to moderate rains, but weather conditions may improve on Thursday.
He alerted disaster control units to keep on monitoring areas prone to flood, as well areas vulnerable to landslide as non-stop rain may cause soil to soften.
Last week, the Mandaue City Council backed Association of Barangay Captain President Ernie Manatad for the construction of gabion dams in the mountain barangays to address flooding in the city.
Manatad said small dams will help slow down water run off to lowland areas during rainy season.
During the barangay assembly, Manatad said the barangay captains asked Department of Public Works and Highways to conduct feasibility study on the installation of dikes upstream of Butuanon and Mahiga Rivers.
At least seven barangays in Mandaue City have been identified as flood-prone areas, including Subangdaku, Mantuyong, Umapad, Opao, Alang-Alang, Guizo and Paknaan.
The city's drainage master plan also identified 54 flood-prone areas, 32 of which are major roads, including A.S. Fortuna St., Hernan Cortes St., M.C. Briones and national highways in Subangdaku.
Since the two major rivers pass through Mandaue, the city easily gets flooded during heavy rains. — Odessa O. Leyson, May B. Miasco and Garry B. Lao (FREEMAN)