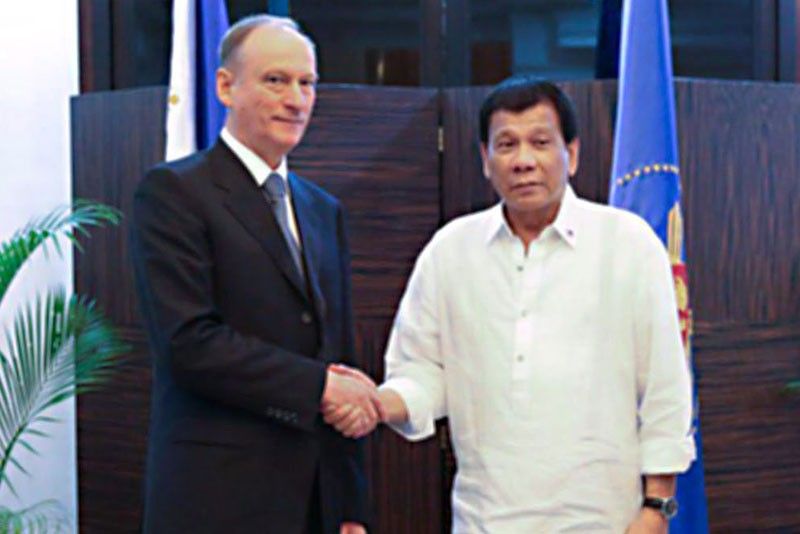 President Duterte Rodrigo yesterday visited the wake of the two soldiers killed during clashes with New People's Army (NPA) rebels in the city on Thursday.
Karl Norman Alonzo/Presidential Photo
Phl, Russia defense accord seen
DAVAO CITY, Philippines – President Duterte may officially get his wish for stronger defense and trade ties with Moscow when he visits Russia in May.
National Security Council chairman Hermogenes Esperon Jr. said the Philippines and Russia are in the process of finalizing details of agreements on government-to-government cooperation in the fields of security and intelligence, defense and military, law enforcement, terrorism and transnational crime, anti-illegal drugs work plan and maritime law enforcement.
"We are still in the process of crafting these agreements and these will be signed when the President visits Russia soon," said Esperon, who was among the officials who met with Nikolai Patrushev, a close friend of Russian President Vladimir Putin and secretary of the National Security Council of Russia. The Russian official arrived here on Thursday for a three-day visit.
Duterte received Patrushev and his party at a dinner last night at the Marco Polo Hotel Davao following their initial meeting at the Malacañang in the South guest house in Barangay Panacan.
Esperon said Russia is also expected to help the country fight the terror group IS, mainly in terms of intelligence sharing.
The country is also considering acquiring weapons, frigates and other equipment from Russia for the police and the armed forces.
But he stressed the Philippines' expanding its ties with Russia won't affect existing military cooperation with the US.
Presidential spokesman Ernesto Abella stressed Duterte's "decision to pivot to Russia forms part of his independent foreign policy."
"We seek new or enhanced partnerships based on equality. This new alliance will not exclude other relationships. The United States will remain an ally," the presidential spokesman added.
"The President sought closer ties with Russia and yesterday's (Thursday's) meeting between President Duterte and the Security Council of the Russian Federation where government-to-government cooperation in the fields of security, intelligence, terrorism, crime and law enforcement were discussed is a concrete example of the improving ties between the two nations," he added. – Christina Mendez