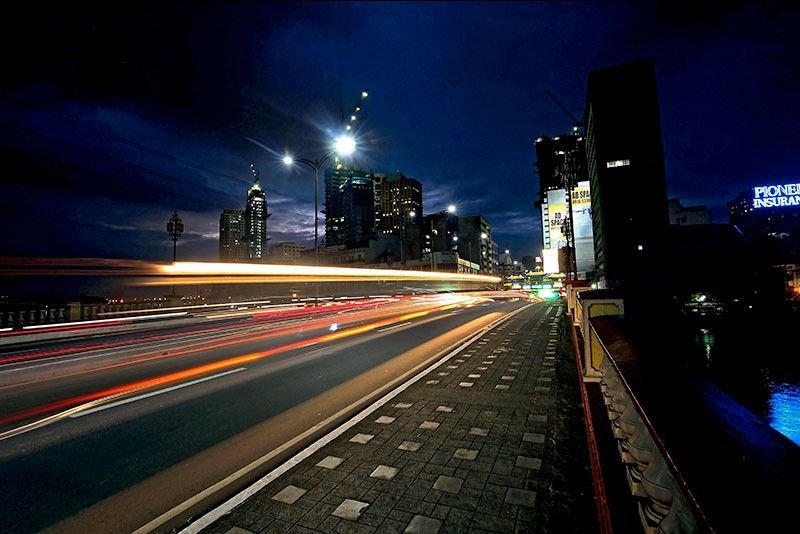 Time-lapse photo shows vehicles traveling on Jones Bridge last night. The Department of Public Works and Highways has proposed the construction of 13 new bridges spanning the Pasig River to ease traffic congestion on EDSA.
MIGUEL DE GUZMAN
DPWH eyes bridge network across Pasig River
MANILA, Philippines - The Department of Public Works and Highways (DPWH) is considering the construction of a bridge network across the Pasig River to address traffic congestion along EDSA.
Budget and Management Secretary Benjamin Diokno said DPWH Secretary Mark Villar has proposed the construction of 13 bridges spanning the Pasig River.
"This wouldn't be a normal bridge, he wants something iconic like the ones in London and France, really beautiful, with bike lanes, etc.," Diokno said.
He said the additional bridges across the Pasig River would give motorists more road choices, therefore helping decongest EDSA.
"When you're in Bonifacio (Global City) and you want to go to Pasig, you would still have to drive to EDSA. You'll just be a nuisance," he said.
Diokno said a proposal for the project is ready to be submitted, and the implementation of the project would likely be funded under the General Appropriations Act.
To sustain its growth momentum, Diokno said the Philippines is intensifying its infrastructure development initiatives. The government plans to spend as much as P8 trillion on infrastructure over the medium term.
Among the big-ticket projects to be implemented by the government are the Philippine National Railway project from Tutuban to Matnog, Sorsogon; a bridge project from Matnog, Sorsogon to Samar to link Luzon to the Visayas and another bridge from Leyte to Surigao.
Diokno said the government is also eyeing a fast train from Clark, Pampanga to Ninoy Aquino International Airport.
Some of the proposed projects were submitted to China for possible financing and feasibility study support.
These include the $53.6-million Chico River Pump Irrigation project covering Cagayan and Kalinga, the $374.03-million New Centennial Water Source-Kaliwa Dam project in Quezon and the $3.01-billion South Line segment of the North to South Railway spanning Manila to Legazpi City in the Bicol region.
Diokno said a delegation from China will be in Manila from Feb. 23 to 24 to further discuss the approval and implementation of the proposed infrastructure projects.
"We're fleshing out the projects. They (the Chinese government) are really gung-ho about this," Diokno said.
"I was talking to the Chinese ambassador, he wants the projects to move within the next six months, that fast," he added.