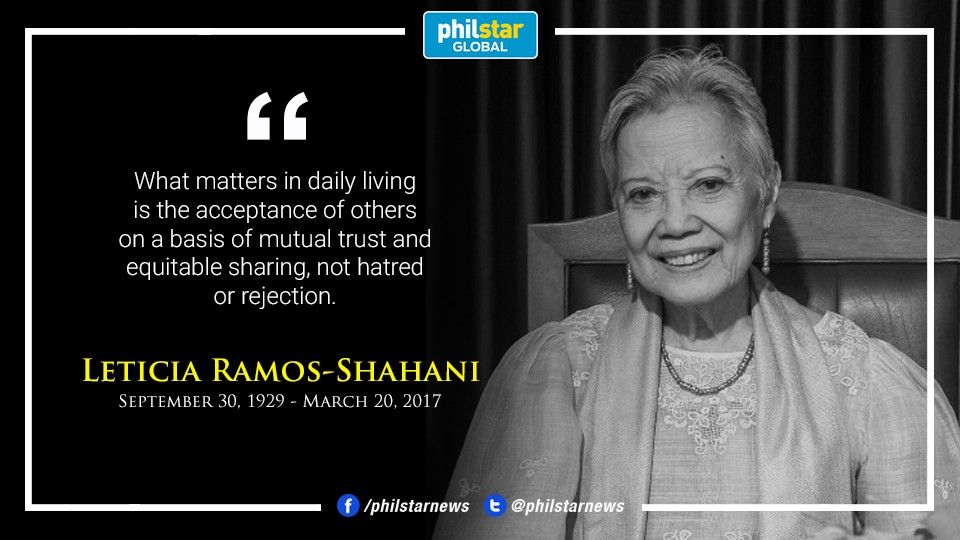 Leticia Ramos-Shahani was the first female Senate president pro-tempore, serving from 1993 to 1996.
RP Ocampo/Philstar.com
Leticia Ramos-Shahani, women's rights champion and ex-senator, passes away
(philstar.com) - March 20, 2017 - 11:55pm
MANILA, Philippines — Former Sen. Leticia Ramos-Shahani passed away early Monday due to low blood pressure and low oxygen. She was 87 years old.
Shahani was battling stage 4 colon cancer. She was diagnosed with the disease in May last year.
"Mom left the body, by the awful grace of God, at 2:40 am this morning, just a few hours after my 50th birthday," Shahani's daughter, Lila, said in a Facebook post.
"Bereft and full of grief, but still strangely peaceful in the knowledge that she is now free from all suffering," she added.
A woman of many hats
Shahani, like her mother Angela Valdez-Ramos, was an educator. She then followed the footsteps of her father Narciso Ramos and entered the government.
Shahani was well-versed in foreign policy. She served as the secretary-general of the United Nations (UN) Third World Conference on Women in Nairobi in 1985 and was UN Assistant Secretary-General for Social and Humanitarian Affairs from 1981 to 1986. She returned to the country after the EDSA revolution and was subsequently elected senator in 1987.
She was the first female Senate president pro-tempore, serving from 1993 to 1996 during the term of her brother, former President Fidel Ramos.
The late senator was a fierce advocate for women's rights. The first bill she authored which was made into law was Republic Act 6725 or the "Strengthening the Prohibition of Discrimination Against Women in the Workplace."
Shahani was also the principal author of Republic Act 8353 or the Anti-Rape Law which reclassified rape as a crime against persons, meaning it is no longer considered as a private crime. Before this, rape was considered as merely a crime against chastity. The reclassification means that anyone with knowledge of the crime may file a case on the victim's behalf. The prosecution would also continue even if the case is dropped by the victim.

Women's champions Angela King, Leticia Shahani, Therese Gastaut and Gertrude Mongella at United Nations event in the 1980s. UN photo
She also authored the Republic Act 8505 or the Rape Victim Assistance and Protection Act of 1998 and advocated the allocation of at least 5 percent of every government agency's total budget for women's rights ad gender equality otherwise known as the Gender and Development Budget Policy.
But more than women's rights, Shahani also committed herself to the plight of the common Filipino.
"[A] Senator cannot just be a class legislator. I also wanted to help the youth, the farmers, the men, the people, in general. There is, indeed, a plethora of choices for an incoming Senator. Although I was not just a Senator for women I never forgot that women's issues were my priority."
Born on Sept. 30, 1929, in the coastal town of Lingayen, Pangasinan, she has also crafted legislation that would help fishermen and the preservation of Philippine marine resources.
For her, an effective senator must have the "passion to understand current events and history, plenty of native intelligence and a heart in the right place in order to respond to the needs of the people."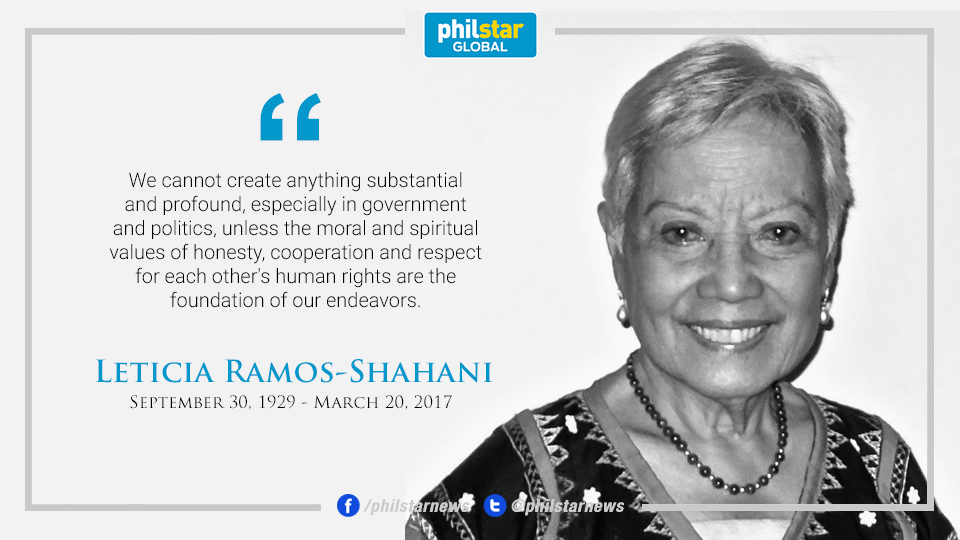 "Without these qualities, the Senate becomes debased and stunted as a political institution... Let us not also forget the high standards of public service, nationalism, eloquence and concern for the common 'tao' set by Senators like Manuel Quezon, Claro M. Recto, Lorenzo Tamara and Jose Dionne," she said in a 2007 speech on women and politics.
She was honored by both houses of Congress in 2015 for her exemplary service in government.
A career diplomat who served as Philippine Ambassador to Australia from 1981 to 1986, Shahani would later on author Republic Act 7157 or the Philippine Foreign Service Act and Republic Act 7227 or the Bases Conversion and Development Act. She was also the main author of Republic Act 7356 which created the National Commission on Culture and the Arts.