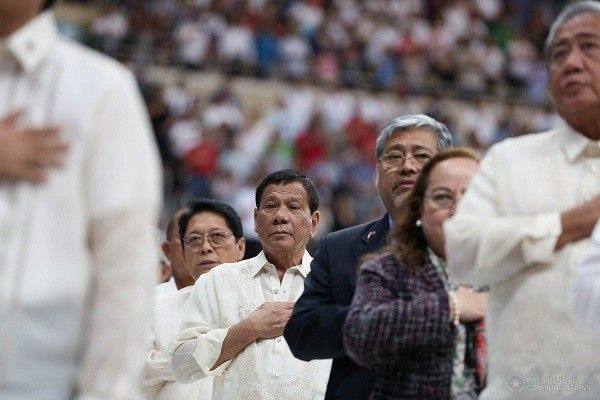 President Rodrigo Roa Duterte together with the members of his delegation sing the Philippine national anthem during a meeting with the Overseas Filipino Workers based in Qatar at the Lusail Sports Arena in Lusail City on April 15, 2017.
PCOO/King Rodriguez
SWS: Pinoys rate drug war 'very good', down from 'excellent'
Score is still 'very good'
MANILA, Philippines — Satisfaction with the government's intensified war on drugs plunged by 11 points in March 2017, a survey by the Social Weather Stations (SWS) revealed, as issues such as the need to capture suspects alive and concerns on extrajudicial killings continue to raise concern among Filipinos.
The March 25 to 28 survey showed an 11-point decline in satisfaction with the conduct of the government's anti-illegal drugs campaign, from +77 in December 2016 to +66 in March 2017. This represents a downgrade from an 'excellent' rating to a 'very good' score.
SWS said: "The March 2017 survey found 78 percent satisfied with the administration's performance in its campaign against illegal drugs, consisting of 43 percent very satisfied and 35 percent somewhat satisfied. Ten percent were undecided, while 12 percent were dissatisfied, consisting of 6 percent somewhat dissatisfied and 6 percent very dissatisfied."
The March 2017 survey showed that 78 percent of the respondents were satisfied with the government's performance while 12 percent were either somewhat dissatisfied or very dissatisfied.
Last December, 85 percent of the respondents were satisfied while 8 percent were not, for an excellent rating of +77.
Capture suspects alive
Support for capturing drug suspects alive was also still strong.
The March 2017 survey showed that 92 percent of the respondents would like to see drug suspects captured alive, slightly lower than the 94-percent support recorded in December 2016.
"People's call to capture drug suspects alive continues to be widespread: the March 2017 survey found 66 percent saying it is very important and 26 percent saying it is somewhat important that suspects involved in illegal drugs be captured alive, for a total rating of 92 percent. It was 94 percent in both the September 2016 and December 2016 surveys," SWS said.
On the veracity of police reports on drug suspects resisting arrest, opinions remain split, according to the SWS.
Based on the survey, 24 percent said that the police were telling the truth while a slightly higher figure of 31 percent said that they were lying. A larger percentage, 44 percent, are still unsure on whether or not the police officers are reporting the truth.
In December, 28 percent said that the police were telling the truth, 29 percent said that they were not and 42 percent were unsure.
Fear of extrajudicial killings goes down
A silver lining for the administration was the decline in the concern of Filipinos on the possibility of being a victim of extrajudicial killing.
In March 2017, 73 percent were either very worried or somewhat worried that they would be victims of extralegal killings, lower compared to the 78 percent who expressed the same in December.
Seventy percent of the respondents also believed that the government was serious in solving cases of extralegal killings which marred the government's flagship program.
On the government's seriousness to address the issue, "34 percent answered talagang seryoso (very serious), 36 percent answered medyo seryoso (somewhat serious), 22 percent answered hindi tiyak kung seryoso o hindi seryoso (undecided if serious or not serious), 5 percent answered medyo hindi seryoso (somewhat not serious), and 4 percent answered talagang hindi seryoso (not serious at all)."
These figures are comparable with the data obtained in December when 70 percent said that the government was either very serious or somewhat serious in addressing the issue while 22 percent said that they were not sure if it was serious or not. Four percent believed that the government was not serious at that time, SWS said.
The March 2017 survey used face-to-face interviews with 1,200 adults nationwide, 300 each in Metro Manila, Balance Luzon, Visayas and Mindanao. It has a sampling error of plus/minus three percent for national percentages while plus/minus six percent for Metro Manila, Balance Luzon, Visayas and Mindanao percentages.