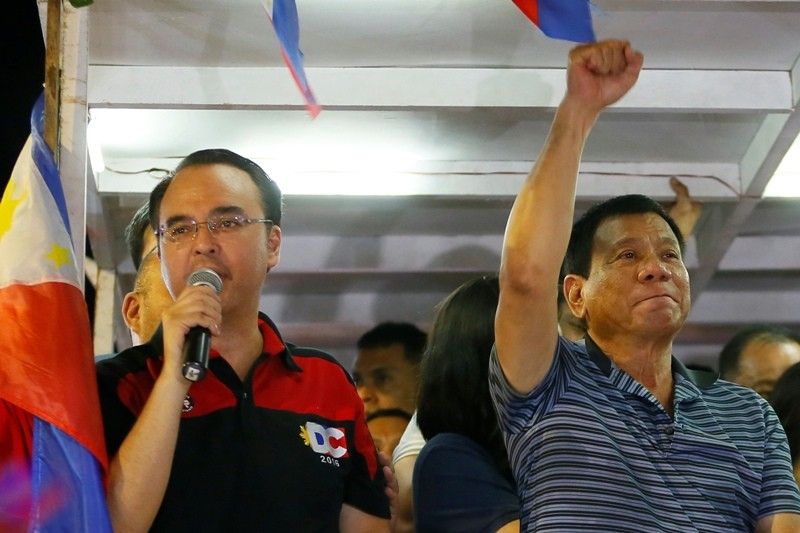 President Rodrigo Duterte earlier said that he will appoint his former running mate, Sen. Alan Peter Cayetano, as Secretary of Foreign Affairs.
Analyst: Duterte needs Cayetano in Senate, not at DFA
MANILA, Philippines — There appears to be two reasons why President Rodrigo Duterte may abandon his promise to Sen. Alan Peter Cayetano of being appointed as Foreign Affairs secretary, an analyst said.
Michael Coyne, writing for Sydney-based think tank Lowy Institute, said that Duterte has injected uncertainty into the Department of Foreign Affairs (DFA) after former Secretary Perfecto Yasay Jr. was forced to step down.
The congressional Commission on Appointments had rejected the appointment of Yasay for lying about his citizenship status. DFA Undersecretary for Policy Enrique Manalo was then appointed to temporarily replace Yasay.
First, the president may feel comfortable permanently appointing Manalo, a career diplomat, instead of Cayetano, Coyne said. Cayetano, chair of the Senate foreign affairs committee, is a lawyer and politician whose wife and siblings have held elected positions.
"Manalo will be relatively inconspicuous, and his status as a professional diplomat may even be welcomed in the international community, especially considering the Philippines' status as the 2017 ASEAN Chair," Coyne said.
Duterte has hinted that he may not assign Cayetano as the country's top diplomat. The senator himself is also facing citizenship questions.
"These accusations, combined with Cayetano's lack of formal foreign policy experience, may prove to be altogether too redolent of the recent Yasay debacle, and can only make Manalo seem like a more appealing option for Duterte," the analyst said.
Second, the president may deem it more necessary for Cayetano to remain in the Senate as opposition rises.
"(Analyst) Malcolm Cook has previously argued on The Interpreter that Duterte could encounter increased opposition in the Senate after the February arrest of Senator Leila De Lima, a longtime opponent of the President," Coyne said.
Duterte's request for emergency powers to address the traffic situation in Metro Manila has been moving slowly in the Senate. Despite 14 senators giving approval to the president's emergency powers, Duterte still had to meet with several senators to emphasize the passing of this legislation.
Six senators have also pledged to stop the restoration of the death penalty in the country, which has been passed by the House of Representatives.
"So Duterte may truly need Cayetano in the Senate. Cayetano has been a vocal supporter of Duterte's policies, including the draconian war on drugs," Coyne said.
Coyle also noted that Cayetano has a history as a "political brawler" willing to attack high-profile targets.
"If Duterte is concerned about a Senate opposition bloc increasingly finding its voice, he may want to keep Cayetano in the legislative branch to lead a potential counter-offensive," Coyne said.