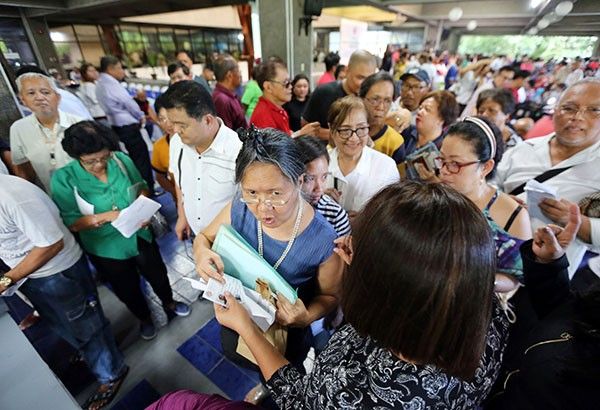 Martial law victims line up during the first distribution of monetary compensation at the UP Diliman in Quezon City yesterday.
BOY SANTOS
Martial law victims receive compensation
MANILA, Philippines - More than 300 victims of human rights violations during martial law were awarded monetary compensation by the Human Rights Victims' Claims Board (HRVCB) yesterday.
The 317 victims constitute the first batch of 4,000 claimants approved under Republic Act 10368 or the Human Rights Victims Reparation and Recognition Act of 2013.
Officials of HRVCB and Land Bank of the Philippines distributed cash cards to claimants during a ceremony held at the HRVCB office in the University of the Philippines campus in Diliman, Quezon City.
The monetary compensation comes from the ill-gotten wealth of dictator Ferdinand Marcos and his wife Imelda, which was recovered by the Philippine government from Swiss banks.
HRVCB chair Lina Sarmiento said a total amount of P300 million has been released for this purpose.
"This is only symbolical – that through reparation, we are somehow able to honor them and what they did for the country, though no amount of money will really be able to compensate for the sacrifices and sufferings they went through," she said.
The partial compensation is set at 50 percent of the total estimated amount for each claimant.
"The total estimated amount per claimant is obtained by multiplying the estimated value of one point (P25,000) by the number of points awarded per claimant. The total estimated amount may still increase or decrease depending on the result of the deliberations of the remaining claims," Sarmiento said.
Only claimants who received their copies of the resolutions and whose periods of appeal has expired will receive cash cards.
The cash cards, which also function as ATM cards, can be used in any ATM of Land Bank or any Bancnet member bank.
Subsequent release of cash cards will be made on a daily basis through designated Land Bank branches. The release of cash cards regarding claims which are still subject of appeals and oppositions will be withheld until such time that these are resolved.
Sarmiento said all resolutions were sent through registered mail and the HRVCB is monitoring the delivery of the resolutions via the return cards attached to the mailed resolutions.
"It must be emphasized that RA 10368 provides, as available remedies, the recognition and reparation of victims of human rights violations during the martial law period. The partial compensation received by eligible claimants is just one of the remedies provided for under the law. Apart from that, they are also entitled to non-monetary reparation to be delivered by other agencies of government," she added.