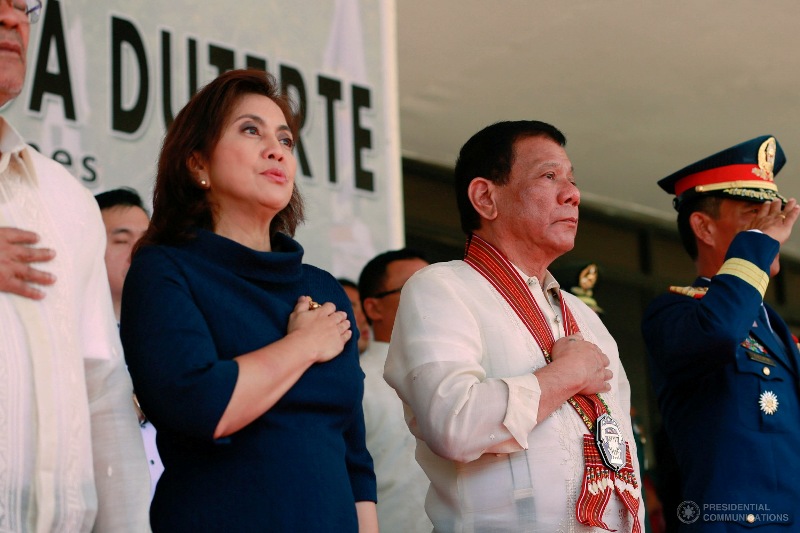 President Rodrigo Duterte and Vice President Leni Robredo maintained majority approval and trust ratings in the second quarter of the year, according to the latest Pulse Asia survey. Presidential Photo/King Rodriguez, File
Airlines grant 40-kg baggage allowance to soldiers, police
Jaime Laude
(The Philippine Star) - July 22, 2017 - 4:00pm
MANILA, Philippines - The Armed Forces of the Philippines (AFP) yesterday lauded Air Asia, the country's flag carrier Philippine Airlines (PAL) and Cebu Pacific for giving extra benefits to troops deployed to the frontlines.
AFP chief Gen. Eduardo Año expressed gratitude to the three airline firms in acknowledging the sacrifices of the members of the uniformed services.
Air Asia initially gave troops on peacekeeping missions free inflight meals and snacks as well as an additional 40 kilos of baggage allowance.
Air Asia's gesture was in response to a social media post about passengers assisting three soldiers bound for Marawi by accommodating their excess baggage, mostly military gear and equipment.
The three soldiers were queuing to check in at Air Asia's airport terminal when they found out that their baggage exceeded the allowable seven kilos per passenger.
Without complaining or making a scene, the soldiers simply stepped aside and tried to remedy the situation but to no avail until several civilian passengers offered to distribute among themselves the soldiers' extra baggage.
This scene was first noticed by the returning migrant worker who went out of her way to discuss the matter with airline management. The migrant worker posted the moving event at the airport in her Facebook account, which went viral.
The airline management acknowledged the soldiers' predicament and immediately ordered its ground personnel to allow all military personnel on deployment to the frontlines to carry 40 kilos of baggage free of any charges.
Air Asia's CEO Dexter Comendador also ordered free inflight meals should be served to the soldiers.
PAL on Friday also offered to grant same privileges to the troops and policemen deployed to the frontlines.
PAL chairman Lucio Tan is granting 40 kilos free baggage allowance to soldiers and policemen in active service traveling on all PAL domestic routes on official or personal capacity in "recognition of their sacrifices for the country."
To avail themselves of the privilege, military and police personnel must present their valid identification card upon check in at the airport.
However, baggage exceeding the 40-kilo free baggage allowance would be appropriately charged the applicable excess baggage rates.
The privilege is applicable across all fare brands, PAL said, which will be valid only for travel until Dec. 31, 2017.
"My heart goes out to our country's heroes and heroines who have sacrificed their lives in the battlefield and to all those who continue fighting to save Marawi and other critical areas. You deserve the country's highest honor," Tan said.
On Tuesday next week, President Duterte will be honoring fallen soldiers of Marawi in Malacañang with the family members of deceased soldiers as special guests.
PAL is extending two free domestic tickets to Manila for each family member attending the event.
PAL earlier donated P2 million to the AFP for the soldiers deployed at the battlefront in Marawi.
Cebu Pacific, on the other hand, offered to provide airlift support for wounded soldiers and policemen, as well to airlift cargo of relief goods for Marawi.
"WIA (wounded in action) government troops who are fit enough for commercial flights can be accommodated on Cebu Pacific flights from Cagayan de Oro (Laguindingan Airport), and flown to any CEB domestic destination. Currently, Cebu Pacific has direct flights from Cagayan de Oro to Bacolod; Tagbilaran, Bohol; Cebu; Davao; Iloilo and Manila. By July 26, CEB will also fly direct between Cagayan de Oro and Zamboanga City," Cebu Pacific said.
"On top of the airlifting of WIA government troops, CEB is also airlifting cargo of relief goods and other humanitarian assistance for affected residents. Donors may coordinate with the GMA Kapuso Foundation or the Philippine Business for Social Progress for packing and transport arrangements of their donated goods," the airline firm said.
"The happy incident at the airport was very inspiring and heartwarming. We truly appreciate their assistance and the overwhelming support we are getting from the public," AFP spokesman Brig. Gen. Restituto Padilla said, referring to the Air Asia initiative. – With Rudy Santos