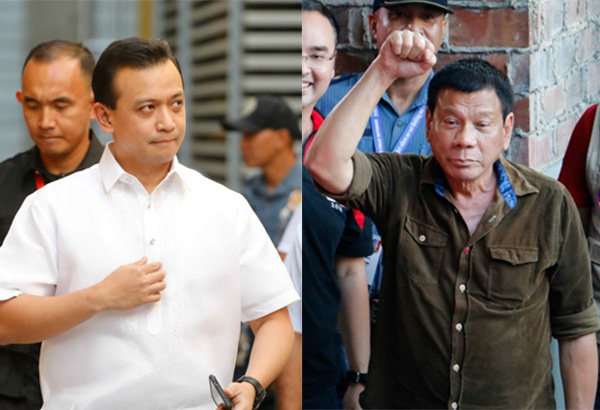 Sen. Antonio Trillanes IV said that what he claimed was not that the President had P200 million in his accounts, but rather over P2 billion, which President Rodrigo Duterte never declared in his statements of assets, liabilities and net worth (SALN). Philstar.com/Efigenio Toledo IV, File
'Go fly a kite': Duterte ducks Trillanes' bank waiver dare
(philstar.com) - September 13, 2017 - 4:15am
MANILA, Philippines — "Go somewhere else and fly a kite."
This was President Rodrigo Duterte's reply to Sen. Antonio Trillanes IV after the lawmaker dared him to sign a waiver on his bank records.
Addressing Trillanes' challenge to him, Duterte, in a late night media interview on Wednesday, said: "If he want[s] to get evidence, do not get it from my mouth. You must be stupid, even if it is true or false."
Duterte did not give a categorical answer when asked if he was declining Trillanes' dare and instead insulted the senator's intelligence.
"I don't know his IQ... Maybe he's just lucky that he was able to enter PMA (Philippine Military Academy). But ang Quotient nito ni Trillanes, it's about 14. Hindi nga umabot ng 15," the president remarked.
"Kaya sabi ko, "Ikaw, Trillanes, kung bright ka talaga, t*** i**, vice president ka na ngayon. Eh bakit ka natalo?"
Trillanes signs waivers
Trillanes, one of the most vocal critics of the administration, recently signed waivers on bank secrecy and presented them to the media.
Duterte had threatened to expose Trillanes' alleged foreign bank assets after the senator implicataed Davao City Vice Mayor Paolo Duterte and Manases Carpio, the presdient's son-in-law, in smuggling.
In response, Trillanes issued the waivers and dared the president to do the same even when the latter enjoys immunity from criminal suit.
But, according to the president, Trillanes' waivers were useless.
He added that he used his "contacts" to get information on Trillanes' bank accounts.
"Alam mo naman, si Trillanes, he thinks that really people are ignorant... 'Yang joint account niya, may partner siya na Chinese," Duterte said.
"So even if he signs a waiver, if the co-signer does not, walang mangyari niyan. And the bank would never, never name who is the partner. Eh, nakuha lang namin 'yan sa — Well, a foreign government supplied that," he added.
"We are building a case. Mahirap kasi. Bank Secrecy Law."
During last year's national campaign, the senator accused the then Davao City mayor of owning more than P200 million in deposits in a bank in Pasig City not reflected in his Statement of Assets, Liabilities and Net worth.
Duterte vehemently denied the allegations but this did not satisfy Trillanes, who had repeatedly challenged him to sign a waiver on the secrecy of bank deposits so that the details of his bank accounts would be made public.