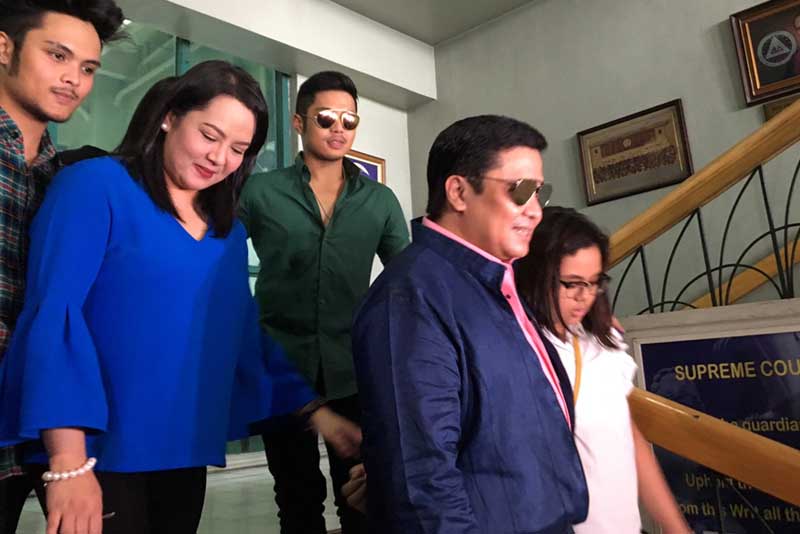 Former senator Jinggoy Estrada is now out on bail while faces charges for plunder and graft cases related to the pork barrel scam. He is seen leaving Sandiganbayan with his family on Saturday, Sept. 16, 2017. STAR/Elizabeth Marcelo via Twitter
Jinggoy leaves PNP Custodial Center
(philstar.com) - September 16, 2017 - 4:45am
MANILA, Philippines — (Updated 4:33 p.m.) After three years in detention, former Sen. Jinggoy Estrada on Saturday noon left the Philippine National Police (PNP) Custodial Center after posting bail for his plunder and graft cases over his alleged involvement in the pork barrel fund scam.
The bail bond of P1.33 million was paid to the Sandiganbayan cash office by his legal counsel on Saturday morning.

A special division of the anti-graft court on Friday granted his petition for bail.
In the dispositive portion of the resolution, the court said Estrada is not a flight risk as he is "former Senator of the Philippines and a prominent personality."
JUST IN: Former senator Jinggoy Estrada leaves Camp Crame | @manueltupas pic.twitter.com/0eljvOuYC9

— The Philippine Star (@PhilippineStar) September 16, 2017
Ex-Sen. Jinggoy Estrada arrives at Sandiganbayan to complete his bail procedure @PhilippineStar pic.twitter.com/McZYisM5dZ

— Elizabeth T. Marcelo (@marcelo_beth) September 16, 2017
The court also noted that Estrada voluntarily surrendered himself before the court when the cases were filed and that his detention for more than three years now, "negate the intention or inclination to evade the legal processes."

A copy of a release order, signed by Associate Justice Edgardo Calona, was later issued by the anti-graft court directing the PNP Custodial Center to release Estrada.
Estrada, whose previous petition to be granted bail had been denied, argued that the prosecution failed to identify him in the charge sheet as the "main plunderer" in the case.

Estrada argued if the alleged P183-million kickbacks from his Priority Development Assistance Fund is to be divided among him and his three co-accused, each's share would only amount to P45.9-million. That is below the P50 million threshold amount of illegally amassed fund for a crime to be considered as plunder.

Lawyer Alexis Abastillas Suarez said Estrada is expected to attend a thanksgiving mass once released.
Estrada has been detained at the Philippine National Police Custodial Center in Camp Crame, Quezon City since the cases were filed by the Office of the Ombudsman in June 2014.
The cases stemmed from Estrada's alleged amassing of P183-million worth of kickbacks by allocating portions of his Priority Development Assistance Fund (PDAF) or pork barrel to bogus foundations allegedly owned by the alleged pork scam mastermind Janet Lim-Napoles.
The former senator arrived at the Sandiganbayan later in the day to sign several documents and had his finger prints taken.
"I can't express my feelings right now. Certainly, I'm very very happy, I'm very elated. I would like to thank the Lord God for giving me this opportunity. I would like to thank the magistrates of the Sandiganbayan for granting my petition for bail," Estrada said after completing his bail procedure.
"I would like to thank all my family and supporters for their non-ending prayers for me," he added.
The former senator was accompanied by his wife Precy, their sons Julian Emilio and Joseph Luis Manuel and daughters San Juan City vice mayor Janella and Julienne. Also present was Estrada's brother, Jude.

'I deny all the allegations'
Speaking to reporters at the Sandiganbayan, Estrada maintained his innocence and decried the Ombudsman's supposed practice of "selective justice."
"I deny all the allegations against me. Wala po akong ninakaw sa taumbayan," he said.
Estrada's release came after President Rodrigo Duterte slammed Ombudsman Conchita Carpio Morales for her supposed "selective justice" and accused her of acting promptly on cases against perceived political enemies but dragging her feet on complaints against personalities in her good graces.
Duterte also said Morales' lack of fairness was evident in the graft charges related to the misuse of congressional funds slapped against Estrada and former Sen. Ramon Bong Revilla.
Sought for comment on the president's diatribes against the Ombudsman, Estrada said Duterte's statements are "very true."
"Dahil tatlo lang kaming na-identified sa opposition at ang kinasuhan pa ay nonbailable – plunder. So it's very obvious," Estrada said.
"If you can remember when I delivered my first privilege speech, marami akong binanggit na mga miyembro noong kabilang partido na sangkot. Kung ano 'yung ginawa naming pag-endorso, ganon din ang ginawa. Yung iba nga, eh, mas glaring ang kasalanan," he added.
Asked if he thinks the corruption charges against him will soon get junked following his release, Estrada replied: "Ayoko magsalita ng tapos."
"But I will religiously attend the hearings of my plunder case," he added.
Prior to Estrada's release, sources from the Ombudsman said they are preparing a motion for reconsideration and are ready to go before the Supreme Court should the Sandiganbayan deny their appeal.
Meanwhile, Revilla on Thursday said his legal team is considering filing another petition for bail despite the Sandiganbayan's previous rulings maintaining that the evidence for his plunder case is strong to warrant his continued detention.
"Sabi ko palakasin niya loob niya at balang araw ay makakamit din niya ang kanyang kalayaan," Estrada recalled telling Revilla before the former's release.
Juan Ponce Enrile, another former senator charged with plunder over the "pork", was granted bail by the Supreme Court in August 2015 due to "humanitarian considerations".
READ: Following Jinggoy's lead, Revilla mulls new bail petition
Evidence 'not strong'
Estrada's release from detention came after the Special Fifth Division on Friday promulgated a resolution granting his omnibus motion, which he filed in September last year.
In his motion, Estrada prayed to the court to either dismiss his plunder case or allow him to post bail as the prosecution supposedly failed to establish the elements of the charged offense and to identify him in the charge sheet as the "main plunderer" in the case.
In a vote of 3-2 the Special Fifth Division denied "for lack of merit" Estrada's prayer to junk the case but nonetheless allowed him to post bail.
"Although there is evidence to show that that there were glaring irregularities in the disbursement of accused Estrada's PDAF allocation and that he received a sum of money from his participation in these irregularities, there is no strong evidence to show that he is the main plunderer within the contemplation of the plunder law and as alleged in the information. Thus, his admission to bail is in order," the 15-page resolution penned by Associate Justices Ma. Theresa Mendoza-Arcega read.
Aside from Arcega, the other magistrates who voted in favor of Estrada's bail were Associate Justices Reynaldo Cruz and Lorifel Pahimna.
Those who dissented were Fifth Division chairman Associate Rafael Lagos and Associate Justice Zaldy Trespeses.
The anti-graft court cited the Supreme Court's July 2016 ruling on the plunder case of former President and incumbent Pampanga Rep. Gloria Macapagal-Arroyo. The case was in connection with the alleged misuse of the P366-million intelligence fund of the Philippine Charity Sweepstakes Office (PSCO)
In its ruling, the High Tribunal reversed the Sandiganbayan's decision and granted Arroyo's demurrer to evidence which prayed for the dismissal of the case the ground of the prosecution's failure to identify the main plunderer. The ruling was upheld by the SC in April this year.
"A reading of the Arroyo case shows that for a valid indictment for plunder, the [case] information must contain, in addition to the other elements...an allegation of a main plunderer who must be a public officer," the Fifth Division's ruling read.
"The allegation of a main plunderer is now considered as integral elements in charging the crime of plunder. Thus, this fact must be properly alleged in the [case] information," it added.
In his motion, Estrada argued that if the alleged P183-million kickbacks is to be divided among him and his three co-accused, each's share would only amount to P45.9-million, below the P50-million threshold of illegally amassed fund for a crime to be considered as plunder.
Estrada's petition for bail had earlier been denied with finality by the Fifth Division after almost a year of hearings. But in September last year, his camp filed the omnibus motion insisting the elements of plunder was not established by the prosecution.