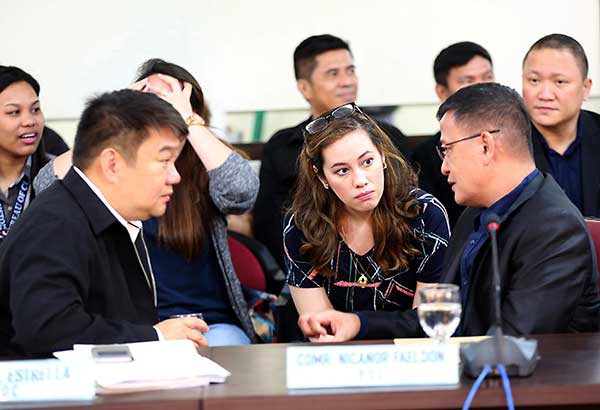 In this file photo, Nicanor Faeldon, then Customs commissioner, talks to his chief of staff Mandy Anderson during a House inquiry into the P6.4-billion drug shipment from China. Boy Santos, file
Faeldon files ethics complaint over Lacson's 'tara' speech
(philstar.com) - September 18, 2017 - 3:55am
MANILA, Philippines — Nicanor Faeldon, who resigned as Customs commissioner amid corruption allegations, has filed an ethics complaint against Sen. Panfilo Lacson over a privilege speech on corruption in the bureau.
Faeldon, who is in Senate custody for refusing to participate in hearings into how P6.4 billion worth of shabu slipped through Customs, was allowed to leave his room to file the complaint.
He accused Lacson of "using lies to destroy people."
"Now, makikita natin yung resolve ng members of the ethics committee kung papayagan ba nila na meron silang kasamahan na gagamit ng kasinungalingan," he said.
In a privilege speech in August, Lacson detailed the "tara" system of bribes at the Customs bureau.
The senator said that Faeldon was aware of the so-called "tara" system in the agency before assuming office and that it had been in place for a long time.
"From various sources inside and outside the Customs bureau that I had interacted with over the past two weeks regarding the 'Tara' list, we carefully vetted and cross-matched each and every information to come up with an objectively filtered and detailed list of who and how much each office or official in the Bureau collects per container per day," Lacson said in his speech.
Jose Diño Jr, Faeldon's lawyer, said Lacson's allegation "is [a] categorical declaration of guilt of serious criminal offenses of bribery and graft and corruption."
"In fact, that was the advice to him by Senator (Richard) Gordon when he visited him in his detention place," he said.
"Therefore, it is his right to waste bond paper and ink. Anyway, he has the money to pay his lawyers even if it's tantamount to an exercise in futility and stupidity," Lacson said.
Privilege speeches are, as the name implies, privileged and, according to the Senate website, members "cannot be prosecuted for any words spoken in debate or in connection with voting or used in written reports or with things generally done in a session of either House in relation to the business before it."
According to Section 11, Article VI of the Constitution, "No member (of Congress) shall be questioned nor be held liable in any other place for any speech or debate in Congress or in any committee thereof."
Faeldon has also said he will file an ethics complaint against Sen. Antonio Trillanes IV, who has accused Faeldon of being involved in smuggling.
"That man seems to not run out of gimmicks," Trillanes said.