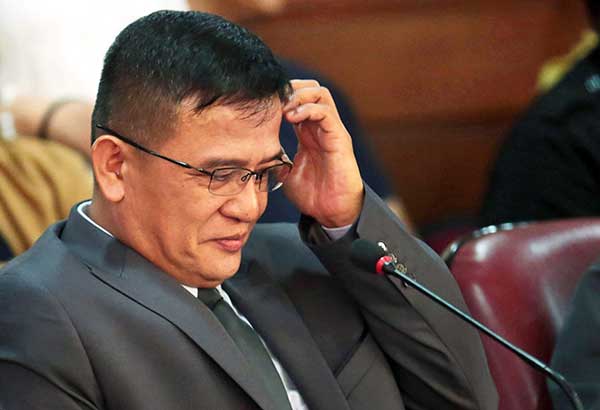 Senate Minority Leader Franklin Drilon on Monday says resigned Customs Chief Nicanor Faeldon has no right to appear before the ethics committee and ask them to discipline legislators as he continuously "disrespects" the processes of the chamber. MICHAEL VARCAS, File
Drilon: Faeldon has no right to file ethics raps as he snubs hearings
(philstar.com) - September 25, 2017 - 11:31am
MANILA, Philippines — Unless resigned Customs Chief Nicanor Faeldon follows the rules of the Senate, he has no right to appear before the ethics committee and ask them to discipline legislators.
Senate Minority Leader Franklin Drilon stressed this point on Monday, saying Faeldon's move to file separate ethics complaints against Sens. Panfilo Lacson and Antonio Trillanes IV was unfair as he constantly disregards the chamber's processes.
"His conduct is really contemptuous because he refuses to appear and he disrespects the processes of the Senate. And my view is if he disrespects the processes of the blue ribbon he has no right to appear before the ethics committee and ask for a remedy and a relief," Drilon said.
He added: "Suppose Juan dela Cruz and every resource person take that position: 'hindi ako haharap kapag nandiyan si Sen. Sotto, Sen. Drilon,' Paano naman kami? What will happen in the Senate if the resource person is given that privilege and authority not to appear in the hearing because they do not like to answer questions of senators?"
Faeldon again refused to attend Monday's Senate blue ribbon committee probe into the P6.4-billion shabu shipment from China.
READ: Faeldon refuses to attend Senate shabu shipment probe anew
"I would like to put it on record that the committee tried to stretch out and try to make him appear but he insists that he will not appear," Senate blue ribbon Chair Richard Gordon said.
Faeldon said he would rather be detained than answer questions from Lacson and Trillanes, who have both linked him to corruption and smuggling controversies in the bureau.
The ex-Customs chief, however, was able to file an ethics complaint against Trillanes.
Nicanor's complaint against Lacson was held in abeyance by the Senate ethics committee.
The panel puts on hold any decision until Faeldon finally testifies.
"Sa committee on ethics, sinabi ko na huwag nating kilalanin ang complaint ni Mr. Faeldon hangga't hindi siya sumusunod sa patakaran ng Senado kasama roon ang patakaran ng blue ribbon na humarap sa blue ribbon at mag-testify. That was unanimously approved by the committee," Drilon said.
Two weeks ago, Faeldon voluntarily put himself in Senate custody. He chose to be detained at the Senate after repeated refusal to testify before the blue ribbon committee.
Faeldon resigned over allegations of corruption and incompetence and has been replaced by former Drug Enforcement chief Isidro Lapeña.