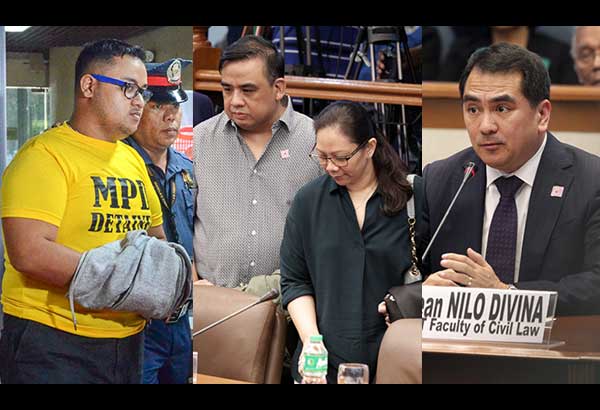 Horacio and Carmina Castillo (center), parents of slain UST law student Horacio III attend a Senate hearing on the fatal hazing case yesterday. At left, suspect John Paul Solano is escorted by police to the probe. Right photo shows Nilo Divina, dean of the UST Faculty of Civil Law, fielding senators' questions. GEREMY PINTOL
Murder, hazing raps filed vs 18 in UST hazing
Edu Punay
(The Philippine Star) - September 25, 2017 - 4:00pm
MANILA, Philippines — Police yesterday filed criminal charges with the Department of Justice (DOJ) against 18 individuals tagged in the fatal hazing of University of Santo Tomas (UST) law freshman Horacio Castillo III last Sept. 16.
John Paul Solano, Aegis Juris fraternity member who was named a primary suspect by investigators, was charged with murder, violation of Republic Act 8049 or the Anti-Hazing Law, perjury, obstruction of justice and robbery in the complaint filed by the Manila Police District (MPD).
Another primary suspect who reportedly fled to Chicago a couple of days after the incident, Ralph Trangia, was also slapped with the same set of charges.
Fifteen other respondents were also listed in the complaint for the same charges – Trangia's father Antonio, Arvin Balag, Mhin Wei Chan, Ranie Rafael Santiago, Oliver John Audrey Onofre, Jason Adolfo Robiños, Danielle Hans Matthew Rodrigo, Karl Mathew Villanueva, Joshua Joriel Macabali, Axel Munro Hipe, Marc Anthony Ventura, Aeron Salientes, Marcelino Bagtang, Zimon Padro and Jose Miguel Salamat.
Trangia's mother Rosemarie was also included in the complaint for obstruction of justice. She accompanied her son to the US.
Solano, who surrendered to the MPD last Sept. 22, was brought to the DOJ for inquest proceedings conducted by Assistant State Prosecutor Susan Villanueva.
His lawyer Paterno Esmaquel, a founding member of their fraternity, sought immediate dismissal of the charges during hearing based on technical grounds.
The lawyer argued that the charge for complex crime of murder in relation to hazing does not exist.
"Sad to say, however, there can be no complex crime if one offense is punished by a special law since both offenses must be defined and punished by the same statute," Esmaquel explained in his motion, pointing out that murder is a crime under the Revised Penal Code and hazing under a special law.
"There being no complex crime of murder and violation of the Anti-Hazing Law, then there exist no offense charged in the instant case which thereby warrants its outright dismissal," the motion stressed.
Solano's lawyer also questioned the inquest proceedings, arguing that his client voluntarily surrendered and was not arrested through warrantless arrest by police.
"This being so, then the instant case against him resulting from the untimely death of the late Horacio is not and cannot be the proper subject of an inquest proceeding; otherwise, there will be an open and gross violation of herein respondent's right to a regular preliminary investigation of the cases or cases against him," Esmaquel added.
The lawyer also sought the revocation of the waiver of detention executed by Solano earlier for his continued detention in the MPD, saying the murder charges filed against him had no legal ground.
He said his client's continued detention would be in violation of Article 125 of the Revised Penal Code.
The investigating prosecutor would resolve the motion and issue an inquest resolution on Solano's case before deciding on how to go about the charges against the other respondents who are all at large.
Hazing outside UST
Police also said the hazing of Castillo took place outside UST, specifically in the Aegis Juris Foundation office at 1247 Navarra corner Laong Laan streets in Sampaloc, from around midnight to 8 a.m.
MPD spokesman Supt. Erwin Margarejo told reporters it is now up to prosecutors to review the cases filed with the DOJ.
He also assured the other suspects still at large that they would be safe if they surrender, and that they could always secure the services of lawyers.
Margarejo assured Solano of protection while in MPD homicide section custody.
He also disputed claims by Solano's lawyer Esmaquel that his client's arrest was unlawful.
"It is up to the court to determine if arrest made is lawful or not," he said.
"We can only say that John Paul Solano is a person under custody… the facility of the MPD when it comes to detention is temporary," he added. – With Robertzon Ramirez, Ghio Ong