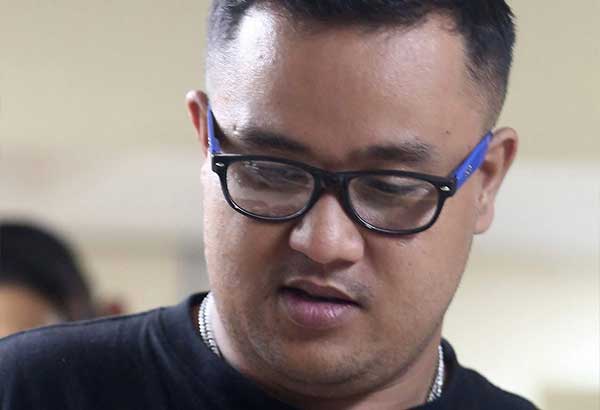 In a six-page resolution, the DOJ ordered the Manila Police District (MPD) to immediately release John Paul Solano as there is no basis for his continued detention. MIGUEL DE GUZMAN, File
DOJ orders release of hazing suspect
Edu Punay
(The Philippine Star) - September 27, 2017 - 4:00pm
Another UST fratman yields
MANILA, Philippines — As University of Santo Tomas (UST) law freshman Horacio "Atio" Castillo III was laid to rest yesterday, a principal suspect in his hazing death was ordered released from detention by the Department of Justice (DOJ).
In a six-page resolution, the DOJ ordered the Manila Police District (MPD) to immediately release John Paul Solano as there is no basis for his continued detention.
But the DOJ stressed that criminal charges against Solano have yet to be resolved.
Without his copy of the release order, Solano had to spend another night in his cell. He is expected to receive his copy of the DOJ order today.
Acting Prosecutor General Jorge Catalan Jr. explained that Solano should not be detained and subjected to inquest proceedings because he was not a subject of warrantless arrest.
Solano surrendered to the MPD last Sept. 22 after being tagged as a primary suspect in Castillo's death.
The DOJ held that the charges against Solano and 17 other individuals should be heard and resolved in a preliminary investigation and not through inquest hearing.
"Respondent Solano voluntarily surrendered himself to the police authorities through the intercession of Sen. Panfilo Lacson, hence, there was no arrest to speak of," read the resolution approved by Catalan.
The panel led by Assistant State Prosecutor Susan Villanueva set the hearings for Oct. 4 and 9.
"The release of the respondent would not mean he is already off the hook. The preliminary investigation that would be conducted would only mean that he would have the opportunity or chance to file his answer," Catalan explained to reporters.
Solano was charged with murder, violations of Republic Act 8049 (Anti-hazing law), perjury, obstruction of justice and robbery in a complaint filed by the MPD.
Another primary suspect, Ralph Trangia – reportedly now in hiding in Chicago – was also slapped with the same set of charges.
Fifteen other respondents were also listed in the charge sheet for the same charges – Trangia's father Antonio, Arvin Balag, Mhin Wei Chan, Ranie Rafael Santiago, Oliver John Audrey Onofre, Jason Adolfo Robiños, Danielle Hans Matthew Rodrigo, Karl Mathew Villanueva, Joshua Joriel Macabali, Axel Munro Hipe, Marc Anthony Ventura, Aeron Salientes, Marcelino Bagtang, Zimon Padro and Jose Miguel Salamat.
Trangia's mother Rosemarie was included in the complaint for obstruction of justice. She accompanied her son to the US.
In an interview with GMA News before the issuance of the release order, Solano apologized to the family of Castillo for his failure to save the life of the law freshman.
"I just would like to apologize for Atio's untimely death, for not having served my purpose of saving his life," he said, addressing Castillo's parents.
He recalled receiving two phone calls from fraternity brothers on the morning of Sept. 17 seeking his help for a medical emergency. He said the callers did not give details like the identity of the person needing medical help.
Solano was brought to the DOJ last Monday for inquest proceedings.
But his lawyer Paterno Esmaquel, founding member of the Aegis Juris, questioned the proceedings, arguing that his client voluntarily surrendered and was not arrested through warrantless arrest by police.
He said his client's continued detention would be in violation of Article 125 of the Revised Penal Code.
Esmaquel also said he has rejected offers to have his client placed under the government's witness protection program (WPP), saying "he is completely innocent."
"John Paul has been offered to be placed under WPP and legislative immunity, but we rejected it because there is no need for it as he is completely innocent," Esmaquel said.
"He will tell everything in his sworn statement to give justice on the death of Atio even without any immunity," he added.
The lawyer was reacting to statements from Castillo's mother Carmina that she is open to the prospect of Solano being tapped as state witness.
Cover-up?
Some senators expressed belief there was an attempt by fraternity officials and members to let the suspects in Castillo's hazing death escape justice.
Sen. Grace Poe, vice chair of the Senate committee on public order that is investigating Castillo's death, said there continues to be suspicions on the actuations of leaders of the Aegis Juris, including dean Nilo Divina of the UST Faculty of Law.
"He (Divina) must prove and explain all he knows of what happened. He claimed to have gone on leave from the fraternity but it seems impossible that he did not know what is happening," Poe said.
"I believe there is really a cover-up as their answers during the hearing were evasive and I find it difficult to believe that senior members of the fraternity do not know the prevailing culture in the organization," she said.
Lacson, chairman of the committee, said a "cover-up is very evident" in the case, especially in the first hours when Castillo collapsed during initiation rites at the "fraternity library" near UST on Sept. 17.
Instead of rushing Castillo to the hospital or calling a doctor, the suspects dithered and called a fraternity member – Solano – with very little medical background, he said.
He said Solano gave some information that indicated attempts at cover-up but they could not be divulged as they were given during a closed-door hearing. "Definitely, the direction of the frat members was a cover-up," Lacson said.
Solano, a certified medical technologist, identified six Aegis Juris members and one driver as present at the time he arrived to try to revive Castillo.
Fraternity members, meanwhile, appear to be raising funds to cover the operational and legal expenses of the suspects.
Leaked online chat logs showed a Facebook discussion among supposed members and alumni of the Aegis Juris about funding a "legal and operational fund."
It discussed, among others, the content of a motion that would be filed on behalf of a certain "Popoy," believed to be detained suspect John Paul Solano.
The conversation started with a message calling on each alumni of the fraternity to donate a minimum of P10,000, followed by call for a show of support by attending the Senate investigation last Monday.
The thread also included a photo of Solano inside his detention cell at the MPD headquarters, posted by a member who visited him. The conversation also tackled bringing enough food for the police guarding the detention facility.
In the conversation, one member expressed frustration over the lack of support from some members. Another agreed, saying, "this is a crisis we're all facing."
The chat logs, which have since been taken down, could not be independently verified.
In a text message to The STAR, lawyer Glen Abellon declined to comment on the matter, saying he is a part of the legal team. His number, along with his bank account, was mentioned in the chat logs.
"I cannot give any statement. I am part of the legal team and am covered by the lawyer-client privileged communication," he said.
GMA News quoted Esmaquel as saying that he is not aware of the conversation and that he offered his services to the suspect for free.
Not recognized
The UST administration has also confirmed that the Aegis Juris fraternity is not a recognized organization of the university for the present school year, the Commission on Higher Education (CHED) said yesterday.
CHED said UST rector Herminio Dagohoy relayed the message to Legal Education Board chairman Emerson Aquende.
In its letter to the National Bureau of Investigation, the university said the fraternity's application for certification was denied after it failed to submit certain requirements.
The letter, dated Sept. 19 and signed by Office of Student Affairs director Ma. Socorro Guan Hing and assistant director Ana Ruby Paez, also listed the names of officers and members of the fraternity.
The 15 names on the list were the same ones included in the lookout bulletin issued by the Department of Justice. They include Balag (president), Chan (vice president), Ventura (secretary), Hipe (master initiator), Onofre (auditor), Macabali (public relations officer), Robiños (treasurer) and Trangia (sergeant-at-arms).
Others in the lookout bulletin were members Santiago, Rodrigo, Villanueva, Salientes, Bagtang, Padro and Salamat.
CHED also expressed support for legislative proposals for stricter penalties against hazing and other forms of fraternity violence.
"While the law clearly discourages hazing or initiation rites in any form or manner, the commission supports efforts to amend it by imposing stricter sanctions and putting more teeth in the law," CHED chair Patricia Licuanan said yesterday.
Licuanan said the commission condemns in the strongest terms the death of Castillo and has initiated its own investigation on the matter.
In a press conference yesterday, the CHED chief said they would revisit a 1995 memorandum order that outlined measures that schools could adopt to prevent all forms of violence, including hazing.
"Our existing order is about violence in general in campuses because it's not just about fraternity and sorority hazing, there are other forms of violence," she said. – Janvic Mateo, Paolo Romero, Roberzon Ramirez, Ghio Ong