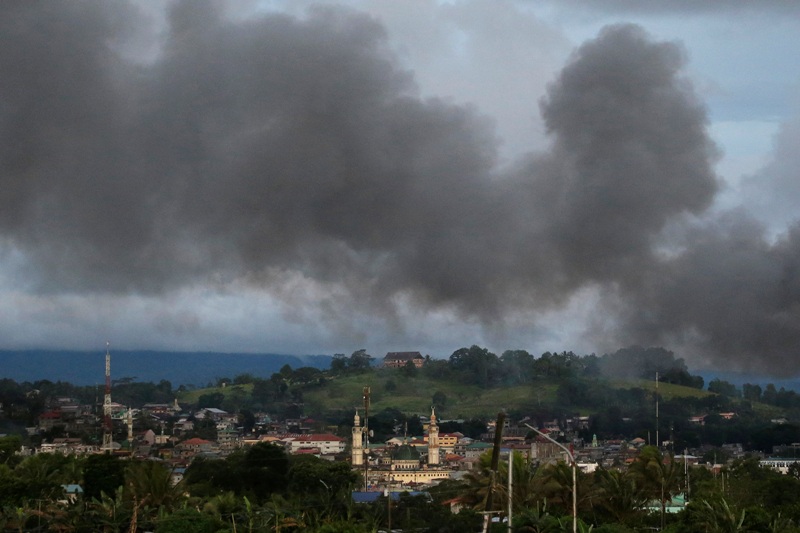 Western Mindanao Command chief Lt. Gen. Carlito Galvez said the two soldiers were killed in skirmishes Friday with Maute terrorists being flushed out from a small area in the city they still control. AP/Aaron Favila, File
2 more soldiers killed in Marawi
John Unson
(The Philippine Star) - September 30, 2017 - 4:00pm
LANAO DEL SUR, Philippines — Two more soldiers were killed as government forces maneuvered through a four-block area in Marawi City where remnants of the Maute group are still holding out.
Western Mindanao Command chief Lt. Gen. Carlito Galvez said the two soldiers were killed in skirmishes Friday with Maute terrorists being flushed out from a small area in the city they still control.
One of the two fatalities was identified as Pfc. Arth Manalang of the Army's 5th Scout Ranger Company.
Col. Romeo Brawner, Joint Task Force Ranao deputy commander, added last Friday's fighting resulted in the killing of 13 more terrorists and the clearing of 25 more buildings previously occupied by the militants.
"In the 131 days of fighting, the number of enemy killed has increased to 749, to include those 13 neutralized last Friday. The number of recovered assorted enemy firearms also increased to 714," Brawner said.
The two additional casualties in last Friday's ground assault brought the total to 155 soldiers killed since fighting started in the city last May 23.
The number of civilians executed by the terrorists remains at 47, while 1,733 others have been rescued, Brawner said.
Sources said no fewer than 17 terrorists perished in last Friday's gunfight.
"Four of them are from Butig, all related to Omar and Abdullah," a senior member of the provincial council said, referring to siblings Omar and Abdullah Maute, founders of the Maute group.
Two of the 17 Maute fatalities were identified as Ekram Padah and Subair Makud.
The intensity of the fighting has increased since Wednesday following Malacanang's timeline that the more than four months of conflict in Marawi would be over by Sept. 30.
"Despite yesterday's (last Friday) casualties, today (yesterday) government forces will fight harder to accomplish the mission at the soonest possible time so that the rehabilitation of Marawi can continue unhampered," Brawner said.
The main focus of the heightened operations, Brawner said, include the rescue of the remaining civilian hostages, wiping out the Maute-Islamic State terrorists and regaining total control of the whole city of Marawi.
Latest reports said the besieged militants have been pushed towards the shorelines of Lake Lanao where escape is almost impossible.
However, the terrorists are still putting up stiffer resistance as they are now using to their advantage the remaining abandoned buildings, houses and small alleys to stall the advance of the government troops.
Galvez said security units are trying to restore normalcy in Marawi City to accomplish their mission "in the next few days," an assessment premised on calculations of the remaining areas still to be cleared. – Jaime Laude