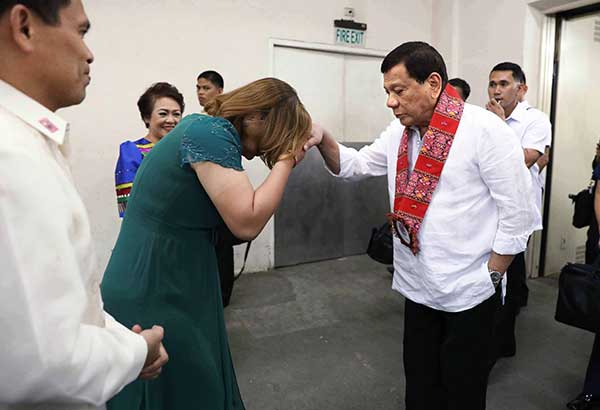 JOKE ONLY: Davao City Mayor Sara Duterte greets her father upon his arrival at the SMX Convention Center in the city for the oath-taking of officers of the Integrated Bar of the Philippines' local chapter on Saturday. President Duterte said he was just joking when he said he wanted his daughter to replace him as president. He said he actually preferred a senator, who was not identified.
Duterte: My life savings won't go beyond P40 M
DAVAO CITY , Philippines — President Duterte has insisted that his lifetime savings would not go beyond P40 million, contrary to allegations by his critics.
"I assure you, all in all, it would not go beyond P40 million," Duterte stressed during the induction of officers of the Integrated Bar of the Philippines at the SMX Convention Center at SM Lanang Premier here Saturday night.
The President said parts of the amount are from his inheritance and properties which Davao residents know about only too well.
He said he expected that everything about his savings would come out one of these days, but added he did not want to hand the details to his detractors on a silver platter.
"I'm sure it will be released in due time. The source of the figures is accurate, they are just being added every day," Duterte said in Filipino. "My wife is into the meat business at the wet market… We cannot struggle in this life to make a living?"
The opposition and other critics have been insisting that the Chief Executive has amassed billions in undeclared wealth and even has P211 million in deposits in a certain bank.
"That's why I've been cursing you because there's really nothing, it hasn't reached that amount. Why will I endure staying in the house that I have right now if I have the money?" he said,as he lamented that even during the May 2016 national elections, his campaign spending was also questioned.
"Where is the money? Of course I spent during the elections," the President said.
Duterte cited Overall Deputy Ombudsman Arthur Carandang who announced earlier there is now basis for the probe on the President and his family's wealth to continue because of a statement from the Anti-Money Laundering Council (AMLC).
"Yet, the AMLC said, (it has) not issued any resolution to release the statement of my bank account," he countered.
Like Corona
"What happened to Corona is happening to me. You know, if you're asking me to step down, let's all step down," the President lamented as he challenged his critics to quit. "Don't give me that. I do not lose my freedom of expression."
Duterte was referring to the late former chief justice Renato Corona, who in 2012 was found by the Senate impeachment court guilty of the betrayal of public trust and culpable violation of the Constitution for failing to disclose his wealth in his statements of assets, liabilities and net worth (SALN).
"(T)here are lies based on baseless hundreds of millions and even if I wanted to steal, where would I get that amount?" Duterte said, pointing out that politics plays an very important role in what he has been experiencing these days.
"Those who cannot accept defeat would keep on hammering because they want to pull you down and erode your leadership," he added.
Duterte reiterated that he has no plans of clinging to his post and that he could quit any time.