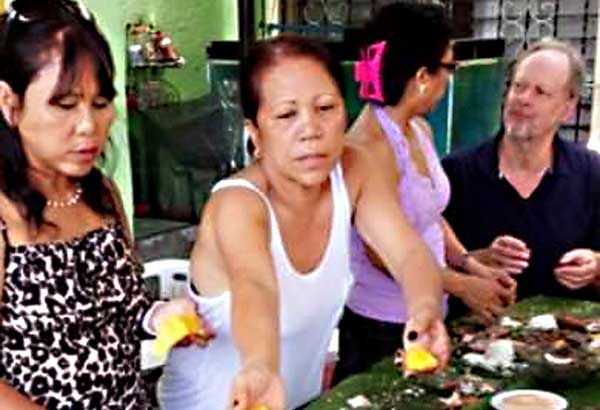 Mass murderer Stephen Paddock is seen in photo with girlfriend Marilou Danley and her family during a visit to the Philippines in 2013.
Vegas probe shifts to killer's Pinay partner
(The Philippine Star) - October 4, 2017 - 4:00pm
MANILA, Philippines — The investigation of a gunman who killed 59 people at a Las Vegas concert has shifted to his Filipina-Australian girlfriend, who has returned to the United States from the Philippines.
Investigators are hoping to get some insight from 62-year-old Marilou Danley on why her boyfriend Stephen Paddock opened fire on a concert crowd from a high-rise hotel room, Sheriff Joseph Lombardo said.
Danley had been out of the US for weeks before the shooting.
Federal Bureau of Investigation (FBI) agents met Danley as she arrived at the Los Angeles International Airport Tuesday night (yesterday in Manila), reports said.
She was led out of the airport in a wheelchair as seen on footage obtained by NBC News, which also reported her sisters' claim that she had been sent back to the Philippines by Paddock two weeks before the Las Vegas carnage.
In the footage, Danley was wearing a hat and light blue jacket and was pushing a black suitcase in front of her. It was not clear why she was in a wheelchair or where she was taken.
Records seen by Newsweek showed she was married to Geary Danley in 1990 and Jose Bustos in 1996. Geary Danley, 76, lives in Arkansas.
But she did not divorce him until 2015, the report adds. It is not clear when or if she divorced Bustos.
Public records also indicated she lived in multiple addresses in different states and had two dates of birth.
In Manila, the National Bureau of Investigation (NBI) is digging deeper into reports Paddock transferred $100,000 to Danley.
Bureau of Immigration (BI) spokesperson Ma. Antonette Mangrobang yesterday confirmed that Danley left Manila last Tuesday on Philippine Airlines (PAL) flight 102 for Los Angeles, California.
"Danley left the country and she passed through our immigration officer at the Ninoy Aquino International Airport (NAIA) Terminal 2 at 5:56 p.m.," said Mangrobang.
The BI has no information if Danley had any companion on her return trip to US.
Paddock killed himself after mowing down country music concert-goers outside Mandalay Bay Hotel in Las Vegas.
Also in Manila, an official who declined to be named said Paddock traveled at least twice to the Philippines in 2013 and 2014, staying for five to six days on both occasions. There were no immediate details available about those trips.
Although still a "person of interest" to investigators, Danley remains free to go wherever she wants, US media reported.
The NBI said the FBI had sought its help in finding Danley.
"The FBI has coordinated with the Philippine office of the Interpol to look for her," NBI spokesman Nick Suarez said in an AFP report.
Mangrobang said US authorities had also coordinated with the bureau. "The BI has been in close coordination with Homeland Security and Federal Bureau of Investigation insofar as providing them with information," she said.
She revealed that Danley visited the Philippines almost every year. Immigration records showed that she came to the country in 2013, 2014 and 2015.
She arrived in the country last Sept. 25 from Hong Kong, days before the shooting happened last Sept. 30. A total of 59 people died and 527 were injured when Paddock open fired at the crowd attending a concert in Las Vegas, Nevada.
Suarez said the NBI was looking into reports Danley arrived in the Philippines last month, and that Paddock had sent $100,000 to her via a wire transfer.
Initially, he added, the FBI had shared with the NBI the information on the date of her arrival and the money transfer. But he later revised his statement, saying the information was from the media.
Paddock, a 64-year-old gambler and retired accountant, killed 59 people and injured at least 527 others when he used a vast arsenal of weapons to shoot at a Las Vegas concert from a hotel room on Sunday.
"There are reports her ID was used for booking the hotel or some such detail," Australian Foreign Minister Julie Bishop said, referring to Danley.
"Australia will support the US authorities in their investigation in whatever way we can, but we have not had contact with Marilou Danley directly."
Cheap ticket
An NBC News report quoted Danley's sisters as saying Paddock bought her a "cheap ticket" to the Philippines and "sent her away" to keep her safe from his bloody rampage some two weeks later.
Her Australia-based sisters told NBC's Australian partner Channel 7 they believed she knew nothing of Paddock's deadly plans.
"She was sent away. She was [sent] away so that she will not be there to interfere with what he's planning. ... so that he can plan what he is planning without interruptions," one of the sisters speculated.
"In that sense I thank him for sparing my sister's life but that won't be to compensate the 59 people's lives," she added.
"No one can put the puzzles together," Danley's sister said. "No one except Marilou. Because Steve is not here to talk anymore. Only Marilou can maybe help."
The sister said Danley was "in love" with Paddock.
They also told Channel 7 that Danley would likely have stopped the shooting if she had been there.
"She is a good person and a gentle soul … a mother, grandmother, a sister, a friend," one of Danley's sisters said.
Jordan Knights, a nephew of Danley, said he's stunned by the actions of the Las Vegas gunman and didn't even know that Paddock was interested in guns.
Knights said he spent time in Las Vegas with Paddock and Danley just a few months ago.
Knights told Australia's Channel 9 from his home near Brisbane, "It seemed like he just looked after my aunty and that was it."
The 23-year-old said he didn't give Paddock another thought until he was identified as the gunman who killed 59 people and wounded more than 500 on Sunday. He said that Paddock "didn"t seem like he was the type of guy to do that." – AP, AFP, Evelyn Macairan, Rudy Santos