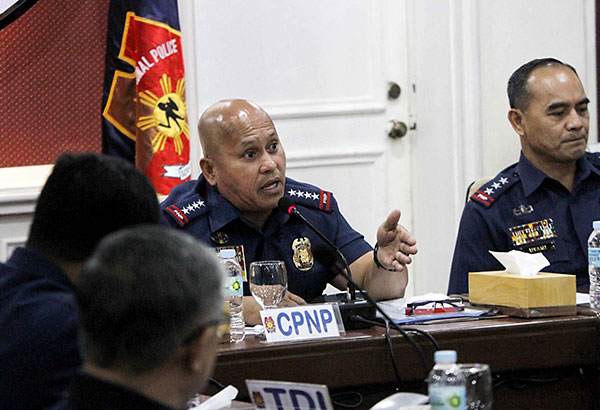 Philippine National Police chief Director General Ronald dela Rosa dismissed a police official from service who was caught in a drug session. File photo
PNP exec in drug session dismissed
MANILA, Philippines — Philippine National Police chief Director General Ronald dela Rosa has dismissed a police official who was caught in a drug session in Las Piñas City last March.
Superintendent Lito Cabamongan was dismissed from the service last September 1, based on the dismissal order signed by Dela Rosa.
Cabamongan, former head of the PNP Crime Laboratory's Muntinlupa satellite office in Alabang, was caught sniffing shabu with a woman at a house on March 30.
Dela Rosa could not be reached for comment. However, a ranking official from the PNP who spoke on condition of anonymity confirmed the PNP chief dismissed Cabamongan.
The official, who is privy to the case, said Dela Rosa was determined to remove Cabamongan from the police force.
"He (Dela Rosa) said the police organization was put in a bad light because of Cabamongan's actions," the source said in a phone interview.
The source said Cabamongan was found guilty of grave misconduct and conduct unbecoming of a police officer after he tested positive for illegal drugs.
The source explained the penalty for a police officer found hooked on illegal drugs is dismissal from the service based on the provisions of Republic
Act 8851 or the the PNP Reform and Reorganization Act of 1998 and rules set by the National Police Commission.
Cabamongan tested positive during confirmatory tests on his urine sample. A neuropsychiatric test conducted on him by the PNP General Hospital revealed he was suffering from psychosis due to substance abuse.