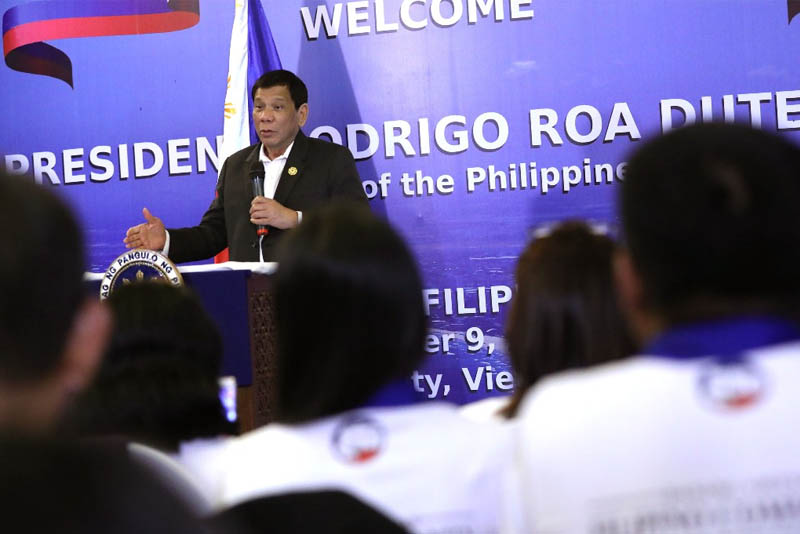 President Rodrigo Duterte faces Filipinos residing in Vietnam at the Pulchra Resort in Da Nang City on Nov. 9, 2017 on the sidelines of the Asia-Pacific Economic Cooperation Summit. PPD/Robinson Niñal
Duterte most approved among recent presidents
(philstar.com) - November 10, 2017 - 11:53am
MANILA, Philippines — President Rodrigo Duterte has recorded the highest public approval and trust ratings among the last four heads of the country, according to the comparison by the polling firm Pulse Asia.
As of September 2017, Duterte posted an approval rating of 86 percent and a trust rating of 91 percent—higher than any rating earned by his predecessors former presidents Joseph "Erap" Estrada, Gloria Macapagal-Arroyo and Benigno "Noynoy" Aquino III.
Duterte has an average approval rating of 81.8 percent between September 2016 and September 2017.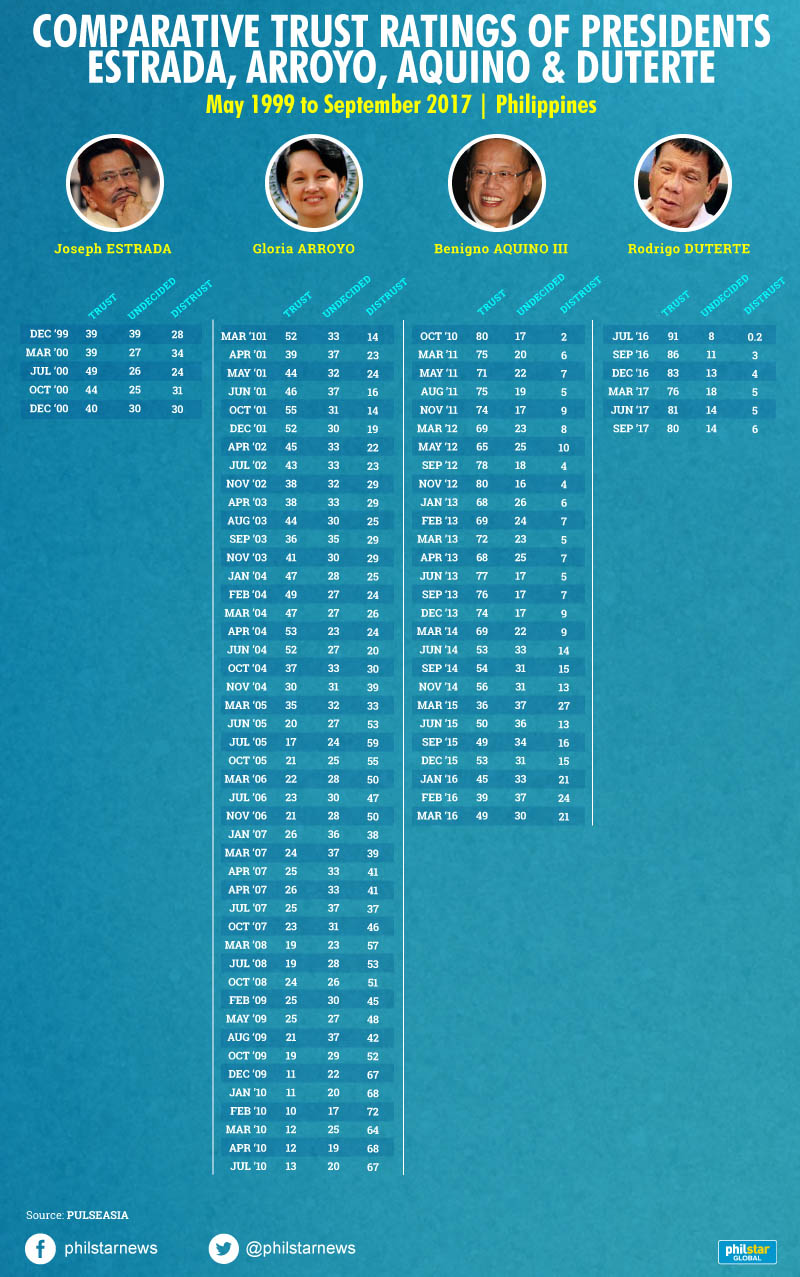 The tough-talking president's highest approval rating was 86 percent, which was recorded in September 2016. His lowest was 78 percent in March this year.
Moreover, Duterte has an average trust rating of 82.8 percent between September 2016 and September 2017.
The former Davao City mayor is also the most trusted president upon assuming office with an initial trust rating of 91 percent in July 2016.
His highest trust ratings was 91 percent in July 2016, while his lowest was 80 percent in September 2017—during the height of the public outrage over the extrajudicial killings brought by his war on drugs.
Malacañang on Friday said it was pleased with the Pulse Asia's study.
"The president accepts this public appreciation with all humility, but regardless of survey results, PRRD and the members of his Cabinet would continue to work and advance public interests and build, as he said in numerous occasions, a nation worthy of the Filipinos," presidential spokesperson Harry Roque said in a statement.
Ratings of Aquino, Arroyo and Estrada
Aquino has an average of 65.4 percent approval rating and 63.9 trust rating, making him the second most approved and trusted chief executive next to Duterte.
He registered the highest rating at the start of his term with a 79 percent approval rating and 80 percent trust rating in October 2010.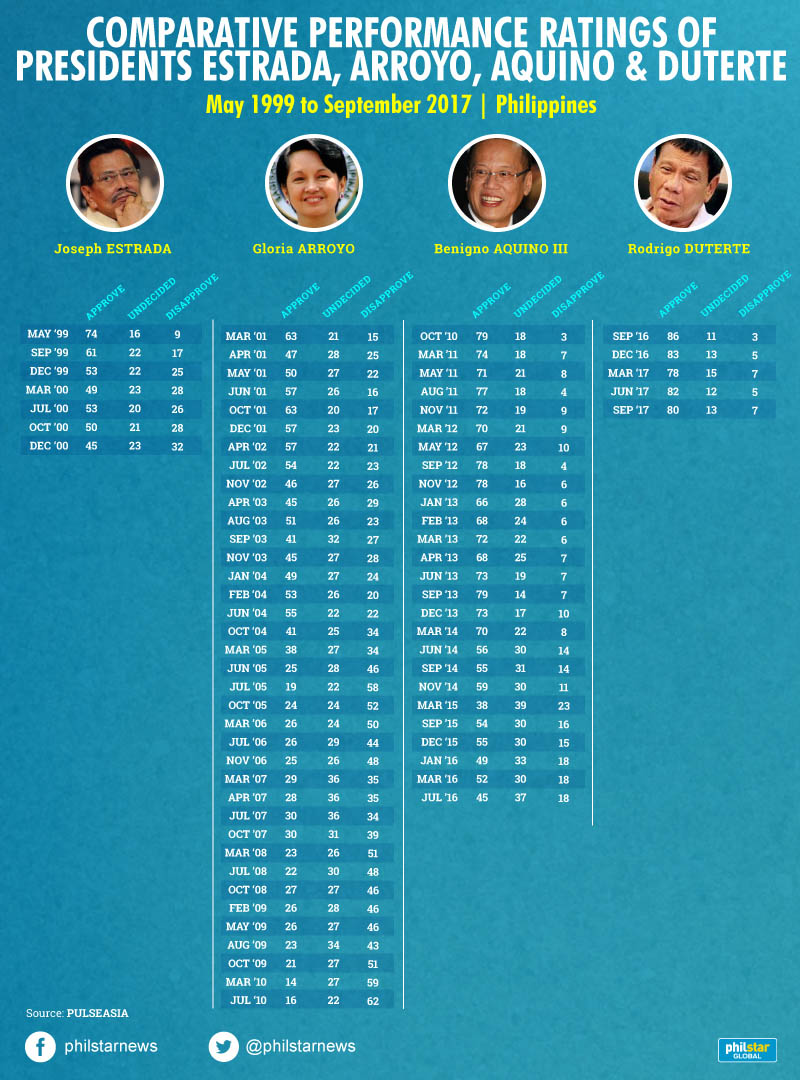 Aquino's approval rating was at its lowest during the end of his term with 45 percent. Meanwhile, his trust rating reached rock bottom with 36 percent in March 2015—three months after the botched Mamasapano incident.
Arroyo, meanwhile, recorded the lowest approval and trust ratings among the four presidents with 14 percent in March 2010 and 10 percent in February 2010—few months before she stepped down from office.
During Estrada's brief term, his approval and trust ratings were at their lowest at 45 percent (December 2000) and 39 percent (December 1999 and March 2000), respectively.
He stepped down from office in January 2001 after being impeached by the Congress over alleged bribery, corruption, betrayal of public trust and violation of the Constitution.
The computations do not cover exactly the same months because Pulse Asia's polls are conducted inconsistently over the years. — Infographic design by Jonathan Asuncion