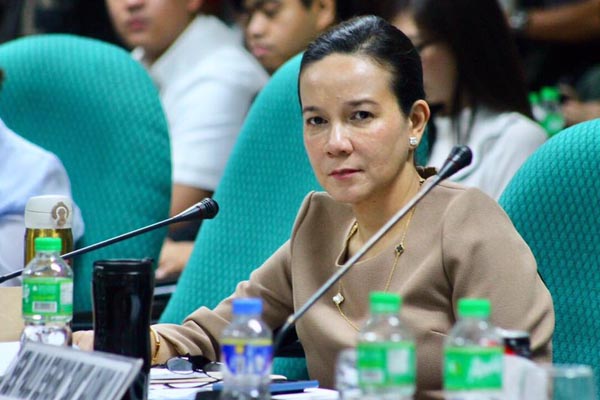 In a statement, Sen. Grace Poe stressed that the recent accident at the Metro Rail Transit Line 3 that severed a passenger's arm could have been prevented if a passenger railing safety feature was in place. Facebook/Sen. Grace Poe
Poe tells DOTr: Focus on overall safety of MRT
(philstar.com) - November 15, 2017 - 7:30am
MANILA, Philippines — The Department of Transportation should work faster on improving the country's train system to prevent accidents and glitches from happening again, Sen. Grace Poe said on Wednesday.
In a statement, Poe stressed that the recent accident at the Metro Rail Transit Line 3 that severed a passenger's arm could have been prevented if a passenger railing safety feature was in place.
The Senate committee on public services chair called on DOTr to focus on the overall safety of the MRT, noting that serious technical glitches could harm a larger number of people.
"In reality, the riding public faces so many of the MRT's structural and technical time bombs that put in serious doubt the DOTr's assurance that it is still safe to ride these trains," Poe said.
Poe cited that the signalling system of the rails is incompatible with the Dalian trains purchased by the previous administration and the rails are defective and yet to be fully replaced by the department.
"While many of the woes began with the past administration, the current problems are now in the hands of the DOTr. If they are earnest and sincere in addressing these problems, then they should work faster on bettering our train system," she said.
On Wednesday, doctors were able to reattach the arm of 24-year-old Angeline Fernando—the passenger who fell on a train gap—to her body.
While Transport Undersecretary Cesar Chavez assured the public that MRT staff were trained to respond to emergencies, he said the agency is still investigating the incident.
READ: Passenger loses hand in MRT station accident, MRT staff trained to respond to emergencies, DoTr assures public
DOTr took over the service and maintenance of MRT after terminating the contract of the Busan Universal Rail's contract for its poor performance.
On the same week, fewer trains were running, causing longer queues and waiting time than usual.
Transport officials said the public should expect better services in three to six months.