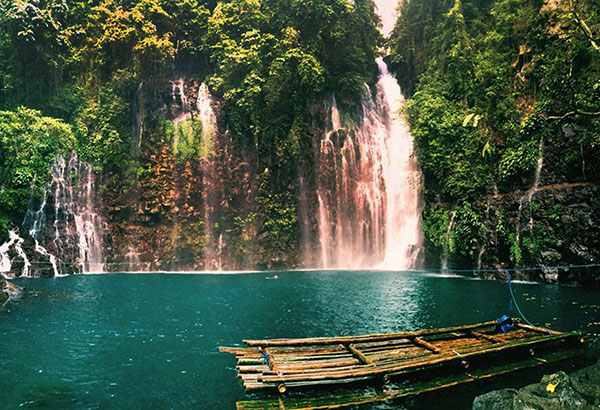 Image from the Travel+Leisure website shows Iligan City's Tinago Falls, which the international magazine named as one of the 25 waterfalls 'to see before you die.'
Mindanao falls cited by global travel magazine
MANILA, Philippines — Tinago Falls in Iligan City was named by international magazine Travel + Leisure as one of the 25 waterfalls to see before you die.
Translated as "hidden falls," Tinago redefines the meaning of "off the beaten path," as one must climb a windy 500-step staircase in order to reach the top of the 240-foot falls, Travel + Leisure said.
Despite 22 others in Iligan, Travel + Leisure said Tinago is the main draw of the "city of majestic waterfalls."
"But the Tinago cascades are what really put the destination on the map," Travel + Leisure said.
Tinago is joined by popular waterfalls around the world on Travel + Leisure's list of awe-inspiring waterfalls such as Niagara Falls in the US, Angel Falls in Venezuela and Victoria Falls in South Africa, among others.
Apart from Tinago, Iligan is home to other popular waterfalls in the country such as Maria Christina, Dodiongan and Mimbalot.
According to reports, tourism in Iligan has been affected by the conflict in neighboring Marawi this year.
The Marawi crisis resulted in the restricted access of a number of waterfalls in the city, making only around 10 accessible to tourists due to safety and security reasons.
Last October, Marawi was declared free from terrorists.
The Department of Tourism (DOT) said it continues to promote Mindanao despite the recent conflict in Marawi.
In August, Tourism Secretary Wanda Teo met with Mindanao stakeholders to promote the region as a safe destination.
She has directed DOT regional offices to use tourism-related funds to complement improved connectivity with visitor-markets abroad and upgrade travel and accommodations services.
Earlier, Travel + Leisure recognized Palawan as the "World's Best Island" for the second consecutive year, owing to its breathtaking attractions such as Coron and El Nido.