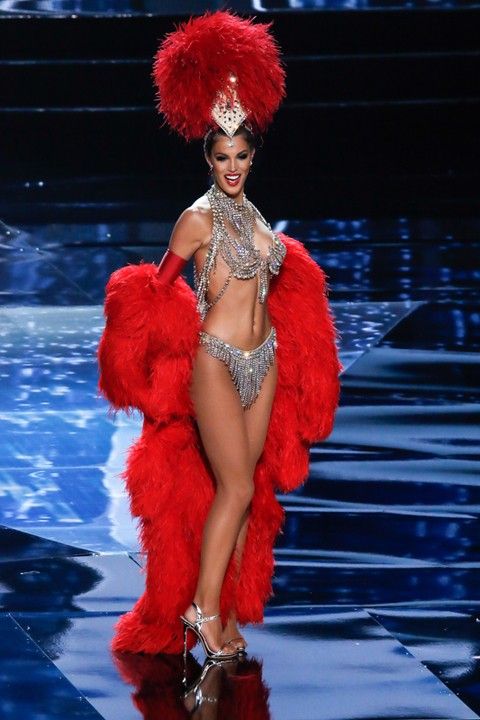 Trés chic: Miss Universe 2016 Iris Mittenaere dressed as a Moulin Rouge showgirl in the preliminaries.
Philstar.com/Efigenio Christopher Toledo IV
Miss France's win sparks interest in everything French
MANILA, Philippines — Right after the coronation of Miss France Iris Mittenaere as Miss Universe 2016, Filipinos in social media started to circulate posts like "10 French words to memorize" and new French cuisine to try (other than French fries), since the new Miss Universe is also a cook. With the upcoming Valentine's Day celebrations, expect people to also talk about French kiss.
In line with France's growing inclination towards nationalism, Miss France used her native language in the question and answer portion and there is a call for countries like the Philippines to follow suit.
In her Instagram post, the new Miss Universe thanked Moulin Rouge for lending her the showgirl costume that made her "discover my country in the most glamorous way."
It can be recalled that for the national costume competition, Iris wore a sexy Moulin Rouge costume, the first time a real costume traveled outside of France and the first time it was worn by a non-dancer. The costume caused a stir on social media and is believed to have helped Iris win the crown.
Moulin Rouge is an iconic cabaret in Paris, made popular in 2001 by a musical movie of the same name, starring Nicole Kidman and Ewan McGregor. The movie won the 2002 Academy Award for Best Costume Design.
Mittenaere's win coincides with the celebration of the 70th anniversary of diplomatic relations between France and the Philippines. The Embassy of France in Manila celebrates this feat by launching "PhilFrance: Feel French!", a year-long festival of activities, which offers Filipinos the opportunity to "feel France" in various aspects of living brought about by the strong bilateral partnership shared by the two countries.
The French Embassy intends to provide the proper channels for mutual exchanges between French and Filipino artists and the appropriate venues to feature their artistry in music, cinema, photography and painting.
Leading the roster of performances is French Cornetto player Lambert Colson, who will perform at the 42nd International Bamboo Organ Festival. The works of famous painter Juvenal Sanso, inspired by his 50-year experience living in France, will be on exhibit at the Alliance Francais de Manille. Fete de la Musique, one of the biggest musical events in the metro, will gather more than 50 Filipino and French musicians to perform in 20 different stages and locations in the country.
Meanwhile, the 22nd French Film Festival will feature not only the best of contemporary French cinema but also a selection of Cannes-winning Filipino classics. French photojournalist Christophe Loviny will conduct a series of workshops on photojournalism that will culminate in the Manila French Photo Festival. Internationally renowned French pianist Francois Chaplin will perform with the Philippine Philharmonic Orchestra in "Ravel Unraveled", an evening of French classical music at the Cultural Center of the Philippines (CCP). French ethno-photographer Pierre de Vallombreuse will present his unique images of Palawan's indigenous tribes in "Palawan through a French Eye", an exhibit to be held at the National Museum.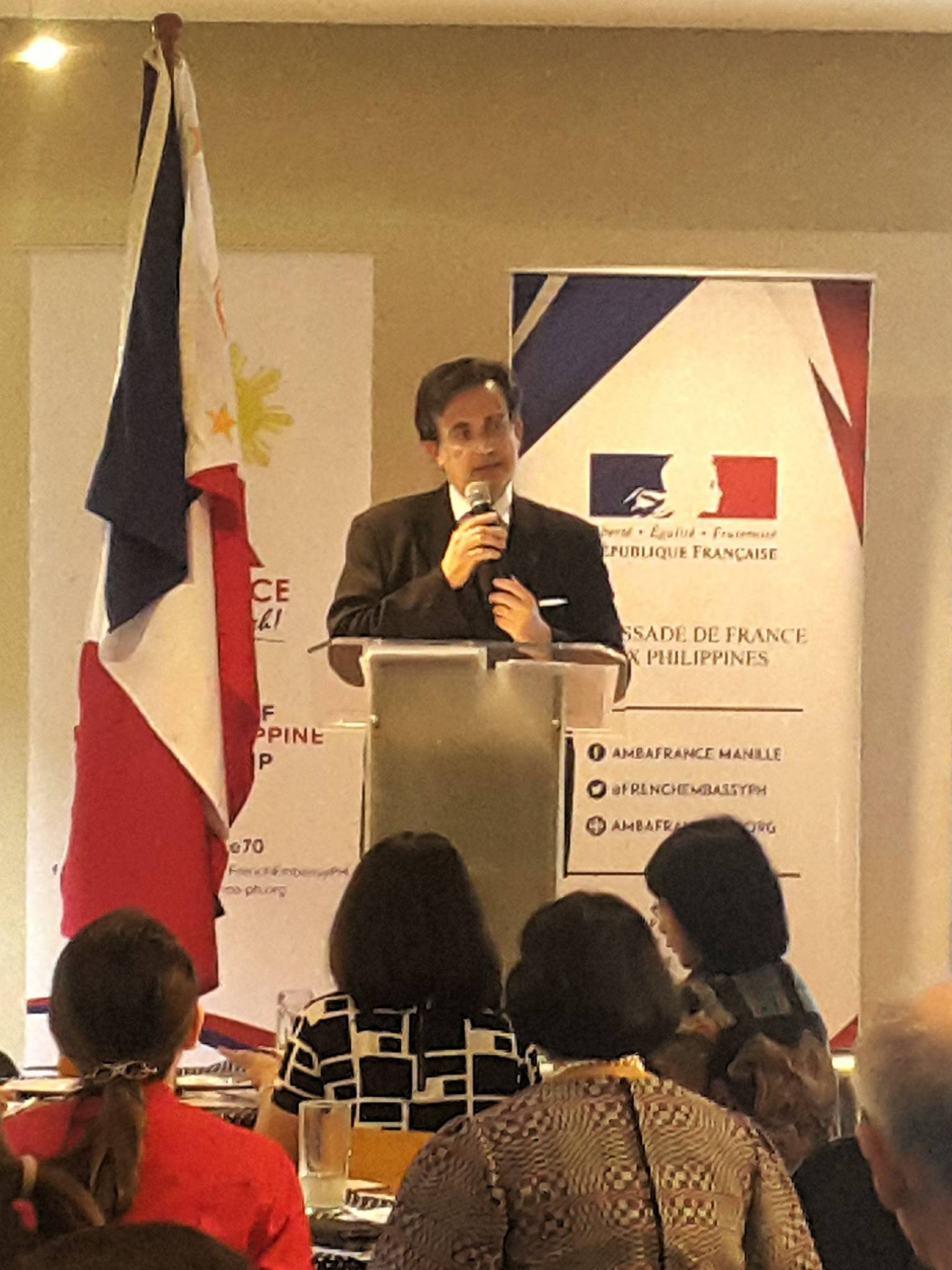 Ambassador of France to the Philippines H. E. Thierry Mathou
Art de Vivre
Art de Vivre, meaning the "art of living", represents the French lifestyle that centers on fashion, food, culture and sports.
Together with local designers, French designer Clivia Nobili will conduct a series of workshops and fashion shows during the Franco-Philippine Fashion Week. The original creations by fashion icons Yves Saint-Laurent, Cristobal Balenciaga, Yohji Yamamoto and Jean-Paul Gaultier will also be on display at the School of Design and Arts of the De La Salle-College of Saint Benilde.
French and Filipino chefs will celebrate French gastronomy in Gout de France/Good France to be highlighted by "Bon Appetit!", a French food market that will offer fresh and organic ingredients in making French cuisine. Cycling professionals, amateurs, and enthusiasts will compete in "Tour de Manille", the Philippine version of Tour de France, the most famous cycling competition in the world. French businesses and their local partners will take part in "Soiree Beaujolais", the annual networking night organized by the French Chamber of Commerce. The French circus group, Cirque Inextremiste, will perform in "Extremites", a circus show of acrobatics.
French language and education
France's commitment to the intellectual development of the youth and the imparting of knowledge will continue to foster exchanges between French and Filipinos in the areas of language, science and the humanities.
At the forefront of this commitment is the "Francophonie Festival", a week-long celebration of the French language through literature, music, and theater to be organized in various schools and universities throughout the country. This will be followed by "Architecture Week", where French and Filipino experts will hold an architecture conference and workshops on heritage preservation, urban planning and smart cities. For those who wish to pursue post-graduate degrees or exchange programs in French higher learning institutions, the PhilFrance Scholarships are now open to grant financial assistance to deserving Filipino students.
The French Embassy affirms the significance of children's rights, women empowerment and solidarity among communities in strengthening shared common values anchored on the French democratic ideals of Liberty, Equality and Fraternity.
Underprivileged Filipinos will now be given the opportunity to network with managers of French and Filipino companies in a job fair and employability forum in preparation for working with them. To further promote gender equality, a special function at the French Residence will be held during International Women's day on March 8 to honor outstanding Filipino women. Before the year ends, a Women's Forum will be held to highlight the important roles of women in Philippine society.
French and Filipino volunteers will come together in French Volunteerism Day, a day full of fun, games and purpose to promote volunteerism and the spirit of solidarity and sharing. The France-Philippines United Action (FPUA) Foundation will continue to take an active role in providing relief and rehabilitation to local communities affected by typhoons and other natural disasters.