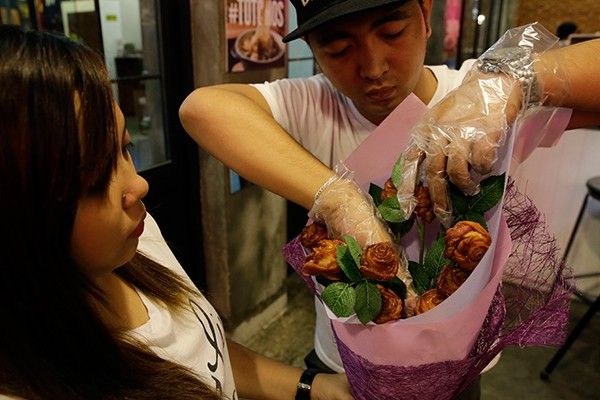 Filipino employees prepare a bouquet of edible rose shaped bacon at a restaurant which is offering it as part of their Valentines promotion, in Manila, Philippines on Friday, Feb. 10, 2017. A dozen edible rose shaped bacon bouquet costs P2,200 (about US$ 44) and can be delivered to love ones during Valentines Day as an alternative gift to sending real flowers.
AP Photo/Aaron Favila
Filipinos in Germany are most generous long-distance lovers
(philstar.com) - February 13, 2017 - 5:32pm
MANILA, Philippines — Filipinos in Germany may be far from home, but their loved ones are near to their hearts on Valentine's Day.
Money transfer company WorldRemit analyzed internal data of who sends money to its top 10 recipient countries. It said Monday that Filipinos in Germany were the most generous, sending home on average $32.5 more than usual before or after Valentine's Day week last year.
Following closely were Filipinos in Norway who sent $24 more, and New Zealand, who remitted $12.5 more.
Comparative government data isn't available. Central bank statistics show Filipinos in the U.S. send the most home, followed by those in Saudi Arabia and the United Arab Emirates.
According to World Bank, migrants' remittances to the Philippines in 2015 reached $28.48 billion, the third highest next to India and China.