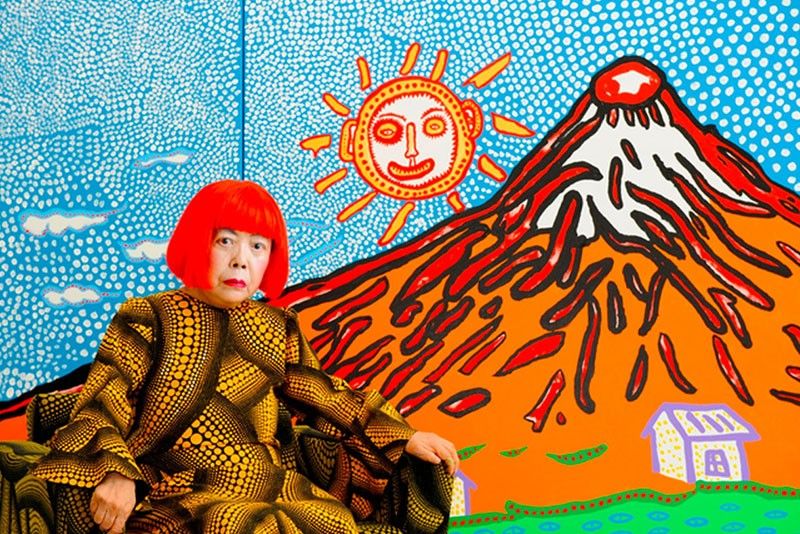 The 88-year-old artist with a recent painting at her exhibit, "Yayoi Kusama: My Eternal Soul" at National Art Center, Roppongi, Tokyo.
Dots amazing: Yayoi Kusama in Tokyo
If you've got a day to spend in Roppongi this month, you will likely want to join the hordes of dots-obsessed Yayoi Kusama fans flocking to the National Art Center for her "My Eternal Soul" exhibit, on view until May 22.
Kusama, now closing in on her 90s, and still prodigiously producing canvases a short walk away from her self-institutionalized residence at the Seiwa Hospital for the Mentally Ill in Shinjuku, is having more than a "moment." With a retrospective ongoing at Washington, DC's Hirshhorn Museum, a recent private collector's showing at Ayala Museum, and a generation seemingly incapable of not taking selfies amid a field of colorful dots, you could say the world has caught up with Kusama.
Selfie opportunities are limited at "Yayoi Kusama: My Eternal Soul" though; most rooms prohibit photo taking. But any self-respecting phonecam owner out there will likely get a fill of panoramics and selfies anyway. (The main exhibition hall does allow photos and displays some 132 large canvases surrounding all four walls, as well as flower sculptures.)
Part of the red-bewigged artist's "My Eternal Soul" series, Kusama has reportedly been frantically producing these paintings at a rate of about one every five days since 2009. The minutely detailed acrylics in the main hall are a testament to that mercurial output, with whimsical/ominous titles ("The Silvery Universe," "Souls that Flew in the Sky," "I Hope the Boundless Love of Humanity Will Envelop the World").
Inside is a more complete overview, with rooms charting seven decades of artistic output. We learn that Kusama came from a wealthy seed farm family in Matsumoto, and this both allowed her to pursue her arts career financially unfettered, as well as providing a wealth of organic imagery (sunflowers, tubers, plants, seeds) that seemed to feed her visual imagination. A series of hallucinations involving dots began when she was 14, tipping her mental balance in an extreme direction, but she never relinquished the desire to marshal those visions into art. Dots became her visual expression of the infinite. You can see it as early as a 1957 watercolor titled "The Sun" that seems to burst like a seed-rich sunflower.
In this day of celebrity artists, it's worth noting that Kusama influenced not only the early Pop artists, but Yoko Ono, whose somewhat parallel background (coming from a wealthy Japanese banking family) led to quite a bit less actual art-making, and most of it in the minimal '60s. Yoko, however, is a savvy businesswoman.
As Kusama migrated to New York's art scene in 1957, it's likely her work influenced emerging artists like Warhol, Claes Oldenburg and Roy Lichtenstein. Dots were everywhere, and those squashy shapes had resonance.
It's interesting to see how Kusama's obsessions intertwined with those of the emerging decade. By the end of the '60s, painting dots on every surface became as natural as hippies body-painting one another.
At the same time, the fecund sexuality of organic matter announced itself in furniture and boat installations bedecked with silvery phalluses, penises that looked like yams, or vice versa. It was the universe of organic matter, pushing out from within and expanding outward to the infinite. Her "infinity net" canvases from the early '60s (many displayed at National Art Center) were an appropriation of the abstraction techniques of Rothko and Frank Stella, this time used to convey undulating, repetitive fields: the birth of minimalism, perhaps. And those "infinity rooms" — which one loves to not only take selfies in, but would perhaps like to live inside for more than a few fleeting moments — are the most all-consuming expression of her fascination with dots and ever-expanding space.
We get glimpses of how Kusama's work dovetailed with performance art (excerpts from photo exhibits and experimental films), psychedelic op-art (the floating fields of Day-Glo acrylic colors layering her recent canvases), and one is tempted to lament the loss of the '60s, a time when art was (seemingly) less commodified, less packaged for self-consumption.
But this, of course, is a self-delusion. For by the time you reach the end of Kusama's fascinating exhibit, there is the Kusama gift shop to experience. There, you will see Kusama's work and image stamped onto origami paper, calendars, masking tape, keychains, tins of tea, packs of biscuits and just about anything else you can imagine. (A serious tip: Don't try to visit the gift shop if you have limited time; it's easy to pick out items, but you are likely to while away over an hour waiting in line for a cashier.)
Even in her ever-expanding infinity, it seems Kusama can't escape the nets of commodification and commercialism.
* * *
"Yayoi Kusama: My Eternal Soul" is at National Art Center, Roppongi, Tokyo until May 22.