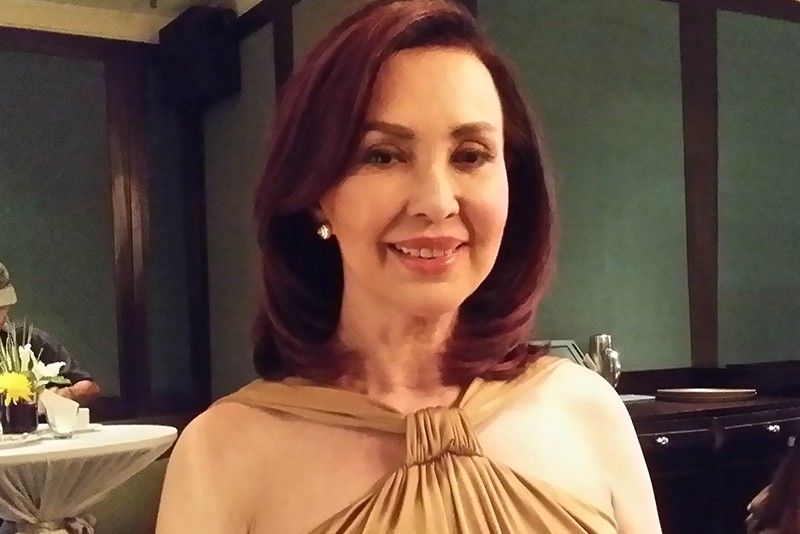 Book author and TV host Cory Quirino refuses to age.
Philstar.com/Maridol Ranoa-Bismark
Cory Quirino's beauty secret
MANILA, Philippines — When Cory Quirino admits with a straight face that she is 65, you gasp, open your mouth, and almost fall off the chair.
She has no fine lines on her face. Her skin is smooth and supple. Her hair is thick and shiny. And she can wear body-hugging dresses without looking like a senior citizen in denial.
Her secret – and that of others who have found the fountain of youth – is inner peace.
"I meditate. I pray every day. I remain centered, no matter what happens," she shared in an interview with this writer.
The beauty and wellness icon refuses to get angry. That is because, "I'd rather control stress than let it control me."
So you will not see Cory losing her poise and raising hell over a botched-up schedule, a wrong decision, even a threat to her life and limb.
She could have panicked and put her life on the line when five armed men abducted her in 1995. The abduction happened in Lucban, Laguna, miles away from Manila. Her kidnappers could have pulled the trigger and finished Cory off with a single shot.
Cory admitted that she was afraid, but she did not panic.
"Faith kept me cool," she recalled that fateful day when she hit the headlines and her story inspired a movie.
Cory's religious upbringing (her parents required her to go to church every Sunday) took over. She whispered "Blood of Christ, cover me and deliver me from danger." And she surrendered herself to God.
This is why she never lost her cool, confident that God will answer her prayers and someone will come to the rescue.
True enough, rescuers freed her less than 24 hours after.
Cory still exudes that serenity that allows her to think fast on her feet and handle stress. But she has added something else: an anti-aging food supplement called Novuskin Lift.
"I take care of myself and embrace wellness. It all starts with respect for your mind, body and spirit. And I take natural supplements like Novuskin Lift," she said.
Cory takes one tablet a day (with meals) and gets a dose of rejuvenating marine fish collagen, zinc gluconate, soy protein isolate, green tea and yeast extract and others.
It also helps that she has handed over the responsibility of running Miss World Philippines to talent manager Arnold Vegafria. Cory no longer shuttles from one meeting to the next, or from a meeting to tapings for her lifestyle show, "Graceful Living" (Saturdays, 8 p.m. on ANC).
She has more time to hit the treadmill and lift weights at her favorite gym. When she does not feel like leaving the house, Cory does push ups and jumps up and down the trampoline at home.
It all boils down to one thing: love for herself. Cory has mastered this art of healthy self-esteem. It shows in her body and on her face.
It is a legacy she wants to pass on, especially to harried, stressed-out millennials who do not know that reaching for the stars takes a toll on one's looks, and, most of all, on one's health.