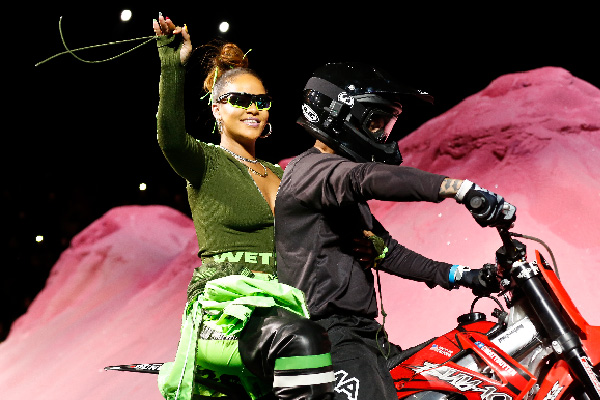 Rihanna rides on a motorcycle after showing her fashion collection from Fenty Puma by Rihanna during Fashion Week, Sunday, Sept. 10, 2017, in New York. AP Photo/Bebeto Matthews
Rihanna rides into New York Fashion Week like a rock star
NEW YORK (AP) — Rihanna didn't walk into New York Fashion Week. She rode through it.
Literally.
The pop star and fashionista kicked off her Fenty Puma 2018 spring-summer collection Sunday with motocross bicycles flying high in the air, ascending above a dreamy display of powder pink mountains and sand — as the audience watched in awe.
Rihanna rode on the back of a bike — in true rock star form with one hand displaying the sign of the horns and her tongue sticking out — after the models strutted around the race car-like catwalk at the Park Avenue Armory.
She wore a fitted, long-sleeve army green shirt with a plunging neckline, a bright green jacket wrapped around her waist, thigh-high boots, and sunglasses. She was confident and cool, and her collection delivered a similar vibe.
The clothes were a mix of fitted and loose pieces, ranging from oversized jackets to tight dresses to shiny swimsuits. Most of the items paired two colors: the navy blue pieces featured hot pink embellishments, while orange and black made up the various athletic suits.
While the clothes, worn mostly by women and some men, could be used at the gym for working out or even gym-selfies for Instagram, some were for the beach. There was a cropped top hoodie, low-waisted, knee-length shorts and fashion-forward one-piece bathing suits. One model even wore a towel over his head.
Rihanna's audience Sunday included members of the fashion world, but also some of her music peers, such as rappers Big Sean, Fabolous, Yo Gotti, Dave East and Cardi B., whose song "Bodak Yellow (Money Moves)" is currently No. 3 on the pop charts.
Diplo, the Grammy-winning producer who has worked with Beyonce, Justin Bieber and others, said he took a helicopter from a gig to make it to Rihanna's fashion show.