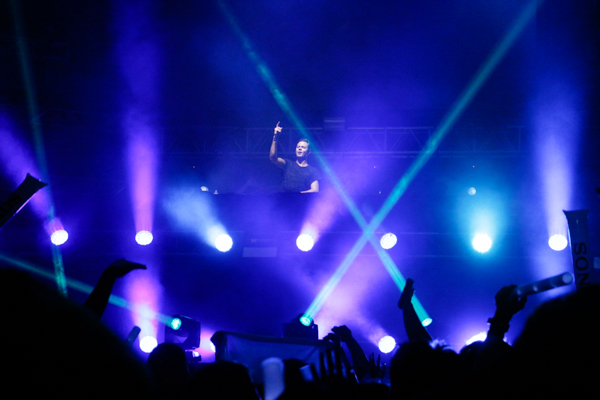 Last September 15, Road to Ultra lit the entire stage of SM Mall of Asia Arena with an impressive line up of powerhouse talents from both local and international scenes. Philstar.com/Efigenio Christopher Toledo IV
Road to Ultra 2017 fires up the Philippine stage
(philstar.com) - September 21, 2017 - 4:12am
MANILA, Philippines — From its inception back in 2012, Road to Ultra has come a long way and is now considered as one of the biggest global music events.
This was an experimental event concept from the same producers of the award-winning Ultra Music Festival in Miami. From its infancy stage, it is quite hard to imagine how this electro dance music fest became so massive that it has already landed in Thailand, South Korea, Japan, Taiwan, Hong Kong, India, China, Singapore, the Philippines, South Africa, and the rest of the Americas.
Road to Ultra events are single-stage events that focus primarily on cutting-edge stage production including world-class visual presentations, synchronized lighting, kryogenics and pyrotechnics. It does not matter whether the venue is outdoor or indoor, Road to Ultra has got everything covered with its jaw-dropping stage and visual aesthetic.
True to its promise, Road to Ultra has featured some of the world's biggest talents such as Tïesto, Hardwell, Martin Garrix, Alesso, Steve Angello, Above & Beyond, Afrojack, Fedde Le Grand, Zedd and many other big names have already headlined the previous RTU events, attracting thousands of people from around the globe.
In the United States, Ultra season takes off around March, but once the flagship event in Miami reaches its peak, RTU shifts its course to conquer Asia. This is the reason why September 2017 is the most anticipated chapter; bringing seven continental events including Road to Ultra day festivals across India, Hong Kong, the Philippines, Taiwan, and Indonesia, plus a two-day wildly insane Ultras in China and Tokyo, Japan.
Last September 15, Road to Ultra lit the entire stage of SM Mall of Asia Arena with an impressive line up of powerhouse talents from both local and international scenes. This year, the Philippine edition brought two of the world's biggest DJs—Hardwell and Zedd—as headliners of Road to Ultra Philippines. Other notable performances were from Getter, Rezz, and Sam Feldt, with both Getter and Rezz who debuted in the Philippines. Joining these top-tier DJs were local household names Deuce Manila and Marc Marasigan who opened the show.
It is safe to say that Road to Ultra Philippines has never failed the fans yet as the line up gets better and bigger each year and 2017 was indeed one to be remembered. While most people go to RTU to see their favorite DJs perform live, others went for experience, knowing it is one of those they should not miss.
Here are the top six reasons why Road to Ultra Philippines was the ultimate party of the year and why people spend a hefty buck for a different kind of "high.
1. The performance line up is always "lit af" (cool and awesome)
As it has done in the past, this year's Road to Ultra boasts a delicious international line up—from The Chainsmokers, Alesso, Skrillex, Nicky Romero, Lost Kings, Martin Garrix, Kygo, and to Zedd and Hardwell headlining the Road to Ultra Philippines. To sum it up—great music and great vibe has redefined the whole raving experience.
2. Out of this world visual aesthetic
If there is one thing Road to Ultra events are widely known for, it would be the synth-heavy electro music and the impressive synchronized light show coupled with pyrotechnics, bringing everything to the next level.
There is a reason why RTU is putting so much effort on stage design and presentation—it is to have more control over the show and create something amazing where all the lights and special effects are perfectly in tune with the DJ's music; enthralling everyone from low to high. Unfortunately, this year's RTU PH did not have pyro display as the event was moved indoor incase of rain. Nevertheless, it did not stop everyone from having (too much) fun.
3. A good excuse to reunite with people you have not seen in ages
Honestly, this is not a good excuse. Then again, admit it! It's a great avenue for an impromptu get together with old friends.
For most of us who fell into the pit of corporate life, regular touch-base with friends made it seem impossible. But with our love for music and that undeniably "yolo" attitude brings perfect sense as to why we will likely to cross path with familiar faces in these types of events. Apart from reuniting with friends, there's the fun side of people watching. Expect a zombie march during Ultra events as ravers from all walks of life flock to dance the night away. Watching someone scream at the top of their lungs and hug someone like the world is about to end never gets old—and you will get used to it, promise!
4. The psychedelic experience you will only get to have once a year
You can feel it the moment you enter the venue and it stays with you for the rest of the week. Road to Ultra PH takes us to a mind state where the equally vaunted experience of modern music festival is somehow genetically imprinted upon us. We react to it as if we've been going to these events for a very long time. No wonder it lures eventhe most discerning or esoteric of tastes. And it doesn't matter if you know how to dance or not, the moment you let the music take over—you just give in to it and follow the rhythm.
5. Finding love in a hopeless place
Surely there is that little glimmer of hope that you will meet someone interesting whenever you attend rave events. Okay, maybe not!
But Road to Ultra is massive enough that you'll definitely meet new friends and you instantly connect and fit right into the scene, and for all its worth, that reason should be enough for you to go.
6. You can be spontaneous all you want
Your first Road to Ultra can be utterly overwhelming, running from different parts of the venue and wading through the throng of sweaty skins.
It is unbelievable how many twenty something drops all their weekend plans just to attend this event. To a certain extent, you just have to surrender and realize that you are participating in the biggest event of the year. It is futile to resist, so don't!
Rather, go with the flow, be spontaneous like nothing matters that night and yo will be far happier and richly rewarded. Have some sort of a plan, yes, but do not be too rigid about it, lest you will be disappointed.