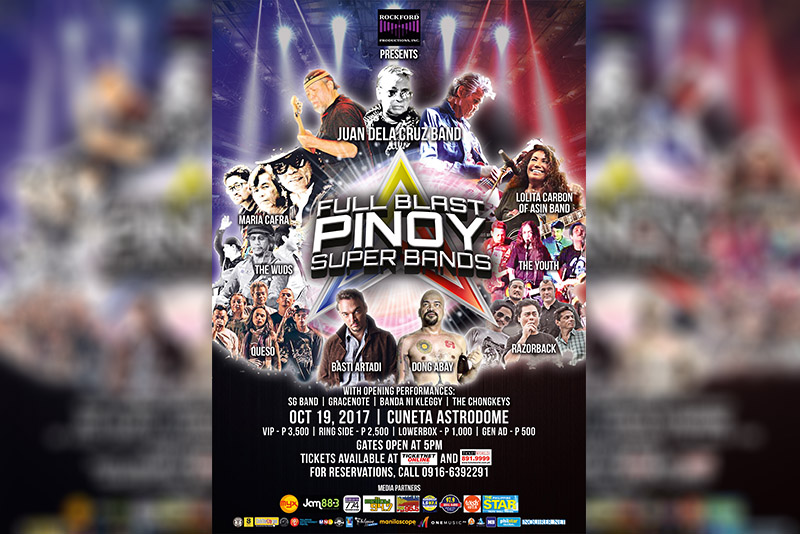 Full Blast Pinoy Super Bands gathers legendary and OPM rock icons
5 reasons to watch these OPM rock icons in concert
(philstar.com) - October 9, 2017 - 4:20am
MANILA, Philippines — The grandest gathering of Original Pinoy Music (OPM) rock icons in Full Blast Pinoy Super Bands (FBPSB) is happening this October 20 at Cuneta Astrodome.
This once-in-a-lifetime, five-hour event not only promises to be an epic night but also a celebration of OPM rock through the years with different bands coming from various eras, sharing the stage for one great rock show.
Here are top five reasons why you should watch FBPSB:
1. Trip down memory lane
"Ang Himig Natin," "Kapaligiran," "Kumusta Mga Kaibigan," Inosente Lang Ang Nagtataka," these are the iconic songs back in the days you only might hearing in a lazy Sunday afternoon or in the YouTube playlist.
For sure, you know their lyrics and once you have heard these songs, your unconscious mind is singing with the songs. But in the FBPSB, you will see the artists behind those songs perform it live.
The founding fathers of rock in the country, Juan dela Cruz composed of Pepe Smith, Mike Hanopol and Wally Gonzales, will headline the concert, so be ready to slam the night out.
Folk rock pioneer Lolita Carbon of Asin is also in the show, which promises to sing all of its hits such as "Usok," "Himig ng Pag-Ibig," and "Tuldok," among others. Maria Cafra and '80s punk rock The Wuds are also in attendance to blow concertgoers' minds.
2. Experience the '90s again
Apart from the pioneers of OPM rock, the '90s era has been one of the best in terms of local rock and roll. In the concert, you will experience it once again with Dong Abay, Razorback and Wolfgang's Basti Artadi. Who does not want to watch Dong sing "Banal na Aso, Santong Kabayo," Razorback play "Giyang," or Basti perform "Mata ng Diyos?" The glory days of '90s are here so better gear up.
3. Rock the night out with the hottest bands today
Although it started in the late '90s as Cheese, metal band Queso is still in the limelight with their style and music. Surely, they will bring bodies on the floor in that night with their hits "Mottaka," Insekta," and "Tiamat," among others. Moreover, the front acts in this event are great bands like Hilera, Suicidal Genius, Banda ni Kleggy, and reggae rock band The Chongkeys.
4. Great "barkada" bonding
With the lineup, it is perfect for "barkadas" or groups of friends from any generation. Born in the '70s? Go set up a reunion and catch those icons play.
"Batang" '90s? This is a perfect gig for you and your gang. Millenial? You only heard the legends in the radio, so it is your time to catch them and be mesmerized with their performance live.
5. Experience the best Oktoberfest
In different parts of the world, October means beers, and I mean lots of them. And there is no greatest venue to celebrate Oktoberfest than having ice-cold beer after watching the FBPSB, with the super bands pledging to rock the Cuneta Astrodome like never before.