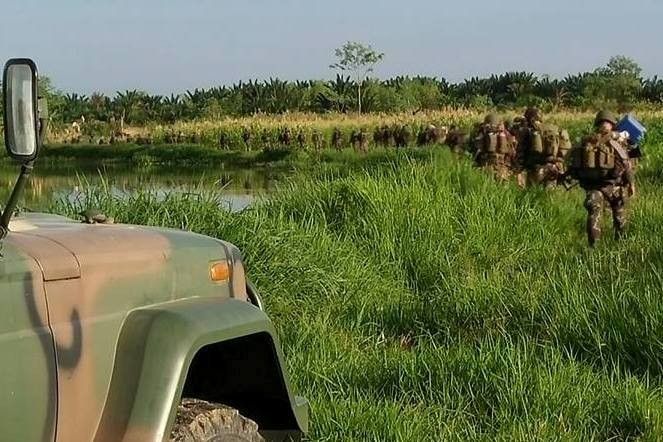 Soldiers of the 6th Infantry Division on patrol in Maguindano.
John Unson, file
Army recovers BIFF guns after brief clash in Maguindanao
(philstar.com) - March 19, 2017 - 10:31am
MAGUINDANAO, Philippines (Philippine News Agency) — Soldiers serving as blocking force against outlawed Bangsamoro Islamic Freedom Fighters in Maguindanao clashed Saturday with the lawless elements in Rajah Buayan town, the Army said on Sunday.
Capt. Arvin John Encinas, 6th Infantry Division spokesperson, said the elements of the 40th Infantry Battalion clashed with fleeing elements of the Bangsamoro Islamic Freedom Fighters in the village of Pidsandawan at about 3 a.m.
Outnumbered, the BIFF dispersed and fled toward the Liguasan marshland, leaving behind five firearms, Encinas said.
The military recovered a Garand rifle, carbine rifle, M-79 grenade launcher and two 12-gauge shotguns and bomb-making devices.
Last week, the Army launched air and ground assaults in the villages of Tee and Andavit, Datu Salibo, Maguindanao after BIFF Commander Bungos and a Jemaah Islamiya senior leader were sighted.
Rajah Buayan town is adjacent to Datu Salibo within the vicinity of the 220,000 hectares Liguasan marsh.
Encinas said the focused military operations left at least 10 BIFF killed, including a suspected foreign terrorists whose identity is still being validated.
Encinas said information from villagers and troops on the ground said the BIFF immediately buried their fallen comrades a day after the offensives.
Brig. General Arnel Dela Vega, 6th ID chief, vowed to relentlessly pursue the bandits blamed for the series of roadside bombings against military personnel stationed in Maguindanao's second district.