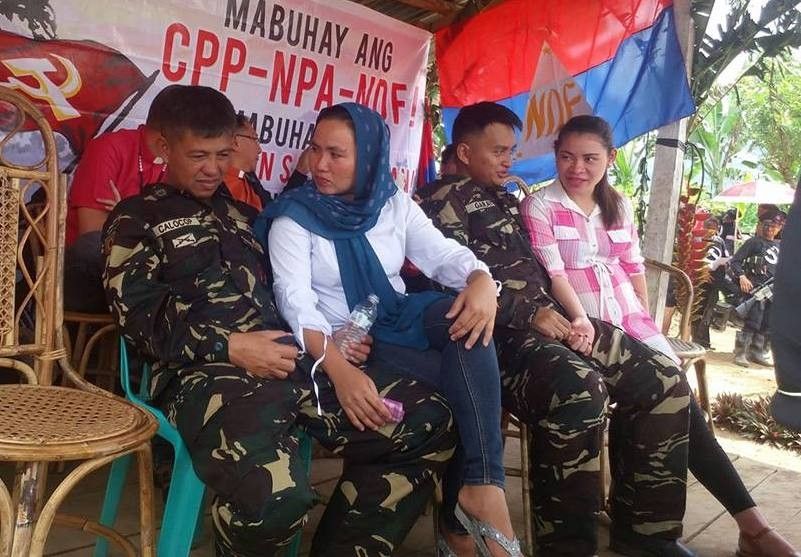 Sgt. Solaiman Calocop and Private 1st Class Samuel Garay were reunited with their families on Wednesday.
JOHN UNSON
NPA releases two soldiers captured in Sultan Kudarat in February
John Unson
(philstar.com) - April 19, 2017 - 7:45pm
DAVAO DEL SUR, Philippines — Communist Rebels freed on Wednesday two soldiers they abducted in Columbio, Sultan Kudarat more than two months ago.
Sgt. Solaiman Calocop and Private 1st Class Samuel Garay of the Army's 39th Infantry Battalion were released by a group of New People's Army guerrillas to Columbio Mayor Amir Musali in Barangay Colonbasac in Matanao, Davao del Sur.
Calocop and Garay were riding a motorcycle together en route to their detachment in a hinterland area in Columbio town on February 2 when they were snatched by the NPA. The NPA considers them and other security personnel in their custody as prisoners of war.
Senior Inspector Bernard Francia, chief of the Columbio municipal police, said the two soldiers looked slightly emaciated, but are both in good health.
The two soldiers immediately reported to their battalion, a component unit of the Army's 10th Infantry Division.
Francia said the families of Calocop and Garay had issued a common statement thanking the crisis committee that secured their release.
The committee is comprised of local officials in Columbio and Sultan Kudarat Gov. Pax Mangudadatu.
"The two soldiers both said they were treated fairly while in captivity," Francia told reporters.
The families of the two soldiers also thanked President Rodrigo Duterte for agreeing not to launch pursuit operations against the NPAs during their captivity in the jungle border of Sultan Kudarat and Davao del Sur provinces.