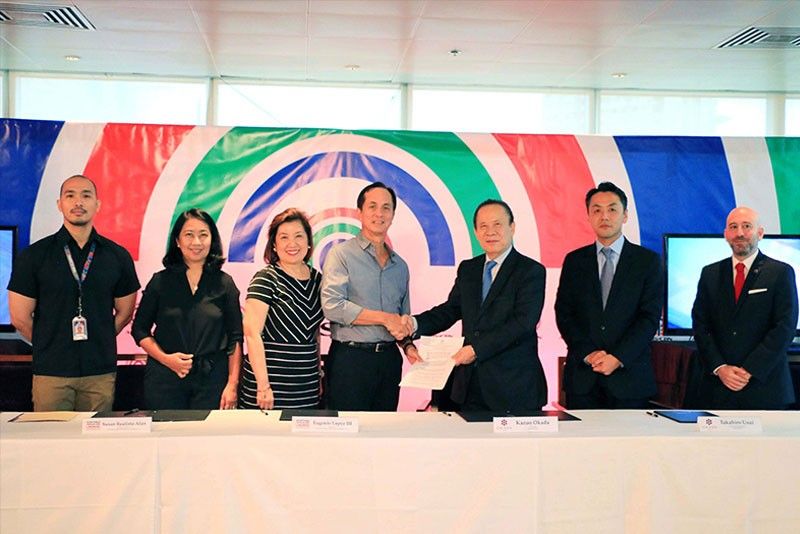 Okada Manila chairman Kazuo Okada signs an agreement with ABS-CBN Lingkod Kapamilya Foundation Inc. chairman Eugenio Lopez III for its corporate social responsibility projects yesterday. With them are ABS-CBN executives (from left) Paul Vincent Mercado, Noemi Samson and Susan Bautista-Afan, and Takahiro Usui and Bryan Bass, chief operating officer and executive director, respectively of Okada Manila.
Okada Manila partners with ABS-CBN
MANILA, Philippines - Integrated resort Okada Manila partnered yesterday with ABS-CBN's Lingkod Kapamilya Foundation for its corporate social responsibility initiatives.
Okada Manila chairman Kazuo Okada and Lingkod Kapamilya chairman Eugenio Lopez III as well as other executives signed the memorandum of agreement for the project.
Bryan Bass, Okada executive director of property marketing, said they were looking at programs geared toward education and youth development.
"We aim to educate, teach and train the youth. That is the core of what we want to get to," Bass told reporters.
Under the partnership, Okada Manila and Lingkod Kapamilya will hold medical and dental missions as well as feeding programs for at least 2,700 people this year.
Susan Bautista-Afan, chief marketing officer of Lingkod Kapamilya, said they conducted feeding and community outreach programs prior to the signing of the agreement.
Afan said CSR initiatives to be undertaken next year include scholarship grants through Bantay Bata and rehabilitation and building of schools.
Takahiro Usui, chief operating officer of Okada Manila, said the company is committed to implementing sustainable programs aimed at helping the community.
"Okada Manila's presence in the Philippines is not just driven by business goals. It is built with a vision of contributing to both economic and sustainable development of the country," Usui said.