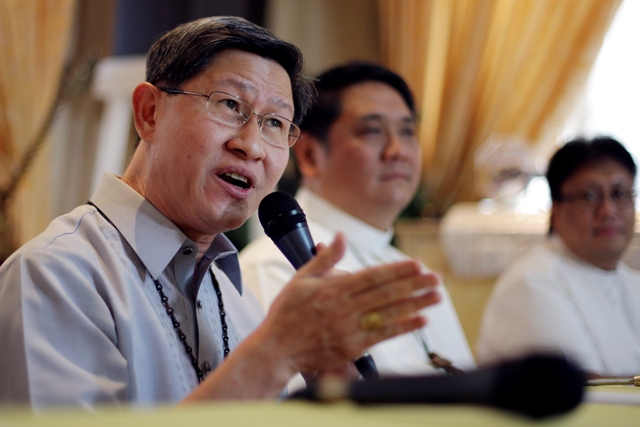 Manila Archbishop Luis Antonio Cardinal Tagle and Lingayen-Dagupan Archbishop Socrates Villegas appealed to the public's conscience amid the killings in the country due to war on drugs. AP/Aaron Favila
Manila churches toll bells for the dead in drug war
(philstar.com) - September 15, 2017 - 7:31am
MANILA, Philippines – Manila churches on Thursday night began their ceremonial ringing of bells in memory of the thousands of dead under the government's bloody war against illegal drugs.
At 8:00 p.m. on Thursday, the Manila Cathedral and the rest of the churches in the Manila Archdiocese rang their bells for five minutes following the appeal of Manila Archdiocese Luis Antonio Cardinal Tagle last September 8.
The National Shrine of St. Jude, that is within the Malacañang Complex and is beside the Mabini Hall that houses the Office of the President, also tolled its bells for five minutes.
Tagle released a letter on the Feast of the Birth of the Blessed Virgin Mary slamming the killings, saying that it should not be the "new normal" in the country.
"(This is) to call on everyone to remember the dead and pray for them. The tolling of church bells in the evening to pray for the dead is an old Filipino custom that has almost disappeared. Now is the right time to revive it," Tagle added.
Tagle's statement came after the brutal killings of three teenagers hugged headlines.
On August 16, 17-year-old Kian delos Santos was killed by Caloocan City police for allegedly shooting at them during a "One Time, Big Time" operation. A CCTV recording, however, suggested that Kian was shot by the police execution style.
The Department of Justice has started its preliminary investigation into the murder complaint filed against four Caloocan cops over his death.
Also in August, 19-year-old Carl Arnaiz and 14-year-old Reynaldo "Kulot" de Guzman disappeared on August 17 from their Cainta, Rizal neighborhood.
Carl's parents found his body at a funeral home in Caloocan City on August 28, eleven days after the former University of the Philippines student went missing. He allegedly fired a gun at authorities who were responding to a reported robbery of a taxi driver.
A body believed to be Kulot was found at a creek in Gapan, Nueva Ecija on September 6. The body sustained almost 30 stab wounds and its head was wrapped with a cloth and tape.
Lingayen-Dagupan Archbishop and Catholic Bishops' Conference of the Philippines (CBCP) President Socrates Villegas, on August 28, ordered the tolling of church bells for three months from August 22 to November 27 for those who are "numb and blind" in honor of Kian.
"Ang tunog ng kampana ay tinig ng Diyos na sana ay gumising sa konsensiyang manhid at bulag. Huwag kang papatay! Kasalanan yan! Labag sa batas yan! Yan ang sabi ng kampana!" Villegas earlier said.
The parents of Carl and Kulot, accompanied by the Public Attorney's Office, filed murder raps against two Caloocan police at the Department of Justice on Thursday.
On Friday, NCR Police Director Oscar Albayalde sacked the 62 of the Caloocan City police force for raiding a private residence without a search warrant and stealing belongings.