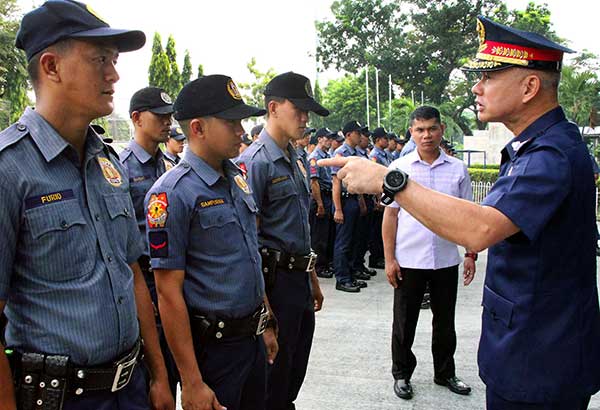 Metro Manila Police Chief Oscar Albayalde on September 15 ordered the relieve of the entire Caloocan City Police force. On Friday, a total of 991 personnel from the Philippine National Police-Regional Public Safety Battalion were deployed to Caloocan City. EDD GUMBAN
NCRPO replaces Caloocan police force
(philstar.com) - September 29, 2017 - 3:50am
MANILA, Philippines — Close to 1,000 metro police personnel replaced the police force of Caloocan City on Friday, following the order of Director Oscar Albayalde, National Capitol Region Police Office chief.
A total of 991 personnel from the Philippine National Police-Regional Public Safety Battalion were deployed to Caloocan City.
Public Safety Battalions are regional police office units that are primarily tasked with serving as an augmentation force and for conducting internal security operations.
On September 15, Albayalde ordered the relief of all police officers in Caloocan City following the killings of teenagers and a break-in and robbery by city cops.
READ: NCRPO relieves Caloocan City police force
Caloocan police personnel were linked to the deaths of Kian Loyd delos Santos, Carl Angelo Arnaiz and Reynaldo de Guzman.
Only Senior Superintenddent Jemar Modequillo, newly designated Caloocan City Police chief and Chief Inspector Ilustre Mendoza, his deputy for administration, were spared.
"This action of the PNP to transfer/relieve and retrain all personnel of Caloocan CPS (City Police Station) is in line with the PNP Program Thrust to intensify its internal cleansing activity in the organization," a memorandum dated September 28 read.
Prior to the widespread relief, Caloocan City Police Station was recognized the Best City Police Station in NCR on the same week teenagers delos Santos and Arnaiz were killed by Caloocan cops.
They were awarded for their contribution to the government's war on drugs.
The Northern Police District was also recognized as the unit with the most significant accomplishment in Project Double Barrel Reloaded, the PNP's anti-drug campaign.