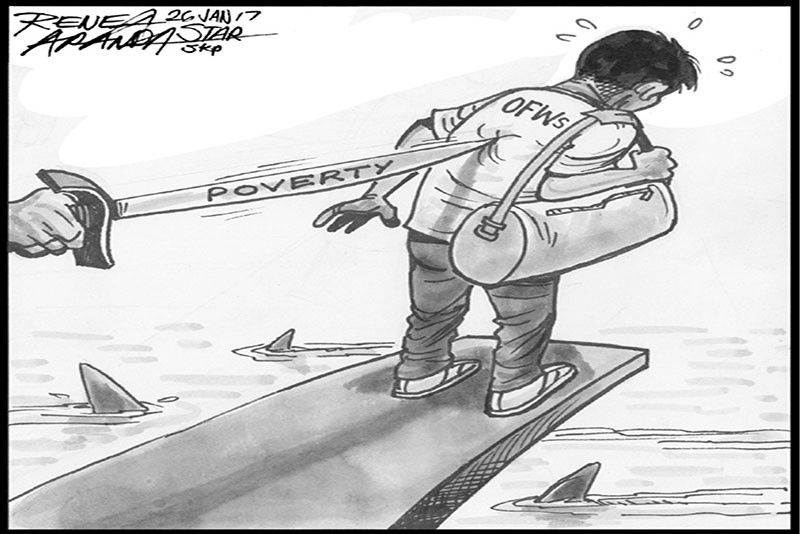 EDITORIAL - Another OFW tragedy
(The Philippine Star) - January 26, 2017 - 12:00am
On television, the daughter of Jakatia Pawa wept yesterday amid reports that the overseas Filipino worker had been executed in Kuwait. Pawa was sentenced to death for murdering the 22-year-old daughter of her employer in 2007.
Until her final moments, Pawa had denied the charge, pointing to the victim's relatives as the possible killers who wanted to redeem the family's reputation. She claimed the victim was reportedly having an illicit love affair with a neighbor – a cause for male family members to kill a female relative in certain Islamic countries. The Kuwait court threw out Pawa's denial and the victim's family rejected offers of blood money to spare her from execution.
Pawa, 41, earned a degree in banking and finance in Zamboanga, but opted to work overseas as a maid because of the higher pay. She had worked for her employers in Kuwait for five years before the victim was stabbed to death several times in her sleep. Pawa left behind two teenage children.
There are millions of other such families, forced to live apart because one or both parents must earn a decent living abroad for lack of opportunities at home. Many have seen their loved ones subjected to abuse and discrimination. A number of them are bound to suffer the grief of Pawa's family: there are 88 other Filipinos on death row in several countries, according to the Department of Foreign Affairs.
This is the dark side of the OFW phenomenon, which has powered the country's consumer-driven economic growth. Pope Francis, during his visit in Manila, lamented the social costs of the migrant worker phenomenon, particularly its impact on family togetherness.
The continuing exodus of Filipino workers has also robbed the nation of needed skills, with even those trained in banking and finance preferring to work as maids abroad. The tragedy of Jakatia Pawa should strengthen the resolve of national leaders to create decent employment and livelihood opportunities for Filipinos right in their own country.