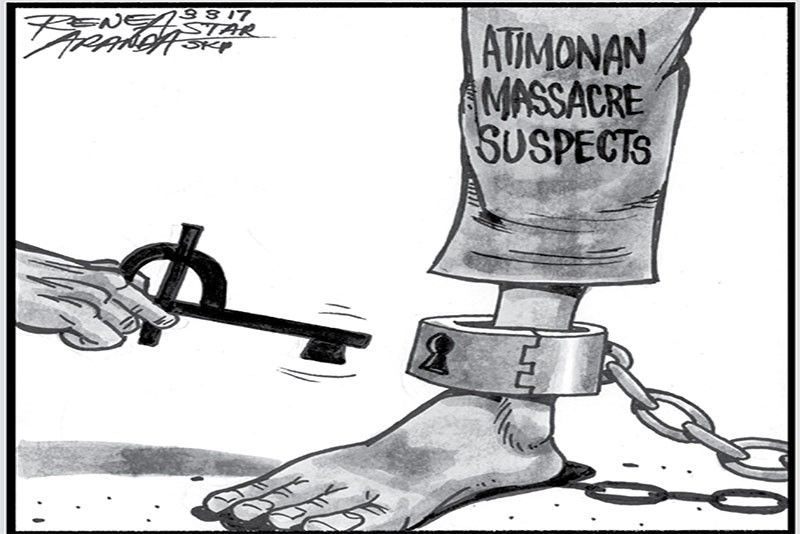 (The Philippine Star) - March 3, 2017 - 12:20am
Fourteen people were killed by police, and numerous witnesses pointed to the same suspects. So how did 13 policemen facing trial on charges of executing the 14 men at a checkpoint in Atimonan, Quezon merit bail?
Last Wednesday, Judge Liwliwa Hidalgo-Bucu of the Manila Regional Trial Court Branch 34 granted the petition for bail of the 13 cops led by Superintendent Hansel Marantan, with the amount set at P300,000 each.
The 13 have been detained since 2013 when a convoy taking alleged jueteng lord Vic Siman and 13 companions from Bicol to Southern Tagalog ended up dead in their vehicles after being stopped at a checkpoint manned by Marantan's team together with a military contingent. Some of the soldiers at the checkpoint reportedly provided eyewitness accounts.
It's a multiple murder case involving persons in authority. While Siman had a reputation for being a gambling baron, he was not facing any indictment, and illegal gambling is not a capital offense. And he had 13 companions who didn't share his notoriety, including a man known as an environmental advocate.
So how did the defendants qualify for bail? The judge said the prosecution "failed to establish that quantum of proof that the guilt of the accused is strong." That sounds like a prelude to an acquittal. Since Bucu appears to have already passed judgment on the evidence presented against the defendants, the least she can do is speed up adjudication of this case.
Perhaps Bucu has correctly appreciated the facts and evidence presented. She can explain this in her ruling on the case. In the meantime, as the defendants enjoy freedom, prosecution witnesses must be given sufficient protection. After granting the 13 defendants' petition for bail, Bucu can see to it that this case doesn't go the way of the majority of court cases in this country, crawling along and making bereaved relatives of murder victims wait forever for justice.