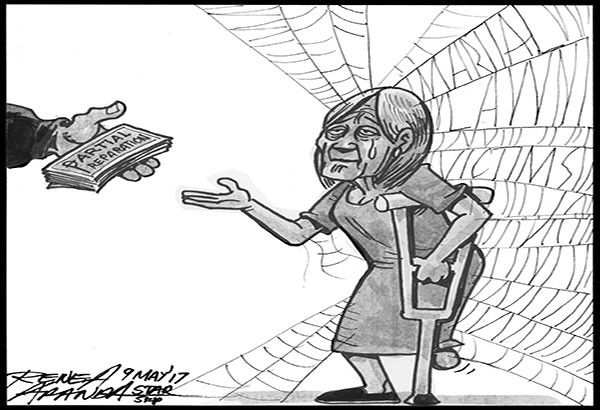 (The Philippine Star) - May 9, 2017 - 12:00am
As several government officials defended the human rights record of the Duterte administration before the office of the United Nations High Commissioner for Human Rights in Geneva, the Philippines took a significant step in providing reparations for victims of Ferdinand Marcos' dictatorship.
The Human Rights Victims' Claims Board began distributing monetary compensation yesterday to the first batch of 317 martial law victims. Each claimant was given a cash card for use in withdrawing at least P25,000 from ATMs.
With 4,000 claimants, the P300 million allocated by the government for the reparation will mean no more than P75,000 for each victim. That's a laughable amount for regular beatings, the water cure, electrocution through the genitals, rape and other forms of abuse that the Marcos dictatorship systematically inflicted on dissidents and its perceived enemies of the state.
For those who suffered the horrors of the dictatorship, however, the amount is mainly symbolic. And the symbolism is a timely reminder these days to those who are tempted to abuse state power for various reasons including ostensibly for keeping the public safe.
There are efforts elsewhere to hold corrupt despots and other human rights violators accountable for their misdeeds. Switzerland, in a landmark move to stop impunity, turned over to the Philippine government many years ago millions of dollars stashed in Swiss banks by the Marcos regime.
The loot was recovered, but no depositor has been made to account for the ill-gotten wealth. This weakness must be addressed if the Duterte administration is sincere in stamping out corruption. The Swiss have done their part, sending a powerful warning to those who use their banking system to launder money accumulated through graft and oppression. An international agreement on corruption also allows the extradition of plunderers among signatory states.
The reparation that the government started giving out yesterday, though modest for each victim, is costly when taken together. While the wait for reparation has been long, it shows that there's a price to pay for disregarding human rights. It's a message that should resonate today.