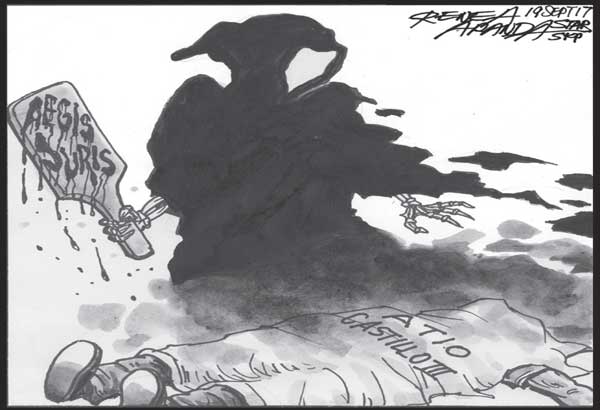 EDITORIAL - Shield of injustice
(The Philippine Star) - September 18, 2017 - 4:00pm
The grieving parents of Horacio Tomas Castillo III wept and called for justice. Their son, a freshman law student at the University of Sto. Tomas, was found on a sidewalk in Balut, Tondo, Manila last Sunday. He was battered and wrapped in a blanket. He didn't make it to a hospital. Coroners declared that the 22-year-old had died of cardiac arrest resulting from severe hazing at the hands of the fraternity he had just joined, the Aegis Juris or Shield of Justice, based in the UST Faculty of Civil Law.
UST officials condemned the killing while the dean of the law school, controversial lawyer Nilo Divina, suspended all fraternity members and barred them from entering the UST premises.
Similar moves were undertaken in previous hazing deaths. But how many hazing suspects have been sent to prison? Their fraternity members make sure the young animals are protected from punishment.
As in other crimes where impunity reigns, the failure to punish perpetrators guarantees the persistence of murderous hazing. Even sororities in medical schools engage in violent, inhuman rituals, beating recruits and pouring hot wax on bare skin. This goes against the Hippocratic oath of saving lives and abstaining from doing harm.
Larissa Colleen Alilio, a tourism sophomore at the Lyceum of the Philippines in Manila, is still traumatized by the violent initiation she suffered at the hands of the Tau Gamma Sigma sorority last January in Las Piñas. Alilio, who was blindfolded, struck repeatedly with a paddle and burned with melted candle wax, has stopped going to the Lyceum. Her tormentors, who harassed her into joining their sorority, have reportedly returned to the school.
The country has an anti-hazing law, Republic Act 8049. It was passed in 1995 as a result of the fatal hazing of Ateneo de Manila Law School freshman Lenny Villa on Feb. 10, 1991 by the Aquila Legis fraternity at a house in Caloocan City. Police identified 35 fraternity members in the hazing. In November 1993, the Caloocan court convicted 26 of the 35 of homicide. Nineteen of the 26 were cleared by the Court of Appeals; the Supreme Court affirmed the CA ruling. The CA also cleared three other defendants, citing undue delay in their trial. In 2012, the SC downgraded the offense of five of the convicts to reckless imprudence resulting in homicide.
The judiciary is packed with magistrates belonging to various fraternities, and many underwent violent initiation rites themselves. If the case of Horacio Tomas Castillo III gets the Lenny Villa treatment, the nation will never see the end of deadly initiation rites.